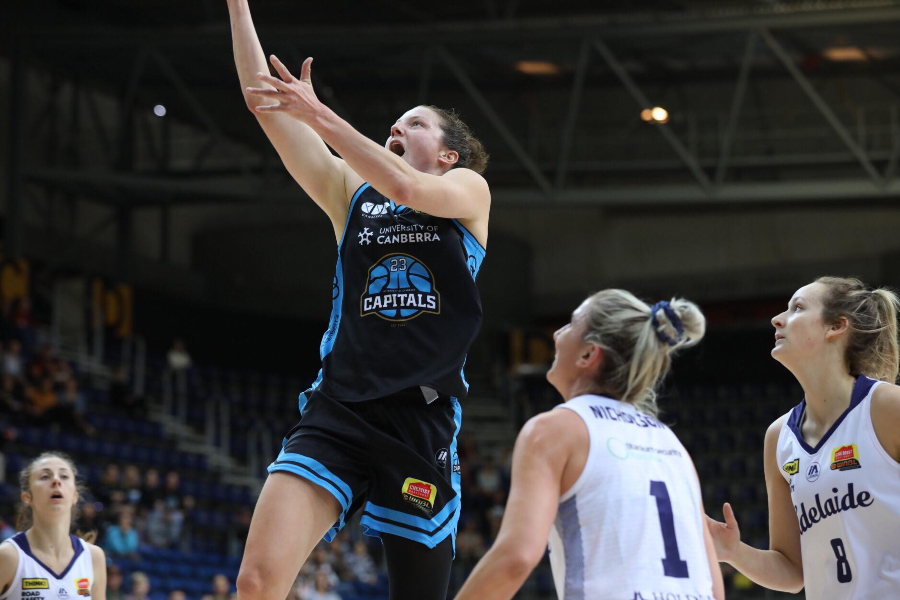 October 13, 2019 | UC Capitals news
It only took three minutes for the UC Capitals to turnaround what was a slow second quarter into a gripping 60-60 draw in the third.
Adelaide's Lauren Nicholson dominated the first half leading the scoreboard for both teams with 23 points as the UC Capitals trailed by 10, struggling to defend the Lightning.
Head Coach Paul Goriss put it down to the team lacking toughness with their defense.
"That's something we say we want to hang our hats on, and I just didn't think we did a good enough job in that first half."
The effect of missing bigs Marianna Tolo and Mikaela Ruef started to seem too much for the UC Capitals to manage, but that third quarter start proved otherwise.
From 10 points down to 10 points up going into the final quarter, the UC Capitals tightened up their defensive game and limited the Lightning's points. Adelaide fought hard and Nicholson continued to deliver, finishing with an impressive 32 points, but could not stop the Capitals comeback.
Adelaide were also hindered by the loss of import Crystal Langhorne who was resting some minor niggling issues which no doubt would have hurt the team's ability to hold their lead.
The relentless Kelsey Griffin (22 points and 20 rebounds) almost played the full 40 minutes despite expecting to be stalled after just coming off injury.
"We know that she's only been back one week full practice and I didn't plan on player her for 38 minutes… I thought she'd be asking for more subs but she didn't and we left her out there. As I've said before, she's a warrior and leads this group and had another fantastic double double," said Goriss.
Kia Nurse (28 points) didn't seem to notice the fact that she only arrived from Canada three days ago and led the UC Caps for points. Olivia Epoupa (7 rebounds and 8 assists) also had an impressive WNBL debut.
But the KJR Player of The Game title goes to rising star Keely Froling, who stepped up to a starting 5 position in Tolo's absence without a hint of apprehension. Froling ended with a WNBL career high after putting up 22 points and 11 rebounds.
Goriss acknowledged this was a special game for Froling. "She's earnt it all off season, and now I'm just happy for her that it's her time to step up and take a little bit of leadership and ownership on the court."
"We've had a long history together and probably for the first two years I rode her pretty hard at practice and games because I knew she's a special player.
"If there's one player outside of Kelsey who puts in the work it's Keely and she's well deserving of what she brought today and her starting spot," said Goriss.
The UC Capitals will look to build on this momentum going into Round 2 as they take on the Townsville Fire at home at the NCCC. To purchase tickets, click here.