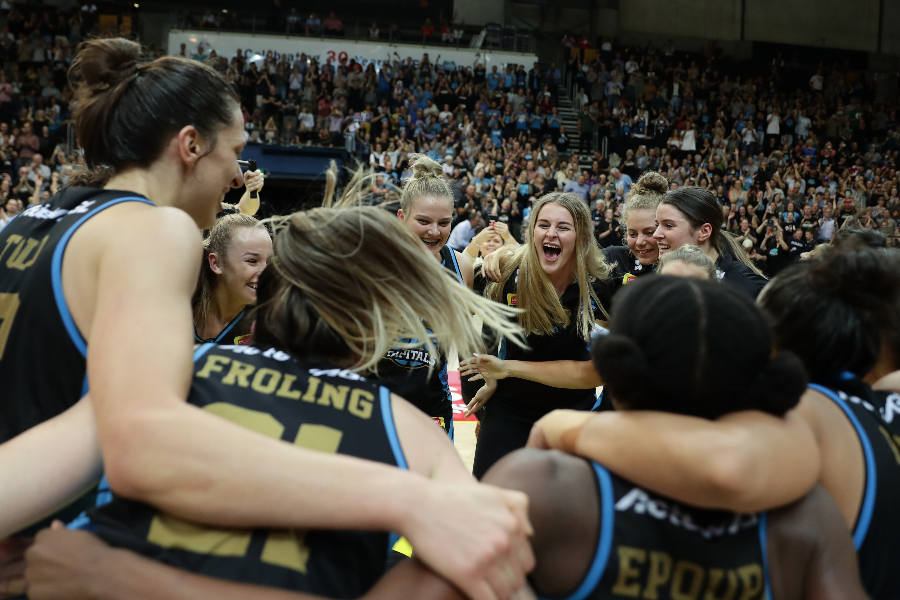 March 6, 2020 | UC Capitals news
A celebration for the 2019/2020 WNBL Champions will be held on the University of Canberra campus on Tuesday, 10 March.
University of Canberra staff, students, and the wider community are invited to welcome the team back to their home on campus following their ninth WNBL championship win on Wednesday night.
The reception will be held in the Refectory at 11am, where attendees will be encouraged to 'go big' to support the team. Throughout the morning there will be an opportunity to meet the players, view the championship trophy, and shower the team in streamers and confetti.
General Manager of the UC Capitals, Lucille Bailie says that the team's supporters are just as much a part of the team as the players and officials.
"From spending nearly two hours on court post the Championship final siren to engage with fans, to a reception hosted by Federal Members of Parliament, our annual Awards Dinner and a public ceremony hosted by team owner and major sponsor the University of Canberra, the UC Caps continue to engage with local community – their 6th player.
"We know how loved and admired the UC Caps athletes are, which is why the players and coaches are spending many of their final hours engaging with their supporters and it reminds us of the characteristics of genuinely successful and professional athletes.
"I know the entire team would relish the opportunity to thank supporters in person on Tuesday."
Ms Bailie recognises the connection that the players and community have throughout the season.
"We've all been a part of something truly special over the past six months and the positive impact the Caps have continues to ripple throughout the local community," she said.
"We're encouraging everyone that can make it to join us for this final opportunity to acknowledge just how much we value these amazing athletes and people."
The on-campus celebration will be held at the University for the second year in a row following a parade held in 2019.
UC Capitals player and WNBL MVP for the season Kia Nurse says the support from the University community has been integral this season.
"They've been immensely important to us and to our success over the last few years," she said.
"Our way of saying thank you is bringing some championships home and being able to get out into the community to celebrate with them."