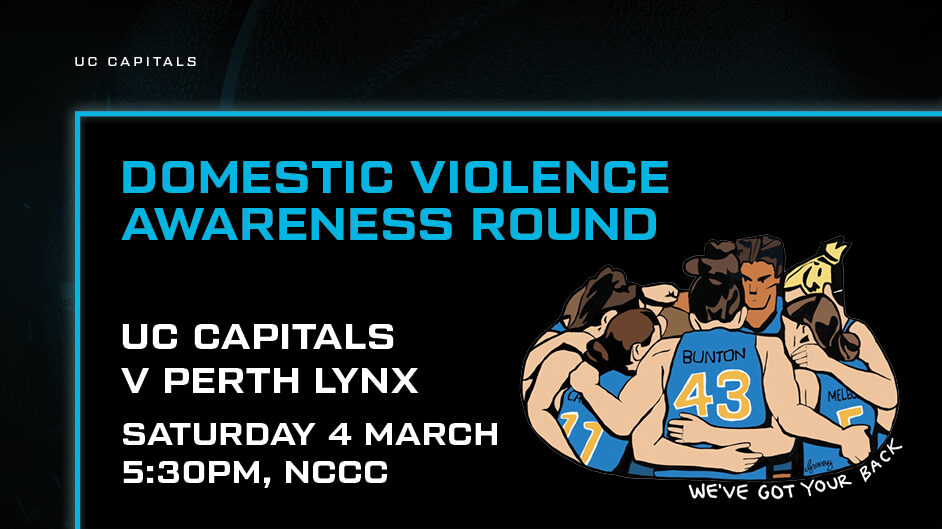 February 21, 2023 | UC Capitals news
The UC Capitals will be holding a Domestic Violence Awareness Round on March 4, as a player led initiative heroed by Alex Bunton.
As a domestic violence victim-survivor, Alex Bunton and the team are using their voice and their platform to raise awareness of this prevalent issue, which sadly is all too often kept behind closed doors.
"The Domestic Violence Awareness Round is a chance for us to change the stigma attached to domestic violence and start to use our voices to raise awareness of the harsh reality behind what is happening right in front of us," Alex Bunton said.
"It's more than just a basketball round. It's bigger than us. It hits home for me as I am a DV victim-survivor, and I am so proud to be able to use this opportunity and tell my story.
"It's a chance to really speak up and allow people to understand what is really happening, to stop violence and to help victims know they are not alone."
At the beginning of the season, administrative staff reached out to the team, asking what causes they held close to their heart that the club could help shine a light on.
UC Capitals General Manager Lucille Bailie said the club will continue to support the players not only as the strong athletes they are, but they strong people they are too.
"The UC Caps are incredible athletes, and initiatives such as this remind us that our athletes are family and community leaders too," she said.
"Our organisation will always endorse player led efforts to raise awareness, drive engagement and positive change, which makes our communities better places to live, work and play."
More information will be released about how the Caps family can support this important cause, but more resources can be found here.
Bunton will bravely share more of her story, in the lead up to the DVA Round on March 4.
"To have the UC Capitals, WNBL, AFP and DVCS, who are all organisations full of everyday people, speak up with me and stand together to stop domestic violence is just the beginning. We are standing together and speaking up to make a change."
If you or someone you know needs help, please call the Help Line, 1800 RESPECT, or 1800 737 732