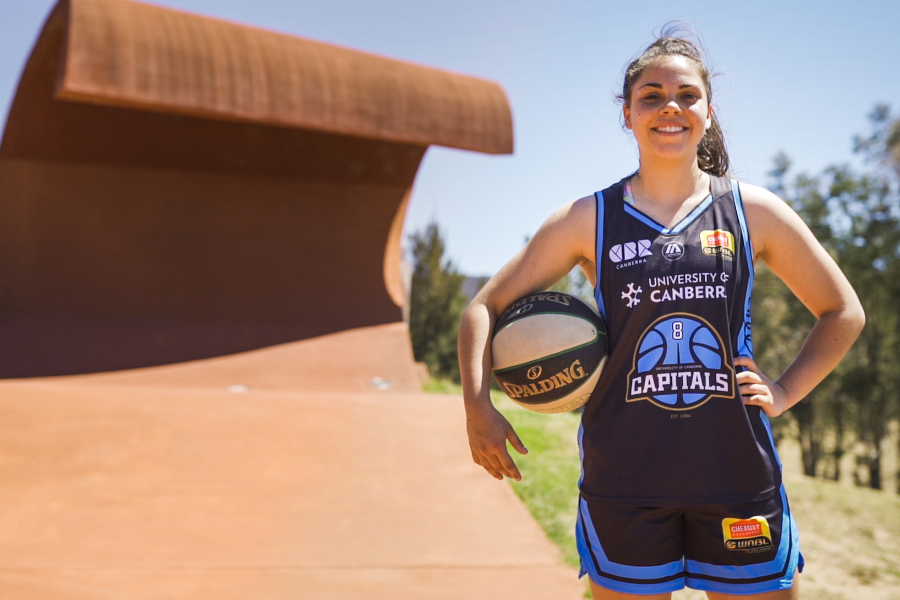 October 23, 2019 | UC Capitals news
The UC Capitals mark Round 4 of the 2019-20 season as their Indigenous Round to celebrate and acknowledge the Aboriginal and Torres Strait Islander contribution that the players, officials and fans make to the game.
On Saturday, November 2 at AIS Arena, the UC Capitals and the Sydney Uni Flames will face off as both teams proudly wear specially designed Indigenous uniforms.
UC Capitals rising star, Abby Cubillo, is a proud Larrakia woman from Darwin who played an integral part in driving the club's first Indigenous Round in their 34-year history last season alongside teammate Leilani Mitchell.
Cubillo, the first born and bred Northern Territory woman to play in the WNBL, is again sharing her story and culture with the club and said that she is excited to be a part of another Indigenous Round.
"My teammates are like family to me so it's awesome to share this with them and also the incredible fans and Canberra community that get behind us every week.
"My family are really proud of me and have always supported me living away from home to follow my dreams. I'm so grateful for them and being on the roster this year makes it a little bit easier being away from them," said Cubillo.
This season, the 20 year old was elevated from a development player to a contracted player and has already played increased minutes as the UC Capitals have made a successful start to their title defence.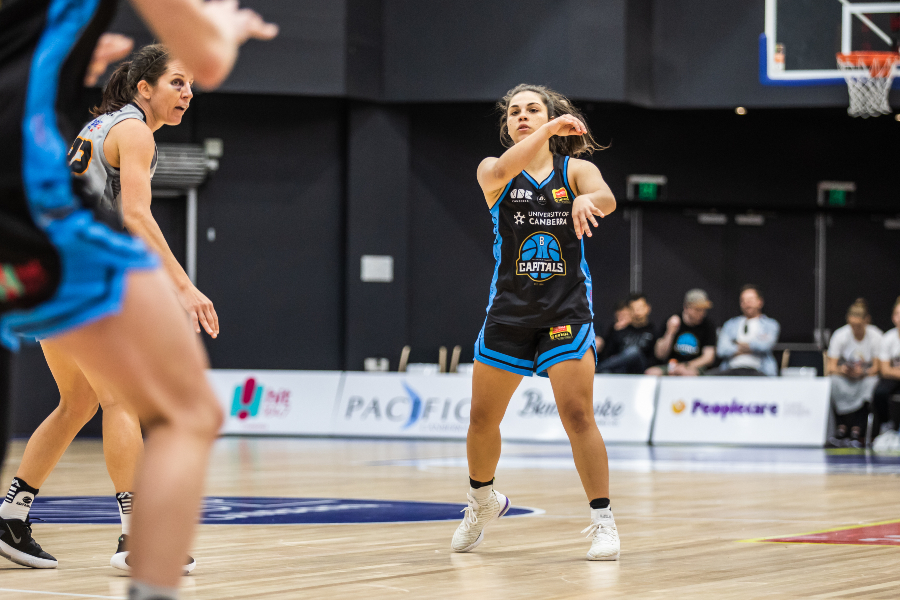 For Cubillo, this is also an opportunity to reflect on her heritage while living away from her family, citing her Nana as a major influence in her life.
"With my indigenous family in Darwin and me being away from home since I was pretty young, I don't think I've learnt as much as I can yet about my culture but when I go home I learn more and more from my Nana and I'm always proud of my heritage."
Cubillo has lived out of home since she was 15 years old when she pursued school in Sydney with the dream of playing basketball in a higher level of competition. It only took a year before Basketball Australia picked up her talent and she became the second Northern Territory basketballer to receive an Australian Institute of Sport scholarship.
The UC Capitals Indigenous round is a collaborative effort with the club's team owner and major partner, the University of Canberra (UC), sharing an ongoing commitment to equity, diversity, inclusion and access.
Cubillo is a student at UC who receives support as an elite athlete as she juggles her WNBL career with a Bachelor of Sports Management.
Dean of Aboriginal and Torres Strait Islander Leadership and Strategy at UC, Professor Peter Radoll, said that the round is an important step towards reconciliation.
"The Indigenous round brings UC Caps players closer to the local Indigenous community through workshops and initiatives.
"This round is more than a game, it is an important and wonderful connection and commitment of reconciliation between the UC Caps and community which should be celebrated," said Professor Radoll.
The uniform will be revealed in the lead up to the round but is a play off last season's design while still maintaining the same Ngunnawal artwork and symbolism.
The UC Capitals will also engage in a range of community-building activities to connect with local Indigenous people and involve them in the round.
The UC Capitals are proud of its history and its roots to the Ngunnawal land and people and are excited to reflect that pride by dedicating a round to Indigenous people and culture.
To purchase tickets to the Indigenous Round game, click here.