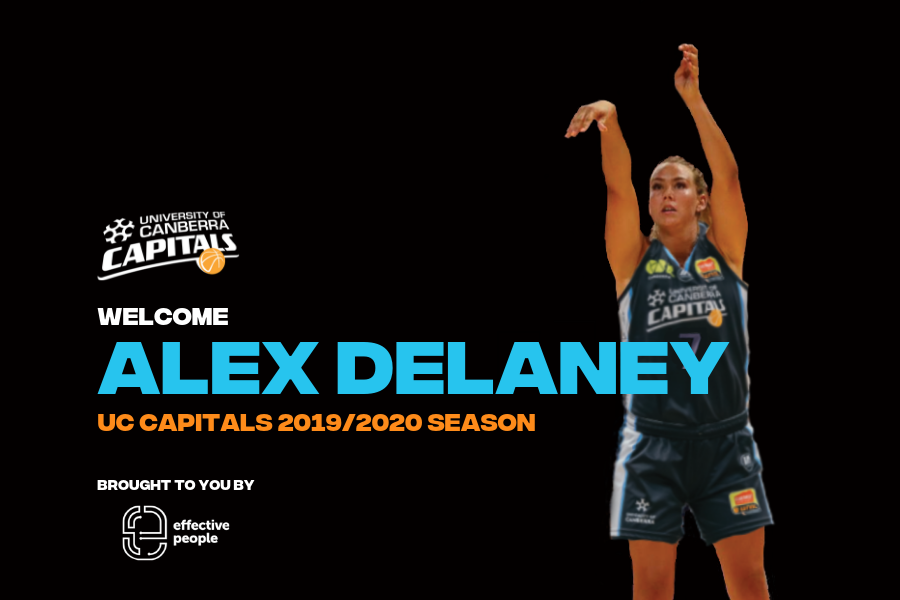 June 19, 2019 | UC Capitals news
The University of Canberra Capitals sign their seventh recruit for the 2019-20 WNBL season with 23-year-old forward, Alex Delaney.
Delaney made her WNBL debut last season with the Sydney Uni Flames after returning from her stint in the United States playing for St. Francis Brooklyn Women's Basketball.
Now in the offseason, Delaney has been playing in the Queensland Basketball League for Mackay where she's been averaging 13 points and 6 rebounds while shooting at 37% from the three-point line.
UC Capitals Head Coach, Paul Goriss, said that he is excited to add Delaney to the team.
"Alex is an up and coming player and wanted an opportunity to be a part of the UC Capitals. She is a tremendous shooter and will help spread the floor to give space to Tolo and Griffin.
"I can see her playing alongside Kia at times to have two great shooters on the court at once but primarily backing Kia. Alex has a great basketball IQ and is an excellent passer. Alex has a strong work ethic and will fit seamlessly into the great team chemistry we had last in our championship season.
"Alex wanted the opportunity to come and work on her game and thought the UC Capitals was the best fit for her to improve her game and skill package," said Goriss.
Delaney said that the UC Capitals have a fantastic reputation and is very excited about having the opportunity to be a part of a championship winning team.
"I believe the UC Capitals have some outstanding and experienced players that can help me get better both on and off the court.
"I am very excited about playing alongside Marianna Tolo. I had the pleasure of playing with her for three games earlier in this QBL season for the Mackay Meteorettes and cannot wait to continue to play alongside such a great player and person.
"I've also played with Kristy Wallace back in NSW when we were 12 years old and I can't wait to play with her again.
"I also believe Paul Goriss is a great and experienced coach who can help me grow as a player.  I have heard excellent things about his style of play and I'm looking forward to working with him to develop my game and take it to the next level.
"I believe the things that I can bring to the team are a strong work ethic and love for the game. My ability to shoot the ball from the 3-point line and ability to find the open player. I hope to be a great teammate and continue to learn and develop my game," said Delaney.