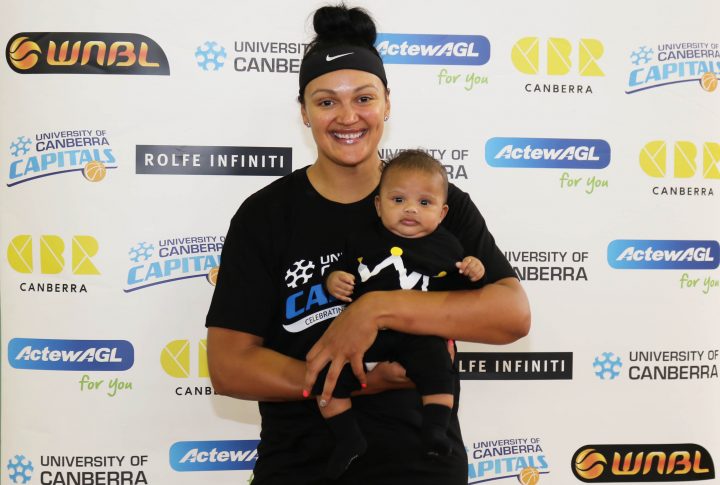 September 14, 2017 | UC Capitals news
WNBA championship winner and new mum Mistie Bass has arrived in the ACT ready for the University of Canberra Capitals 2017/18 WNBL pre-season.
It will be Bass's first time back on the court since giving birth to her son Braven in June and her first time playing in the WNBL.
Bass travelled from America to the nation's capital with her husband, former NFL quarterback Shane Boyd and their son. She said it's a dream come true to play in Australia.
"It is really exciting, it has always been on my bucket list to travel to Australia," Bass said.
"It is nice to be able to do what I love and be able to see a country that is so beautiful."
Bass graduated from Duke University in 2006 and was drafted by WNBA club the Phoenix Mercury before being traded to the Houston Comets. She has also played for the WNBA's Chicago Sky and spent time in Europe. She was also a graduate assistant coach with the Indiana Hoosiers.
Bass said she had her WNBA coach Sandy Brondello to thank for her move to the WNBL.
"I have played with so many phenomenal Australian athletes and this just seemed to fit perfectly for me especially after having Braven," she said.
"I had a very good feeling about this place and I'm excited to play for the UC Capitals this season."
University of Canberra Capitals head coach Paul Goriss said Bass has already shown her leadership skills on the court and adds plenty of experience to the roster.
"She has brought great energy, a physical presence and an extra level of excitement to our practice sessions already," Goriss said.
The UC Capitals kick of their pre-season with a match against Japanese side, Fujitsu Red Wave, this Friday night at 6:30 at the Belconnen Basketball Stadium.
By Jaylee Ismay
Photo credit: Amanda Jones