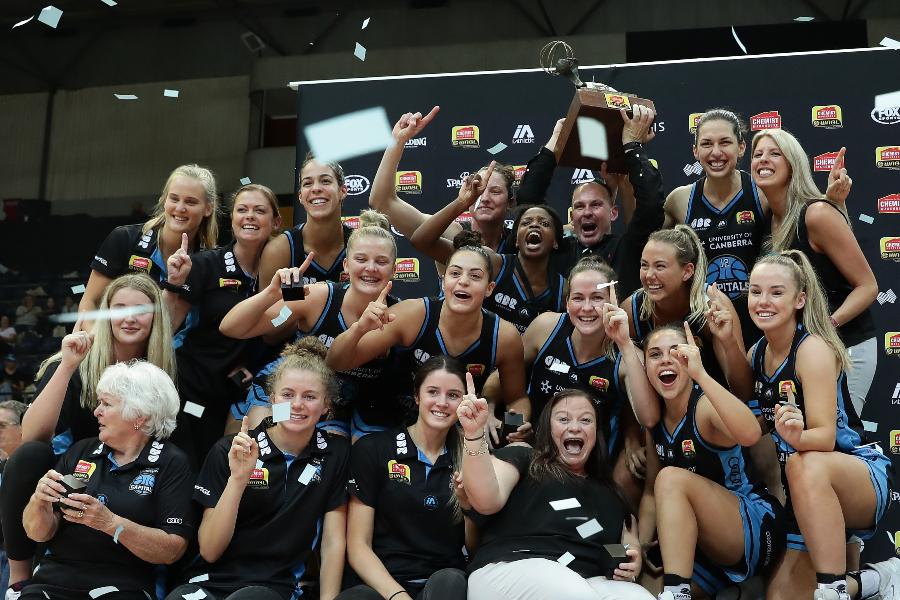 March 4, 2020 | UC Capitals news
The University of Canberra Capitals have gone back-to-back, winning their ninth WNBL Championship at AIS Arena after defeating the Southside Flyers 71-68 in Game Two of the Grand-Final Series.  
After a two-point win in Game One, the UC Capitals were able to sweep the Grand-Final series in front of their home crowd.
The UC Capitals' third quarter turned the game on its head, bouncing back from a 10-point deficit after consecutive shots by Olivia Epoupa and Marianna Tolo.
Bec Cole, who once again had a hot start with 19 points in the first half, found herself in foul trouble notching four personal fouls by the first three minutes of the third.
But it was the UC Capitals' extraordinary defence that kept the Southside Flyers scoreless six minutes into the third and, by the end of the quarter, the Flyers only had 9 points to the Capitals' 21.
With a two point lead going into the final quarter, the UC Capitals and the Southside Flyers kept at each other's heals.
The Flyers were ahead by just one point until a Kia Nurse three with 21 seconds to go put the Capitals up, 70-68.
Southside made desperate attempts to foul the Capitals, sending Kia Nurse and Maddy Rocci to the line for two where Rocci added another point.
The Flyers failed to get the ball back before the clock ran down, conceding the Championship to the UC Capitals.
Olivia Epoupa was named the Rachael Sporn Grand Final MVP after putting up 16 points, 7 rebounds and 11 assists tonight.
Marianna Tolo had a double-double (19 points and 12 rebounds), and Kia Nurse (18 points) and Kelsey Griffin (5 points and 13 rebounds) had impressive games.
Tolo said the championship win is unbelievable given the season the UC Capitals had.
"We've had so many ups and downs. We were just stoked to be here and I kind of came in tonight thinking anything could happen and I'm okay with it.
"After the first half you start to doubt a little bit but in the back of my mind I knew we did it last game where we were down at half time and we came back. We're fit, everyone's been doing the work in our team, we can consistently compete and we've been in those situations all season where we've been able to fight back at the last moment, and we were able to do that tonight.
"You know you're not going to be able to play with the same team every season and we'll lose a few people, but it makes this even more special," said Tolo.