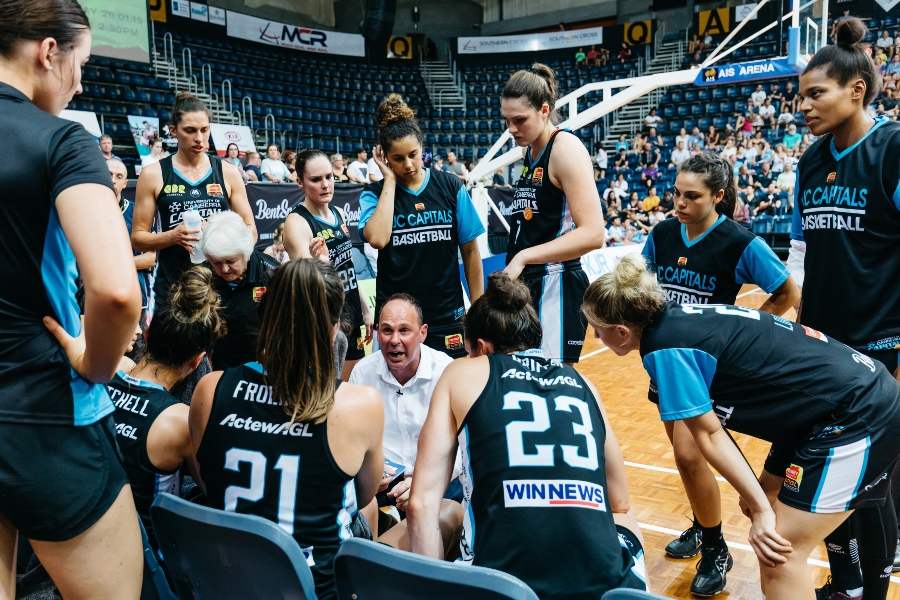 February 1, 2019 | UC Capitals news
The UC Capitals have progressed to the Chemist Warehouse WNBL grand finals series after a three-point shooting barrage from Kia Nurse and Leilani Mitchell.
The Perth Lynx got off to a hot start as Katie Ebzery came out much more aggressive then she was in game one. Asia Taylor also matched her pace from the get-go, proving rumours of her carrying an injury were just that.
The UC Capitals were out of sorts offensively in the first quarter, although Kelly Wilson kept the Capitals in it with a variety of scoring plays. Brittany McPhee was extremely effective for the Lynx as she dominated the rebound tally. Nurse hit back-to-back threes and Keely Froling provided some great minutes from the bench as the Caps clawed back to hold a 42 – 35 lead at half-time.
In a tight third quarter, it was again Kia Nurse who lead the UC Capitals whilst McPhee kept the scoreboard ticking over for the Lynx whom lost Asia Taylor to a nasty head knock as she dove head first into the knee of Kelsey Griffin. The Lynx momentarily took the lead behind an unlikely jumper from Maddie Allen, before a three from Keely Froling right before the buzzer stole the momentum and the lead back for the UC Capitals at three quarter time.
The floodgates then opened for the Capitals in the 4th quarter, as Tolo, Griffin and Froling got on the board early, further opening up the perimeter for Nurse and Mitchell, who took full advantage. The 'splash sisters' combined for four three-pointers in the final quarter as the Capitals ran away from the Lynx for a 91 – 75 victory.
For the full box score, click here.
The UC Capitals are now on the road home where they will hit the training court hard and fast ahead of their first grand final appearance since 2011.
Game 1 of the grand final series will be held at the AIS Arena on February 9 for a 5:30pm tip-off. Tickets will be available through Ticketek to members from 9am on Monday 4 February, before general public sales begin at midday.
Grand final series – UC Capitals v. Adelaide Lightning
Game 1: 9 February 5:30pm (AEDT), AIS Arena, Canberra
Game 2: 13 February 7:30pm (AEDT), TSA, Adelaide
Game 3 (if needed): 16 February 5:30pm (AEDT), AIS Arena, Canberra