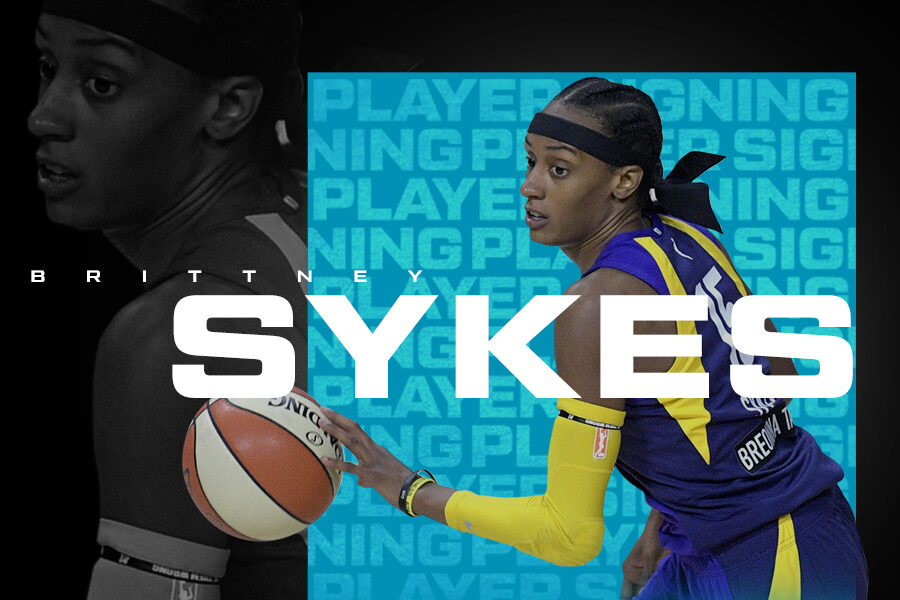 June 25, 2021 | UC Capitals news
The University of Canberra Capitals have filled the first of their restricted player spots for the season with the addition of Los Angeles Sparks guard Brittney Sykes.
After a successful college career at the University of Syracuse, Sykes is currently in her 5th season in the WNBA. Following her senior year at Syracuse, where she averaged 19 points and 8 rebounds per game, Sykes was drafted by the Atlanta Dream at pick number 7 in the 2017 WNBA draft. She was the runner-up for rookie of the year in the 2017 WNBA season. Sykes was traded to the LA Sparks ahead of the 2020 WNBA season and is now in her second season with the Sparks where she is currently 3rd in the league for steals per game.
The appeal of playing in a league and country that is relatively COVID19 free was appealing to Sykes.
"I'm actually really excited about coming to Australia. I have heard from a lot of people about how beautiful the continent is, so I'm hype! With the pandemic raging so crazily across the world, it will be great to go to a beautiful place that also provides a sense of normalcy."
Sykes has typically spent WNBA seasons playing in Europe including stints in Israel and Turkey and is also enticed by the chance to play in front of a passionate fan base and is looking to bring success to the UC Caps.
"I heard the league was a lot of fun and the fans were really passionate. That is similar to Europe, so I am used to it. I just hope that everyone knows that I am coming to win a championship. I play hard and I win."
Caps head coach Paul Goriss is excited to add Sykes to the roster, where she joins Kelsey Griffin, Tahlia Tupaea, Mikaela Ruef, Kelly Wilson and Alicia Froling, due to her edge defensively.
"Brittney brings experience, speed defence and length to our backcourt. She can play multiple positions because of her toughness, length, and ability to defend bigger players. She has an edge to her, she loves to compete, she wants to win, and she plays extremely hard on the defensive end of the floor."
"Her length contributes to her ability to get the ball to the basket offensively so she can create her own shot."
The reviews Goriss has received from those he has spoken with that have coached with and against Sykes confirmed that she was a player he needed on the roster.
"With all my background research and speaking with Brittney and WNBA coaches they were all very complimentary on how hard she competes, her quickness, her defence and her toughness. She will be extremely exciting to watch in our league and I'm confident that she will be a favourite of Caps fans straight away."