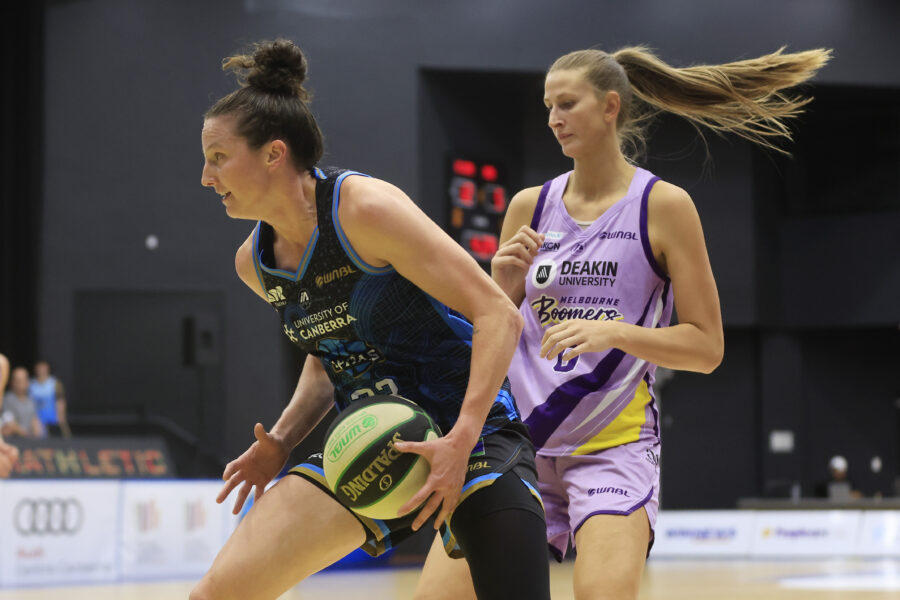 February 28, 2022 | UC Capitals news
The UC Capitals have lost their final regular season home game to the Melbourne Boomers, 76-78.
The game was in the UC Capitals hands right up until the fourth quarter, leading by as much as 15 points at one stage.
Melbourne began chipping away at the deficit, though, and finally gained their first lead of the game with just three minutes to go as the UC Caps struggled to execute offensively.
Kelsey Griffin, who notched 20 points by three quarter time, was forced to the bench after a sportsmanlike foul in the final 30 seconds.
Melbourne extended that lead to seven before Britt Sykes knocked down a three followed closely by a jump shot from Mikaela Ruef to bring the game back within two points with six seconds on the clock.
A Kelly Wilson steal brought the ball back into Caps possession, handing it to Sykes who managed to find Tahlia Tupaea at the hoop.
Devastatingly to the home crowd, the shot clock ran out before Tupaea was able to put it up to force the game to overtime.
The loss means that the Capitals have dropped to fourth on the ladder.
Head Coach Paul Goriss said that the game was a big learning experience for the team.
"As well as we've been playing, we haven't had a real close game like that in a while and sometimes those games are good teaching moments in regards to what we need to continue to keep working at and get better.
"That was like a play-off standard game that's going to come down to the last possession, so I think that's great to have these good games."
Kelly Wilson said that the team's offense is what let them down in the fourth quarter.
"Obviously, we had a really frantic finish and it was disappointing the way that it ended. We have to be able to win those types of games and it was a finals style of game.
"I think the most disappointing is not the last minute but more what happened in the fourth quarter. We gave away the lead pretty easily and weren't able to get it back.
"Moving forward, we need to be able to make shots and execute offensively because it probably wasn't our defence that was the deciding factor in that game."
Canberra will now have three weeks of road trips, starting with a Southside Flyers rematch, where they'll look to secure their place in finals.
To view the box score, click here.