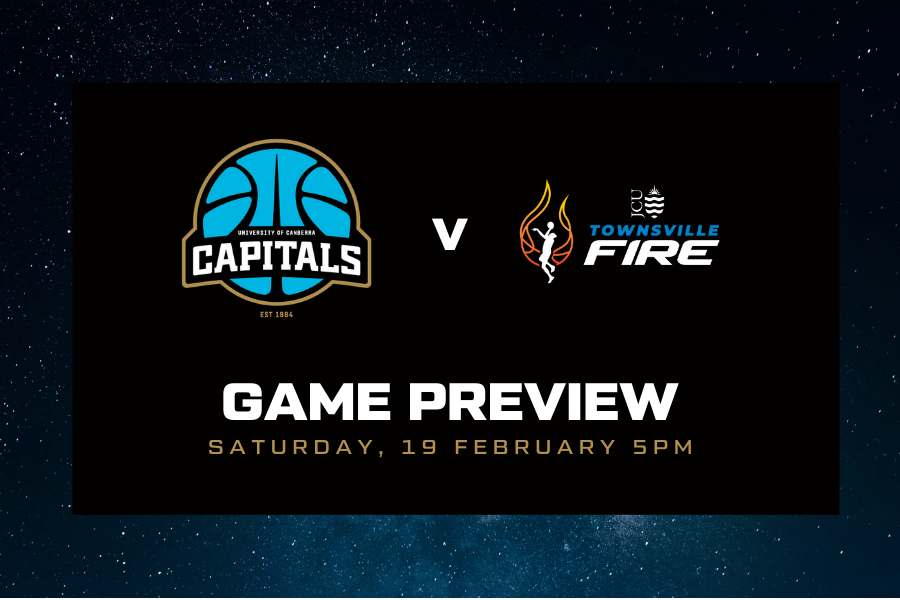 February 18, 2022 | UC Capitals news
When: Saturday, 19 February at 5pm
Where: National Convention Centre Canberra
How to watch: Fox Sports or ABC
After two weeks between games, the UC Capitals will meet the Townsville Fire on Saturday night.
Following the FIBA break as the Opals travelled to Serbia and the Southside Flyers subsequently forfeiting the Round 11 rematch, the UC Caps will once again have to overcome disruptions.
Head Coach Paul Goriss acknowledges the impact this has on the team.
"My issue with it is that you can get rusty, too much practice rather than game conditioning and game feel, which is a whole lot different to what you can replicate at practice," said Goriss.
The last time the UC Capitals played the Fire, they walked away with a dominant 24-point win in Townsville.
Since then, Townsville's recent run has been up and down with back-to-back wins against the Sydney Flames breaking up some key losses.
Most recently, Townsville suffered a five-point loss to the Bendigo Spirit on Thursday night but have maintained their fifth spot on the ladder.
With a recent game under their belts and a loss to fire up the team, Townsville are a threat to the UC Capitals.
"There are five teams that really vie for the top four spots and they're one of them," said Goriss.
"In the last few weeks, they've really upped their defensive pressure and energy at that end of the floor so I think we'll see a different team to what we saw way back in December."
The UC Capitals will also be shorthanded this weekend, with Jade Melbourne and Alicia Froling out due to COVID-19 protocols.
However, it will give the opportunity for Bronte Corke and Abby Solway to suit up for the first time this season.
Kelsey Griffin will be tasked with shutting down Townsville's import Monique Billings, who is currently third in the league for average points (18.2) and sixth for rebounds (8.6).
Britt Sykes will have to apply the defensive pressure on Lauren Nicholson, who is averaging 12.8 points per game.
This will be the UC Caps second last home game before going on the road for all of March leading into finals.
If the UC Caps can pull off the win, they'll overtake Perth to become the ladder leaders as the Lynx aren't scheduled to play in Round 11.
To purchase tickets, click here.
To view the game day program, click here.