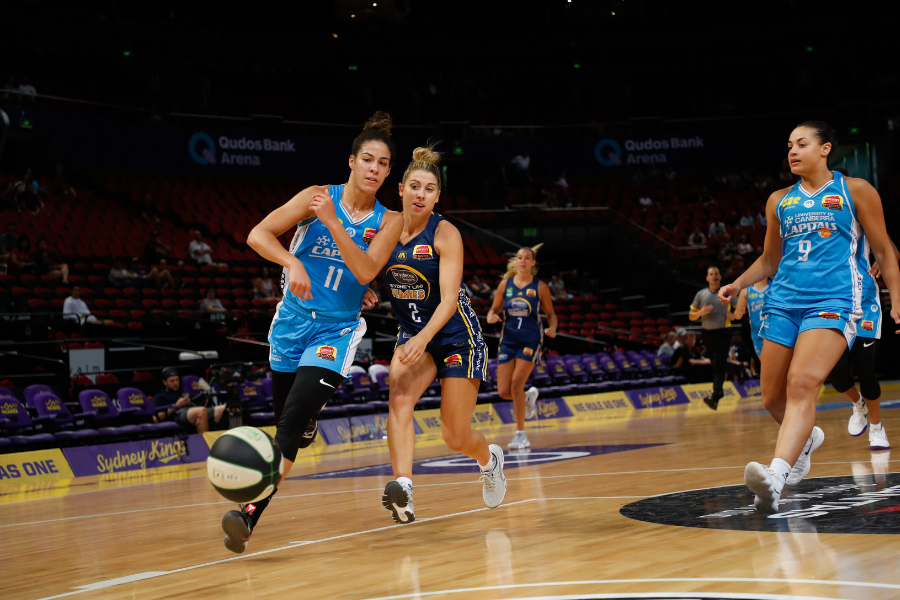 January 14, 2019 | UC Capitals news
The UC Capitals have secured home court advantage throughout the WNBL Chemist Warehouse Finals with a sweep of the road double header over the weekend.
After jumping out of the blocks and gaining a 31 – 15 first quarter edge, the Townsville Fire showed a ton of heart and determination to make things interesting in the second half. With Kelsey Griffin battling foul trouble, it was Opals point guard Leilani Mitchell who lead the way as the UC Caps held on for an 80 – 68 victory. Mitchell finished with 20 points and 7 assists, including 5 from 9 from behind the three-point line.
The UC Caps then travelled south to Sydney to take on the injury-plagued Sydney Flames. UC Caps centre Marianna Tolo got off to a quick start in the first quarter, registering 8 points, but Tahlia Tupaea and Belinda Snell kept the Sydney Flames close. Tupaea went down with a worrying knee injury in the third quarter and, despite the young Flames core playing well late, they struggled to keep up with the talented Capitals. It was again Leilani Mitchell who led for the UC Caps as her hot shooting continued resulting in a game high 24 points to go along with her 8 assists.
The wins secured the UC Capitals first minor premiership since 2009, with the Club today announcing that all finals games will be held at the AIS Arena. The first game of the semi – finals will be played on the 25th of January, with tickets to go on sale to members initially, before being available for the general public.
Photo Credit: Sydney Uni Flames