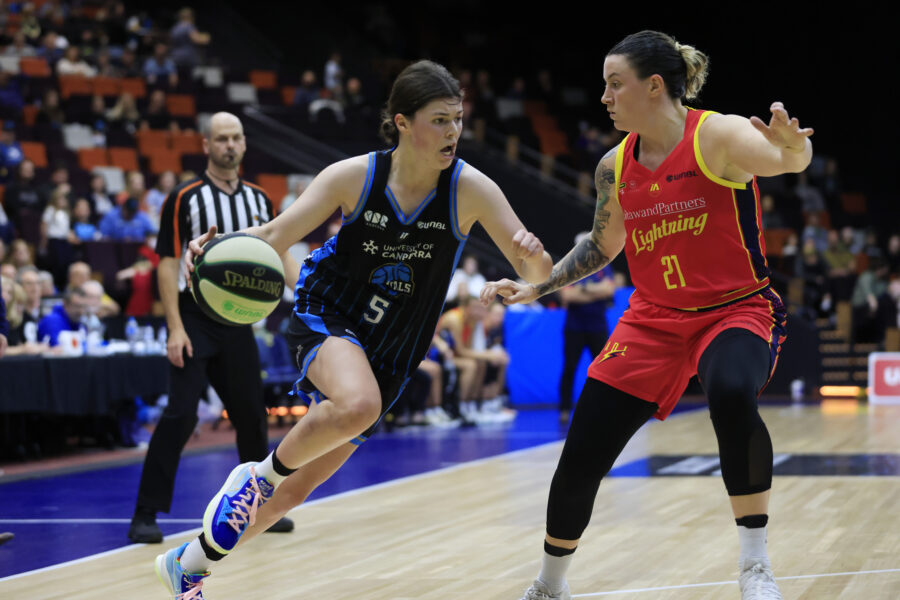 December 19, 2021 | UC Capitals news
The UC Capitals didn't deliver in their first home game in 656 days, losing to the Adelaide Lightning 62-88.
The Caps trailed behind the Lightning in the first quarter but managed to keep the game within four points before the margin blew out to 12 at half time.
A couple of big threes a piece from Jade Melbourne and Britt Smart kept them the Caps in the game but it didn't compare to the Lightning's scoring power.
It only got worse by the minute for the Capitals as a win came out of reach, shooting just 27% from the field and failing to stop the Lightning who were well and truly on a roll.
Jade Melbourne finished with a game-high 18 points while Mikaela Ruef was just a point away from a double double with 9 points and 10 rebounds.
Adelaide's Kiana Williams and Marena Whittle put up 17 points each followed closely by Alanna Smith with 16.
Coach Paul Goriss said that while he thinks the week off in isolation as well as missing key players Kelsey Griffin and Tahlia Tupaea impacted the team's cohesion and chemistry, their performance was uncharacteristic.
"That's no excuse for the missed layups and missed defensive assignments that we had – those things aren't acceptable excuses at all.
"When you shoot it at 27% for the game you are probably going to come out on the losing end most the time.
"I have a lot of confidence in the group that we've got and the depth that we have to be able to at least compete better than what we did today," said Goriss.
Britt Smart thinks the game got away from the Caps as the team failed to turn on from the jump.
"We just needed to be more awake and aware. I thought we were just one step behind on a lot of things whether that was hustle, loose balls or things on defence. We can be gritty when we want to be and I think maybe that was just waking up from the stuff that had happened last week and being proactive instead of reactive.
"That's in our control. This is up to us and the fact that we can do it three days later and show that. Win or lose, at least it's on our terms, on the game plan and with the adjustments that we make," said Smart.
The UC Capitals will spend Monday in recovery before making adjustments in practice on Tuesday as they'll look to bounce back and put a win on the board against Bendigo on Wednesday.
For the box score, click here.
To purchase tickets to the UC Capitals v Bendigo Spirit game on December 22, click here.