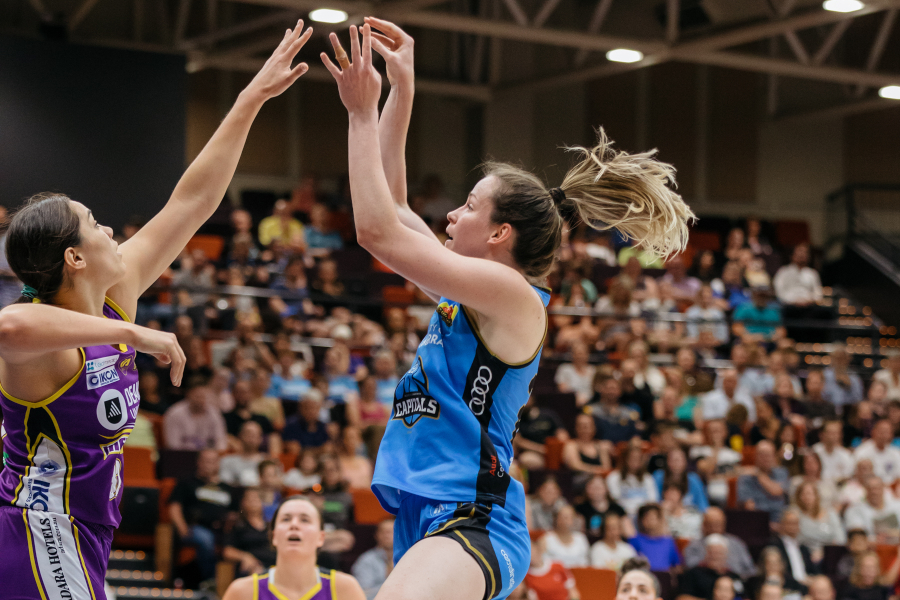 February 13, 2020 | UC Capitals news
Paul Goriss, Marianna Tolo, Kia Nurse and Olivia Epoupa landed in Canberra on Wednesday after qualifying for Tokyo.
The players who travelled are now taking some time to rest and recover before some critical whole team training sessions on Friday and Saturday.
For coach Goriss, it was straight back to work as he never quite switched off from thinking about the UC Caps.
"I don't think there was a day that I didn't think about the Caps or message Vealy or Kelsey to see what was going on back at home. I just couldn't wait to get back here to get started and planning for the semi-final series."
Goriss acknowledged that this is going to be a tough series as Melbourne is a physical team.
"Melbourne have been a top four team perennially. They're tough, they've got two Opals in their squad, and have played well throughout the season. Defensively, they play hard and that's something we've really got to figure out because they want to make it a grind with the physicality they play at."
Keely Froling, after having their first session with Goriss this morning, said that it's good to have their coach back.
"It's been a weird week and a half without him and a few players, so it's nice to have them back, return to normality and really get ready for the game on Sunday."
Although it was an unusual period, Froling said that it's been an important opportunity to fine-tune some things ahead of the semi-final series.
"It's been a good few weeks for us. We've trained against some boys and the Centre of Excellence girls so we've been doing a lot of scrimmaging, working through how we think Melbourne will play and going through stuff we know we need to get better at."
With Tolo, Epoupa and Nurse back in town, Froling said that it's a massive boost for the team.
"First of all, it means we are getting close to the game so I think that brings the energy up but they're obviously such good players and have such great experience so it'll help big time in getting ready for this game on Sunday."
Froling thinks that when it comes to the Melbourne Boomers, it's the UC Capitals' defence that will be key to a win.
"We know that they can score and score a lot, so our focus is getting defensive stops and then we know we can put the ball in the hole.
"We had a lot of momentum and I think we were peaking at the right time and we've finally got our whole group back together after an up-and-down season. We know what we can do and how we have to win this game. It's not going to be easy, but we're ready."
Froling is confident with how her face has healed after suffering a broken nose and cheek last month.
To purchase tickets to Sunday's game, click here.