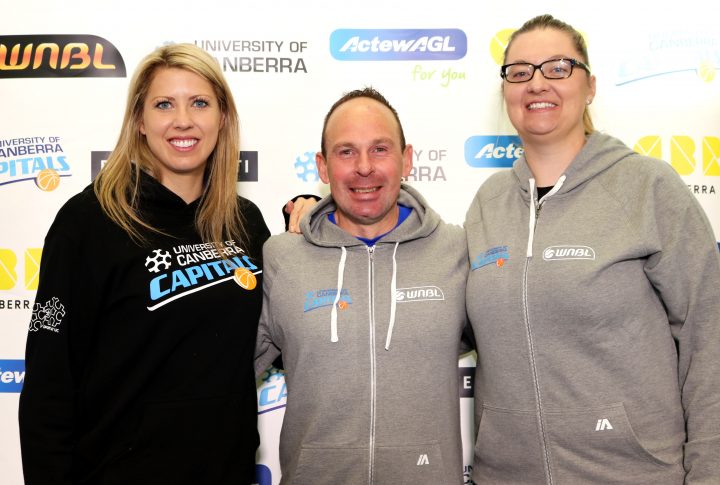 September 12, 2017 | UC Capitals news
The University of Canberra Capitals will welcome back veteran guard Carly Wilson and Peta Sinclair as assistant coaches for the 2017/18 WNBL season, working under head coach Paul Goriss.
Wilson joins the coaching ranks for the first time after a phenomenal 18 seasons in the WNBL including the last eight with the UC Capitals.
Wilson said she is delighted to come back to the club she won a WNBL title with back in 2010.
"It did take me a while to decide if the time was right, but with a few months away from the start of the season, it was actually a really easy decision to make," she said.
"I really wanted to stay and be involved with the UC Capitals and I'm straight back into it."
The 35-year-old said while she is happy to step off the court, she wasn't ready to walk away from the game she loves.
"I am not missing playing at all… but I was missing the game and I missed being involved. I feel I can contribute from the sidelines and I'm delighted to be back," she said.
Meanwhile, Sinclair returns for her second season as assistant coach with the UC Capitals. Prior to joining the club, she was assistant coach for the under-18 women's Queensland South basketball team for two seasons and head coach/player for the Heritage Isle Tornadoes during their 2014 South East Australian Basketball League season.
Sinclair, who played four seasons in Canberra from 2005-2009, is confident this season will be exciting one from a coaching perspective, working alongside Goriss and Wilson.
"It almost feels like a reunion," she said.
"I first met Paul and Carly at the AIS and now we are all back together which is pretty exciting," Sinclair said.
Sinclair said the appointment of Wilson will be a huge benefit for the team this season.
"I think Wilson will be an invaluable asset this season for the UC Capitals… it's really exciting to have a fun, young group."
Head coach Paul Goriss said he is delighted to welcome Wilson back to the club and hopes her short break from the game will help her connect with the new look roster.
"We didn't know which way she was going to go, if she was going to fully retire and step away from basketball for a while, but when she made the call to come back this year, we welcomed her with open arms," Goriss said.
"Both Wilson and Sinclair have a great basketball IQ and knowing them both from a young age, they were both students of the game and really understood the game well."
The UC Capitals start their road to the 2017/18 WNBL season with their first preseason match against Fujitsu Red Wave in Belconnen on September 15.
By Jaylee Ismay
Photo credit: Vanessa Lam