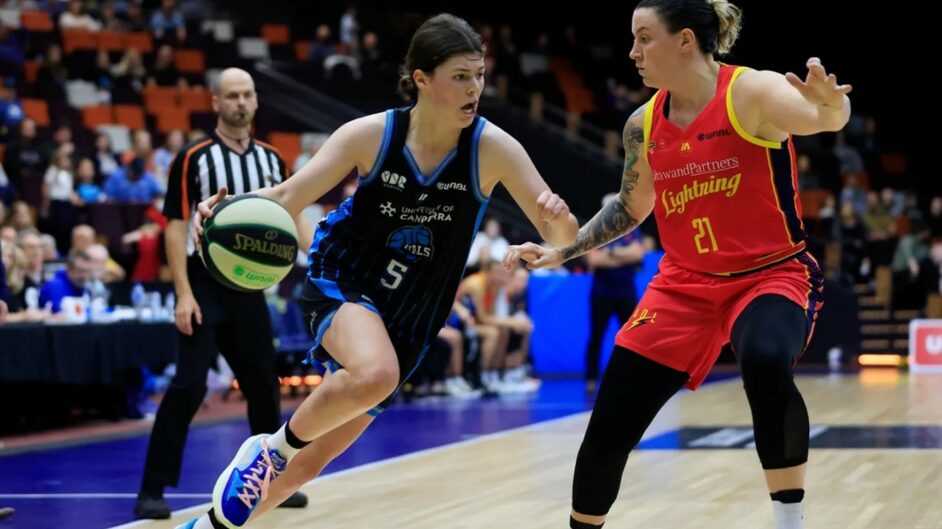 October 12, 2022 | WNBL news
By Hayley Wildes | The Pick and Roll
With the 2022/23 WNBL season tipping off in just under three weeks, there's plenty to be pumped about across the league, with a plethora of teams looking capable of making a run and great talent spread around the country.
One exciting aspect every season is watching players take the next step and make a real name for themselves in the league. With that in mind, it's time to take a look at a potential breakout player for each team, someone who is a candidate for the Betty Watson Breakout Player of the Year Award.
The Breakout Player of the Year Award, rebranded from the Betty Watson Australian Youth Player of the Year Award for the upcoming season, has new eligibility rules, allowing any player – with no age limit attached to the award – to win.
Opals superstar Ezi Magbegor has won three of the past five Betty Watson awards, but there will be a new winner this season as she won't be suiting up in the WNBL, having joined Sopron Basket in Hungary for the upcoming season.
Adelaide Lightning – Abby Cubillo
Abby Cubillo will have the opportunity to play a large role for the Adelaide Lightning, having joined the team after a handful of seasons with the Canberra Capitals.
Cubillo – who was a member of the Australian team that won Gold at the U17 World Championships in 2016 – wasn't able to impact the Capitals rotation last season, but she remains a really strong guard prospect.
Proof of that was her impressive 2022 NBL1 North campaign. Playing for the Brisbane Capitals, Cubillo showed her class with 19 points, 6.3 assists and 6.4 rebounds per game in 20 outings. Her 36-point, 7-rebound and 5-assist performance against Mackay was a total domination as she shot an outrageous 72.2% from the field and 75% from deep.
Turnovers were an issue for Cubillo throughout the NBL1 season, averaging 5 per game, and she'll certainly want to keep those to a minimum as she looks to integrate herself into a new system in Adelaide.
Bendigo Spirit – Piper Dunlop
The Bendigo Spirit have undergone a roster transformation with a couple of big names joining the squad in Kelsey Griffin and Kelly Wilson. With those two suiting up alongside reigning WNBL MVP Anneli Maley, the Spirit should see improvement this season and in Piper Dunlop's third WNBL season, she could provide a much-needed boost off the bench.
Dunlop is still just 19 years old and is only going to get better as she spends more time on the court. In her 2022 NBL1 South campaign with the Nunawading Spectres, Dunlop averaged 9 points and 6.6 rebounds per game.
Dunlop has the size to compete against opposing bigs and as she gains more confidence at the WNBL level, she will be a valuable commodity for Bendigo.
Canberra Capitals – Jade Melbourne
Who else but Jade Melbourne?
Melbourne is the most exciting player 20 years and under coming through the Australian ranks today and despite just missing the final cut for the Opals World Cup squad, she will absolutely be a cornerstone of that team for many years to come.
Melbourne is just an Energizer bunny on the court, and I wouldn't be surprised if the word 'slow' isn't in her vocabulary as she flies around the court impacting the game in every possible way. She's a nightmare to guard because of her speed, but she also rebounds the ball at an extremely high level for a guard.
With averages of 20.7 points, 8.4 rebounds and 4.7 assists per game while playing for the Ballarat Miners in the NBL1 South this past season, she is ready to truly shine at the WNBL level.
Melbourne Boomers – Lily Scanlon
The defending Champion Melbourne Boomers are a team loaded with mature players and look likely to be the team to beat in season 2022/23, but that doesn't take away from a young talent they will have coming off the bench.
Lily Scanlon is back with the Boomers for a second consecutive season, having joined the Boomers last year after playing a season of college basketball at Gonzaga University.
Scanlon never takes a backwards step, and with Tess Madgen and Kristy Wallace playing beside her, she will have two of the best guards in the country to learn from.
Perth Lynx – Amy Atwell
Amy Atwell has been refining her craft away from home for years and now returns to Australia as a member of the Perth Lynx. Atwell put together an incredible college career at the University of Hawaii, where she became the school's all-time leader in three-point makes and was the 2021/22 Big West Conference Player of the Year, with averages 17.8 points and 7 rebounds per game.
Atwell's WNBA dream was realised earlier this year when she was selected by the Los Angeles Sparks with the 27th pick in the draft, and impressed throughout pre-season to find herself in the starting line-up on opening night.
Although she was waived by the Sparks in early June, Atwell will have the chance to prove to WNBA scouts that she deserves a second chance when she suits up for the Lynx. Atwell's shooting prowess is what sets her apart and all I can say is good luck to opposition defences trying to slow down the scoring output of the Amy Atwell-Sami Whitcomb combination.
Southside Flyers – Nyadiew Puoch
Nyadiew Puoch could be anything! Just 18 years old, Puoch has all the attributes to be an absolute star of Australian basketball and will be suiting up for the Southside Flyers this WNBL season.
Puoch has the size (186cm) to be a dominant forward, and athleticism to take advantage of slower bigs on the court. Her unique mix of athleticism and size makes her an absolute handful to guard, and getting to practice with and learn from the likes of Lauren Jackson, Abby Bishop and Sara Blicavs at the Flyers is only going to help her development.
Puoch played 16 games for the Basketball Australia Centre of Excellence in the NBL1 season, averaging 11.6 points and 5.3 rebounds per game. Look for Puoch to add some real excitement off the bench for the Flyers!
Sydney Flames – Emma Clarke
After spending the last two seasons in Perth, Emma Clarke has headed East to join a Sydney Flames team looking to bounce back after a difficult four-win 2021/22 campaign.
Still only 22 years of age, Clarke has tremendous upside, thanks largely to her length and shooting ability. In the past NBL1 West season, Clarke was dominant for the Perry Lakes Hawks, scoring in double figures in all 20 of her outings and posting a double-double on 11 occasions.
In a young team, Clarke will have a real opportunity to solidify herself in the Flames rotation, after finding it difficult to earn minutes in a loaded Perth team last season.
Townsville Fire – Zitina Aokuso
Zitina Aokuso has been on the precipice of stardom for a couple of years now, having earned spots in Opals squads for qualifying tournaments, but this WNBL season shapes as a vital one for the 23-year-old.
She's capable of being the most dominant big on the floor at any time, but consistency somewhat held her back last season. Aokuso has such a presence inside and Townsville's guards, led by Lauren Nicholson and Steph Reid, will be looking to get her the ball in the paint.
In a July NBL1 South match-up against Knox, Aokuso, who was playing for Ballarat, went head-to-head with Alicia Froling and it was a match-up that showed just how good both can be! They battled all night long and in an overtime thriller – which Knox eventually won 84-81 – Aokuso did it all with 32 points, 9 rebounds, 5 assists and 3 blocks on 78% shooting, while Froling finished with 20 points, 15 rebounds and 2 blocks.
Aokuso was near unstoppable that night and Townsville fans will be hoping to see more of that when the WNBL season tips off.