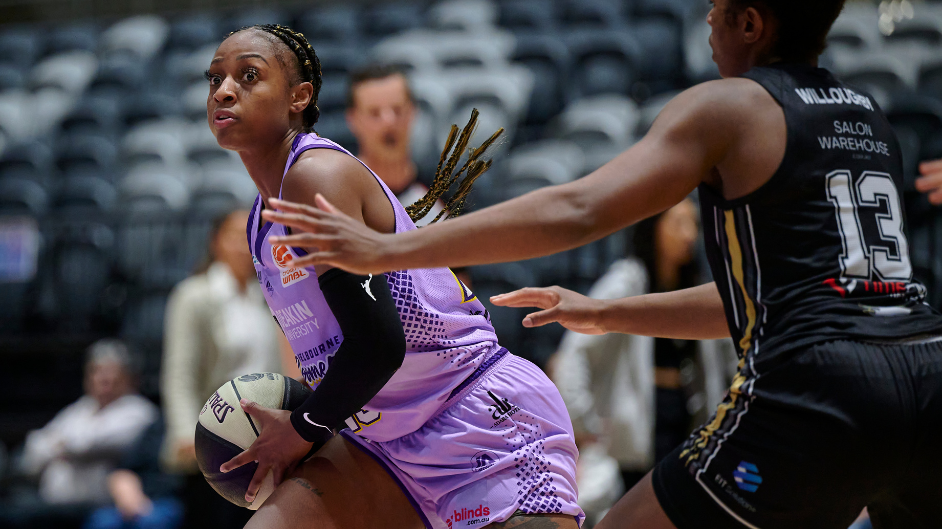 January 25, 2023 | WNBL news
By Daniel Herborn | The Pick and Roll
Last season, Tiffany Mitchell was a star, a multifaceted scorer and a key piece on a championship team. This season, she's even better.
Coming into round 11, Mitchell led the WNBL in average points (19.6) and was ranked third for most steals (2.0) per game. "I think it's about being familiar with the league," she tells The Pick and Roll of her levelling up. "Being new last year, I had some games where it took me some time to adjust to the style of play."
After the drought-breaking grand final win with the Melbourne Boomers, Mitchell returned to the WNBA for her seventh season with the Indiana Fever. While she posted the best field-goal percentage of her career, she mostly came off the bench for her team and earned less than 20 minutes of court time per game for the first time. It wasn't a trend that sat well with this most competitive of players.
"I didn't have the season I wanted or expected of myself," the 28-year-old says. "I came into this [WNBL] season with a chip on my shoulder and wanted to show I was capable of doing more."
When Boomers and Opals captain Tess Madgen was ruled out with an injury, initially for the first part of the season and then the whole campaign, Mitchell knew she had to step up. "I guess I got more responsibility once we found out about Tess (being injured). I knew there would be more on me to pick up where she would help us out."
Back at Indiana, Mitchell's response to things not going her way was to double down on hard work.  "That's what I embody; I always want to be one of the hardest workers on the court," she explains. "One thing I don't want to ever waver in my game is you can't say I don't play hard. You can't say I don't put in the effort if I'm not scoring the ball. I want to impact the game any way I can. Whether that's rebounding for that game, or playing defence for that game, I want to find ways to be productive."
Mitchell also set about turning the perceived weaknesses in her game into strengths. She says that her three-point shooting was "something that people around the league weren't really sold on", but she knew that it was the key to rounding out her offensive game: "I could get to the rim pretty easily, and my mid-range game was there, but I knew if I could knock down the three consistently, I could score at all three levels, and I'd be a hard guard and a problem for the people defending me."
With the prospect of being a 'pick your poison' proposition in mind, Mitchell would stay behind after Fever practice sessions, sometimes putting up 200 three-point shots a day as she painstakingly refined her long-range shooting. While Mitchell knew she might only get a couple of chances to shoot from outside each game, she wanted to be ready when the opportunity came.
The elevated shooting immediately paid dividends in her second Boomers season, which she started in scintillating form, putting up 32 points and 9 assists in a win over the Perth Lynx and demonstrating her ability to make good decisions out of pick-and-roll situations.
The three-point shooting she worked so hard during the WNBA season has been a feature of her game – most notably, she hit five of six three-pointers on her way to 23 points in a close win over the Townsville Fire. After ending last season with a 27.1% record from long-range, she's connecting at a scorching 50% from deep this year.
Mitchell's dominance has been vital in the Boomers compiling a table-topping 11-3 record. The team's juggernaut form is all the more remarkable given the turnover of key personnel since last season. Kristy Wallace came into the side to replace star point guard Lindsay Allen, Olivia Nelson-Ododa stepped in for the Europe-bound Ezi Magbegor, and veteran coach Chris Lucas took over from Guy Molloy, who had been in charge since 2013.
After the team's disappointing loss in game one of the grand final last year, Molloy empowered the players to reflect on their performance and identify what they needed to do better. History shows that approach worked wonders, with the team romping to a drought-breaking series win.
Mitchell says Lucas is similar to Molloy in that he's happy to trust the players to problem-solve on their own. "He's very adamant that we're the ones out there, so he'll let us decide certain things. He's open to dialogue and to discussing things, and I think that goes a long way to making sure we're both on the same page. We have that relationship where coach and player can disagree, but we have communication."
Born in basketball-loving North Carolina, Mitchell has had stops in Israel, Turkey and Russia sandwiched between WNBA campaigns. At times, it's been challenging, not least her stay in Russia after her first year as a pro. "I was 21 years old and lived for eight months by myself," she recalls. "That was a big adjustment for me; I was feeling so isolated. Australia has been the opposite, which is why I think I do so well here. It's not as challenging; I can live my life as if I was still at home."
Mitchell living her best life includes plenty of time for recovery and self-care. "I might get a workout in, get a massage, do a little yoga," she explains when asked how she spends a day off. "I love to get my nails done, hair done, mani, pedi, lashes. Look good, feel good, play good; I'm all about that!"
It's a formula that's working for Mitchell. She's not just a good chance of lifting the championship trophy again; her stellar play has made her a leading contender for the Suzy Batkovic Most Valuable Player Award. But she's clear where her priorities lie: "I came back out here because I wanted to repeat and be champions again. Anything individual, that just comes along with it."