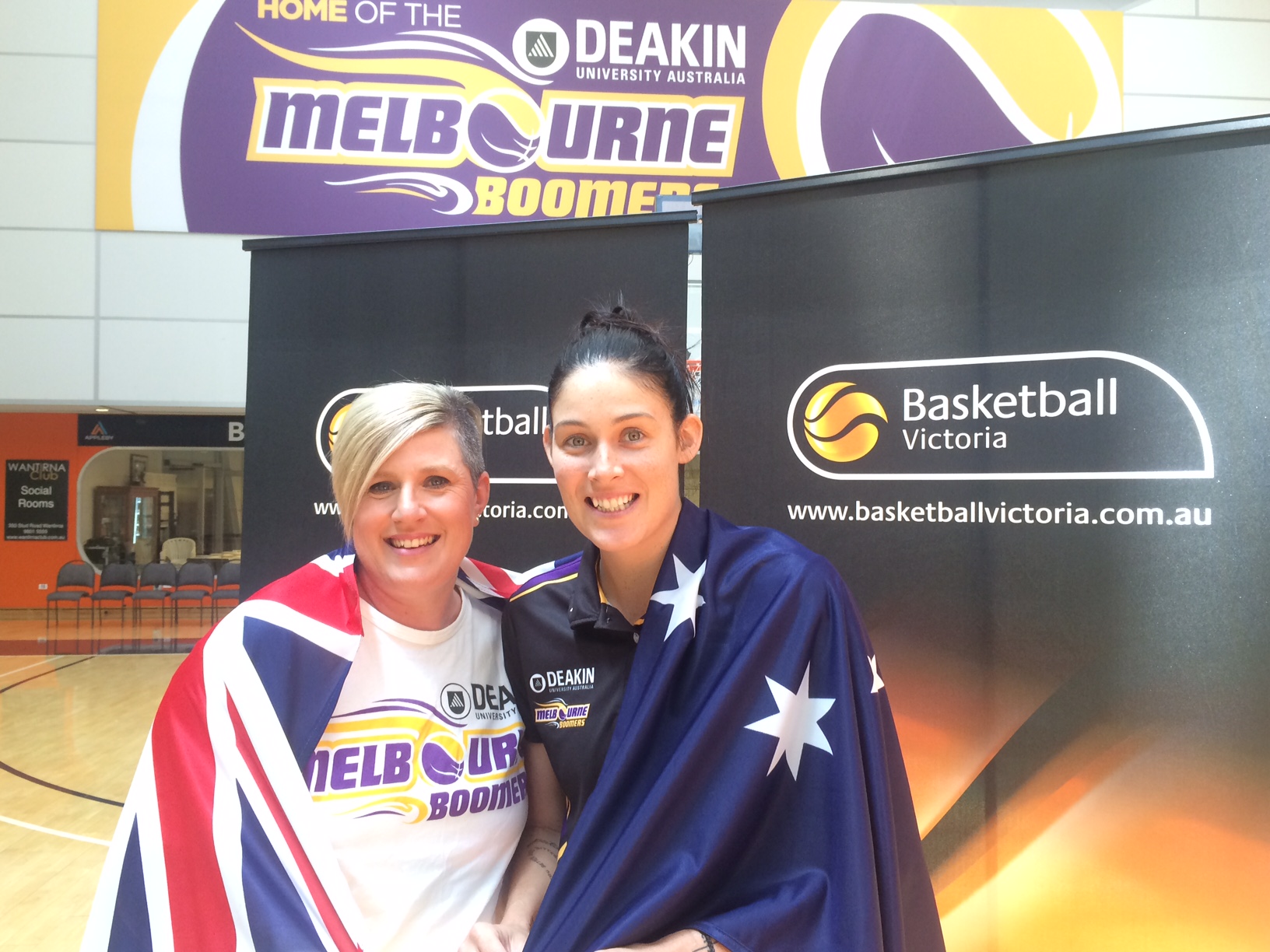 January 25, 2017 | WNBL news
Head of the WNBL Sally Phillips knows that when it comes to being supportive about girls and women in basketball, fans of the 36-year old national league are as passionate as they come.
ItÕs that passion Sally believes will be on show tonight at AusDayEve 2 when the Deakin Melbourne Boomers take on arch rivals, the Jayco Dandenong Rangers.
ÒThis event was such a great success last year and it looks like it is going to be even bigger tonight. ItÕs really exciting for the league,Ó said Sally, pictured with Boomers player Tegan Cunningham, who will play her 150th WNBL game tonight.
ÒThe work that has been done to make this a feature game each season is fantastic, there is a real energy and excitement around this game. We believe this will continue to be a standout game each season here in Melbourne,Ó she added.
TonightÕs game is expected to attract as many as 3,000 supporters, which would mark yet another record WNBL crowd at the State Basketball Centre, home of the Boomers.
Basketball Victoria has shown tremendous support for the event and will be a presenting partner with all junior players (17yrs & under) encouraged to wear their own junior club colours for free entry.
Boomers GM Justin Nelson believes that AusDayEve 2 will once again highlight the enormous support that exists for the WNBL and wants fans to make a statement in the hope that the iconic league sees a rise in media coverage and corporate support.
ÒOur club is extremely proud to have developed this event and we want to see it keep growing, but our focus is firmly on making this a marquee game each season for the WNBL,Ó said Nelson.
ÒMelbourne loves basketball and tonight we will see that passion reach fever-pitch for this great league. The timing of this event is ideal and we canÕt wait to see the State Basketball Centre filled with genuine excitement for the players and these two great clubs.Ó
WHAT: AusDayeEve 2
WHO: Deakin Melbourne Boomers vs Jayco Dandenong Rangers
WHEN: Wednesday January 25
WHERE: State Basketball Centre (Wantirna South, High Street Rd exit off Eastlink Ð free parking)
TIME: 7:30pm tip-off (arrive early)
TICKETS: At the door or online HERE.