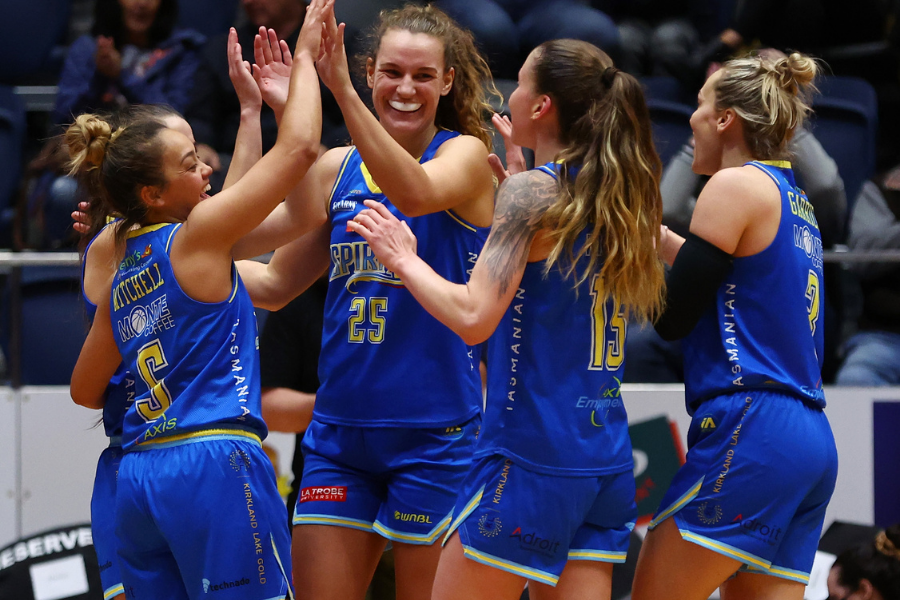 December 9, 2021 | WNBL news
By Jessica Robinson.
Bendigo's winless 676-day drought was broken after the Spirit upset the Melbourne Boomers by five points on their home deck on Wednesday night, 63-58. 
Led by captain Tessa Lavey, the Spirit built on their round one form, which saw them challenge the Southside 2020 champion team despite just falling short.
"It was pretty awesome. For myself and some of the girls who were there last year, it's been a long offseason and we've been hanging to get back out playing and back on the winner's list," Lavey told WNBL Media post-game.
"It was for the girls, I'm playing for them. I'm proud of the group, but it's not just for us, it was for all the Spirit fans, our families, the organisation, I believe we're on the up for sure."
The addition of experienced trio Anneli Maley, Maddie Garrick and Leilani Mitchell has already proved a massive boost to the squad and has Bendigo fans excited for what's to come, as their knowledge of the game settles the youth coming through the squad.
The 2020 leading rebounder, Maley's 33 points and 27 rebounds across the opening two games has driven the team to the drought-breaking victory, while Garrick's aggression up and down the court and Mitchell's swift execution in pivotal moments has the Spirit's season heading in the right direction.
View this post on Instagram
"She (Maley) brings that intensity, she's a competitor. We want second-chance points as much as we can and her energy on defense is huge for us. Maley's bought a lot this year and she's consistent as well and that's the key for this group, consistency will be huge for us." Lavey said.
"We only saw a glimpse of the impact that Leilani and Maddie can make on a game and that's the positive thing of our group, anyone can stand up at any moment."
Disappointed with the round one loss, Lavey knew the first game would be a learning curve for the fresh group and is determined to keep moving on an upward trend.
"Last week we were there with the Flyers but we knew we didn't play well and it was only our first game together.
"I told the girls to bring what they do best to the game, if you've got a shot you take it and be really confident. We're not going to back down. We're a really talented group and I think we can match it with the best of them and that showed on Wednesday night."
View this post on Instagram