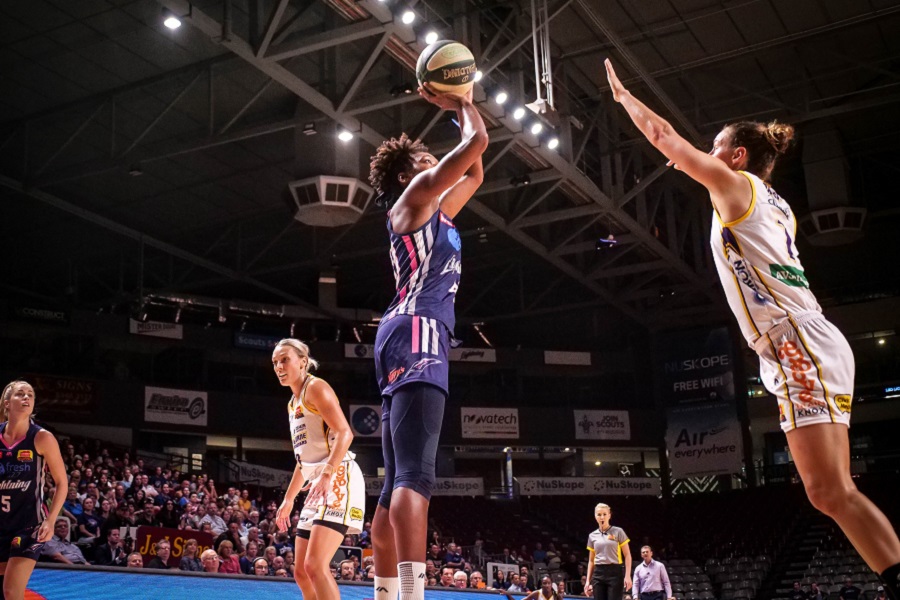 January 31, 2019 | WNBL news
The Adelaide Lightning have swept their way past the Deakin Melbourne Boomers in the 2018/19 second Semi-Final series, booking a place in the Grand Final series which begins on February 9 with a 100-92 victory in Game 2.
A sublime performance from Adelaide's starting five saw four players reach double-figures and Nicole Seekamp record nine points and 12 assists as they tallied their second highest score of the season.
Melbourne's offence was far improved from Game 1 but they could not get the job done defensively, giving up their highest score of the season- 28 points more than their regular season average.
They had no answers for Nia Coffey (30 points, nine rebounds, two assists), Lauren Nicholson (23 points on 9-10 shooting) and Kayla Alexander (20 points, nine rebounds, two steals) while Steph Blicavs also chipped in with 11 points and two assists.
"I'm proud of the team, I knew it was going to be an arm-wrestle and I felt like we kept the pressure on the scoreboard," said Lightning coach Chris Lucas.
"Our execution in the fourth quarter and decision-making was really good. We will enjoy tonight and then get back to business on Monday."
"I was pretty pleased overall with our performance," said Boomers coach Guy Molloy.
"The damage was done on Sunday. Had we had that one in the bank and this was our Game 2 and we were heading back for Game 3 I wouldn't be disappointed.
"It was difficult to stop the interior scores and the foul trouble was mounting. That constant threat made things difficult."
Adelaide had a hot start to each quarter, beginning with a 5-0 run to open the game and continuing with an 11-3 run to begin the second term, an 11-2 run to start the third and a 6-0 run to kick off the final quarter.
In reply, Lindsay Allen got the Boomers going after another slow start while Maddie Garrick, who started in place of Kalani Purcell, knocked down her first shot after finishing Game 1 scoreless.
It was a fast-paced contest which seemed to suit both parties but a blistering start to the second term finally gave Adelaide some breathing room.
It was short-lived though as out of a time-out, the Boomers responded with Cayla George contributing five points in an 8-0 streak for the visitors.
Her combination with Allen in the pick and pop worked a treat for Melbourne and with both players firing, the Boomers all of a sudden owned a one-point lead at half-time, their first lead of the game.
After Adelaide's 11-2 run to open the second half, Melbourne again replied with a 14-4 run of their own through George (24 points, nine rebounds) while Ezi Magbegor had a couple of important effort plays on the offensive glass.
Both sides were trying to break the game open as a Colleen Planeta three was answered by a triple from O'Hea but it was Coffey who took the initiative, scoring five points in the last two minutes of the third quarter to put her team ahead by 7.
Melbourne needed to make a run early in the fourth but they were scoreless for the first two minutes and George then fouled out to make life even tougher for the visitors.
Without the Boomers' star forward on court, Adelaide utilised the height and strength of Alexander in the paint to push out to an unassailable lead.
The visitors did continue to fight with O'Hea (13 points, four assists) knocking down another jumper from beyond the arc and Allen (29 points, six assists) connecting on a three-point play.
But, as they had done all night, Adelaide had the answers through a Nicholson triple and a Blicavs drive to seal the victory.