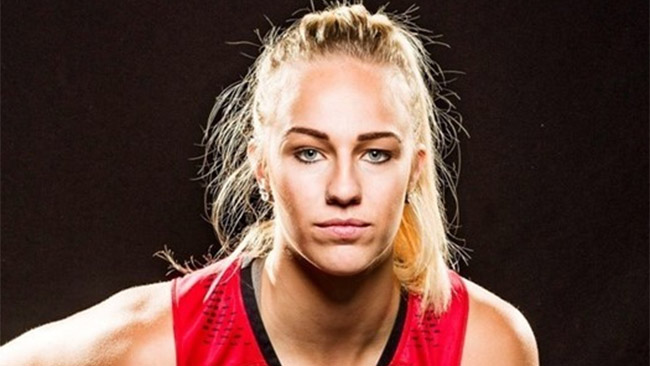 May 10, 2017 | WNBL news
Nicole Seekamp signs with MAC Adelaide Lightning as they continue to build strength in the guard position with the signing of former Adelaide Lightning and South Dakota CoyoteÕs guard.
Playing for the South Dakota CoyotesÕ from 2012 Ð 2016, Nicole had a stellar college career which included holding the second all-time career points leader with 2056 points, 628 assists and 265 steals.
Making the move to play for Poland Gorz—w WLKP this year, Nicole is averaging 11.3 points per game, 3.0 rebounds, 5.0 assists and 1.5 steals proving to be a very important player for the team.
MAC Adelaide Lightning Head Coach Chris Lucas says, ÒIÕm really excited to have Nicole as part of our team this season. She is an athlete with a great work ethic who is always looking to improve her game.
"She will bring versatility to the player group, both offensively and defensively. Her personality is exactly what we are looking for in terms of our team culture and chemistry we are building.Ó
Nicole, who returns to the US this weekend to see and catch-up with many friends is looking forward to coming back home.
ÒIt was very cold in Poland; negative nine degrees, but that wasnÕt as cold as South Dakota,Ó she said.
ÒIt got to minus-40 Fahrenheit there, (not sure what that is in Celsius) and the wind was freezing. ItÕs always sunny at home though.Ó
ÒWe are excited that Nicole has chosen to return home to South Australia and to the Club. Her experience both in the US and Europe will benefit us greatly in our bid next season,Ó says Mandy Spear, General Manager, MAC Adelaide Lightning.
Adding to the roster which is already boasting Abby Bishop, Aimie Clydesdale, Natalie Novosel, Sarah Elsworthy and Chelsea Brook, Lightning fans should be eager for the season ahead.
Nicole is excited for the season to come. "With ChrisÕ help, I know I can get better as a player and keep developing.
"ItÕs an exciting time to be at the club with the new team and we want to win a championship.Ó