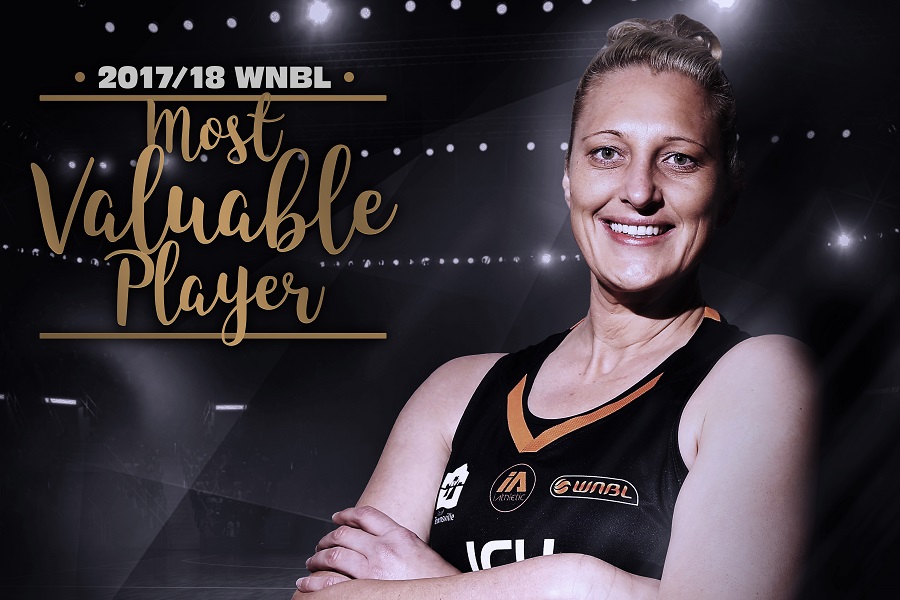 January 16, 2018 | WNBL news
Suzy Batkovic has strengthened her claim as the WNBL's greatest player of all time with the JCU Townsville Fire centre winning the 2017/18 Most Valuable Player (MVP) award.
Voted by referees and coaches at the conclusion of each game through the regular season, Batkovic earned 117 votes out of a maximum of 189 and finished 13 votes clear of second-placed Liz Cambage thanks to an incredibly consistent campaign.
"It's obviously a great honour," said Batkovic.
"Townsville have had a great culture for a number of years so I just try to maintain that and I have got great team mates around me that do the same."
Prior to 2014, no player had won the MVP in three consecutive seasons but after achieving the feat from 2012-14, Batkovic has now repeated the accomplishment again from 2016-18.
Recording 20.5 points and ten rebounds per game this season, Batkovic was one of only two players to average a double-double while her defensive work was just as important to Townsville, finishing fifth in the competition for steals with 1.8 and fifth for blocks with 1.1 per contest.
Despite featuring in her 16th season and now sitting 12th on the all-time games played list, the centre remains as dominant as ever, having knocked down the third most two-point field goals, third most free-throws and third most points through 2017/18.
"I've been in my body for 37 years now so I have learned when to push forward and when to pull back.
"It's just about being smart in how I manage myself."
After starting the campaign with five points and three rebounds against the Boomers in Round 1, Batkovic followed that performance with four double-doubles and went on to score 20+ in each of her next seven games.
She tallied 13 double-doubles overall and notched a season-high of 31 points in Round 13 while also earning the Player of the Week in Round 4 when the Fire swept their way to two victories with Batkovic averaging 26.5 points, 10.5 rebounds, three assists and 4.5 steals per game.
Overall, she shot 44% from the field and 84% from the free-throw line and was a consistent member of the Team of the Week, earning six nominations.
"This season has had some of the best post players in the world and it's been tough but it's great to have that competition. I am a competitor so it gets me motivated and it makes you better as a player."
The best news for the league and WNBL fans is that Batkovic has already made up her mind as to whether she will return for the 2018/19 season with the opportunity to surpass the 350-game milestone next year as well as potentially claim a seventh MVP.
"I'll definitely be back next season," Batkovic said.
2017/18 WNBL Most Valuable Player Votes:

1. Suzy Batkovic (117 votes) Townsville Fire
2. Liz Cambage (104 votes) Melbourne Boomers
3. Courtney Williams (95 votes) Perth Lynx
4. Asia Taylor (85 votes) Sydney Uni Flames
5. Sami Whitcomb (82 votes) Perth Lynx
6. Steph Blicavs (57 votes) Dandenong Rangers
=7. Jenna O'Hea (55 votes) Melbourne Boomers
=7. Abby Bishop (55 votes) Adelaide Lightning
9. Jennifer Hamson (54 votes) Sydney Uni Flames
10. Nicole Seekamp (52 votes) Adelaide Lightning
Media Contact:
Shannon Knaus
Media Manager- WNBL/SEABL
0438 487 216
shannon.knaus@basketball.net.au