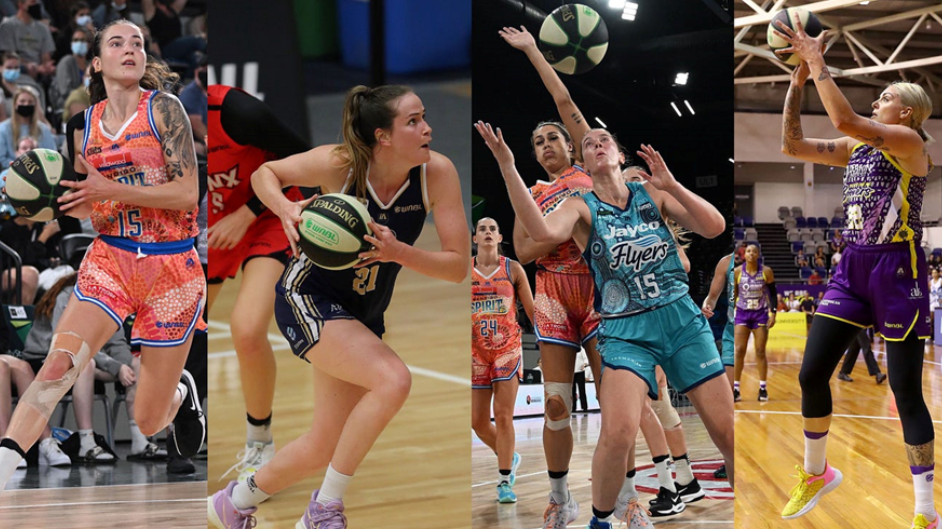 November 4, 2022 | WNBL news
By Hayley Wildes | The Pick and Roll
There's so much talent spread across the WNBL this season, and there's no shortage of dominant bigs that will help shape the course of the season. Having a major presence inside is crucial for every team in the league and some are better equipped than others to thrive in that department.
It must be noted that there's also some really strong import bigs this season and it will be interesting to see how they adapt to the way the game is called in the WNBL. Two young imports, Olivia Nelson-Ododa (Melbourne) and Rae Burrell (Canberra), are the ones I'll particularly have my eyes on as I think they could have a real impact on the league.
Here are the top eight Australian bigs entering WNBL season 2022/23.
Abby Bishop (Southside)
I can't wait to see a fully fit and healthy Abby Bishop in the WNBL this season. She was playing at an extremely high-level last season before a calf injury ended her season after eight games. She's such a weapon on the offensive end as her inside game is still so difficult to stop, with her ability to seemingly make any shot in the paint, no matter how difficult it may look.
After averaging 13.4 points, 9.6 rebounds and three assists per game last season, Bishop proved in a very short period of time to still be one of the premier bigs in the league after years away in Europe.
It will also be great to see the Abby Bishop-Lauren Jackson pairing back together again, having won championships together in the WNBA and WNBL. Good luck stopping those two!
Sara Blicavs (Southside)
Much like Bishop, Blicavs also missed time last season, but when she was on the court, she was a handful to contain. Through 10 games for the Flyers last season, Blicavs averaged 16 points and 7 rebounds, and she's continued to prove herself since then.
Blicavs' World Cup campaign was absolutely critical to Australia's success. She answered Sandy Brondello's call when Bec Allen went down with injury and played such a solid role on both ends of the court.
Blicavs is just a tireless worker and will be a vital piece in the frontcourt, alongside Bishop and Jackson.
Keely Froling (Sydney)
I get the feeling Keely Froling is ready to explode this WNBL season and really push towards being one of the very best bigs in the league. She's got all the tools to be a superstar in this league and I can see her name being very much in the Opals conversation for the Paris 2024 Olympics.
Last season for Sydney, Froling averaged 16.3 points and 8.4 rebounds and that was despite not great shooting efficiency. This season, she will have much more help – namely the addition of New York's Jocelyn Willoughby – and that should help Froling tremendously as she won't be forced to do too much offensively.
Playing her game and sticking with what she does best, bullying her way into the post with relentless work rate, will be key to seeing the very best version of Froling, and the Sydney Flames.
Lauren Jackson (Southside)
If you'd have told me this time last year that Lauren Jackson would be one of the top bigs in the WNBL, I'd have asked: what year you think it is?! It couldn't be 2022, that's for sure!
Fast forward 12 months and I guess all that can be said is; GOAT gonna GOAT. Jackson's rise back to the top of the world basketball was cemented when she made the Opals World Cup squad, and then obliterated Canada to help Australia win a bronze medal and completed the greatest comeback in Australian sporting history – yes, I said it.
That game will forever be remembered in Australian sporting folklore, but Jackson has still got more to give and Southside will be the beneficiary.
Cayla George (Melbourne)
Cayla George was a double-double machine last season as the Boomers claimed the WNBL championship and was duly recognised with WNBL All-Star Second team honours. She's the engine that so often keeps Melbourne going, with her energy being as infectious as any other player in the league.
George takes on a lot of responsibility with the Boomers and she always thrives with her ability to dominate inside the paint on both ends, handle the ball and generate offence from the top of the key, as well as being a reliable three-point shooter (38% from deep last season).
Although her running mate in Ezi Magbegor is gone, George will have Olivia Nelson-Ododa by her side and those two will help Melbourne control the paint.
Kelsey Griffin (Bendigo)
Kelsey Griffin is back in Bendigo and it just feels right! Joining forces alongside Anneli Maley, Griffin will be a focal point of the Spirit's offence and it's going to be tough for opposition defences to slow the duo down.
Griffin, who was the 2019 WNBL MVP and has four WNBL championships to her name, has done it all in basketball, but returning to Bendigo – where she won two of those championships – to play alongside the reigning league MVP sets the scene for an epic season of basketball in Bendigo.
Anneli Maley (Bendigo)
To put it lightly, Anneli Maley absolutely dominated the WNBL last season, leading the league in scoring (19.9 points per game) and rebounding (15.6 rebounds per game), while also dishing out 3.3 assists and grabbing 1.6 steals per game too.
She's a maniac on the hardwood, in the very best way possible. She may be an undersized big, but she does all the work of a superstar big, and some. This season Maley will have some real frontcourt help, in the form of Kelsey Griffin, and I can see those two forming a deadly duo.
Maley didn't get much burn at the World Cup, but her last 12 months have been extraordinary; WNBL MVP honours, making her WNBA debut with the Chicago Sky, and a World Cup bronze medal. The worrying thing for teams across the country is that Maley is only getting better.
Can she make it back-to-back MVP awards?
Lauren Scherf (Perth)
Lauren Scherf's first campaign in Perth was huge and she's back on deck with the Lynx again, this time with even more responsibility with no superstar imports on the roster this season.
Scherf averaged a double-double of 11.8 points, 10.2 rebounds and 2 assists per game last season and I expect to see her scoring numbers climb in 2022/23 with no Jackie Young, Marina Mabrey or Darcee Garbin.
Those three stars combined for over 50 points per game last season for the Lynx, so it's up to the likes of Scherf, Amy Atwell and Alex Sharp to help fill that hole.