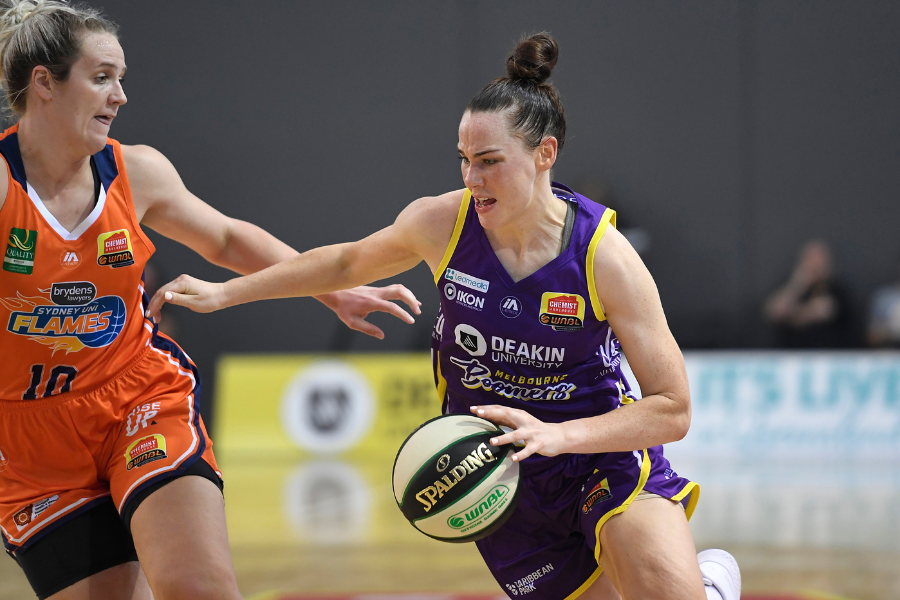 November 12, 2020 | WNBL news
Deakin Melbourne Boomers claimed bragging rights over Brydens Sydney Uni Flames in the third game of the new Chemist Warehouse WNBL season thanks to a boom recruit.
The Melbourne Boomers overcame an early deficit to topple the Flames, 85-70, in Townsville on Thursday night and were paced by gun signing Tess Madgen.
Returning to the club she once captained following two seasons with the JCU Townsville Fire, the 30-year-old guard top scored with a game-high 23 points, 5 assists and 4 rebounds in a superb display.
Madgen said she was rapt to be back in purple.
"I love Melbourne, I love the Boomers and I love being coached by Guy Molloy. They already had a really good core group of players and I thought I could really use my talents on this team,'' she said.
"We've got a great side, a lot of really good players and a great coaching staff. It's been a long pre-season so it was good to go out there and play."
Madgen worked well with new team mates Ezi Magbegor (16 points, 11 rebounds) and Cayla George (9 rebounds, 8 points, 3 assists) while fellow guard Maddie Garrick tallied 14 points of her own.
"I play with two of the best posts in the league and one of us is going to be open on every play,'' Madgen said.
"I think it was a bit more the guards tonight that got it going, they (Sydney) were very focused on the bigs which opened it up for us, but on any given day that can change."
Sydney started strongly and snuck out to a 6-point advantage before the Boomers got going and gained ascendancy on the eve of quarter time, building on their momentum in the second term to lead 43-31 at half time.
Recruit and newly-appointed co-captain Lauren Mansfield (17 points, 6 assists) did a solid job of organising her new side. Lauren Scherf had 10 points on just 3-of-11 shooting plus 7 boards and 2 assists, Ali Schwagmeyer-Belger teamed 9 points with 4 rebounds and 4 assists with guard Funda Nakkasoglu (12 points) showing a glimpse of her potential in #WNBL20.
Flames coach Katrina Hibbert said there were positives to focus on from her side's first-up performance.
"We scored 70 points and didn't shoot the ball particularly well. I think it took us almost three quarters to get into the game unfortunately,'' she said.
"Defensively we've talked about being the best defensive team here and I don't think we showed that tonight, so we need to do a better job with our defensive containment.
"There were lots of positives – first game with a new group, we'll learn from it and get better for the next one."
The Boomers now turn focus to a showdown on Saturday afternoon with the Jayco Southside Flyers with Sydney Uni Flames to take on Bendigo Spirit (Saturday) then the Flyers 24 hours later.
Megan Hustwaite is a freelance contributor to WNBL.com.au
Deakin Melbourne Boomers 85 (Madgen 23, Magbegor 16, Garrick 14)
Brydens Sydney Uni Flames 70 (Mansfield 17, Scherf 10, Schwagmeyer-Belger 7)