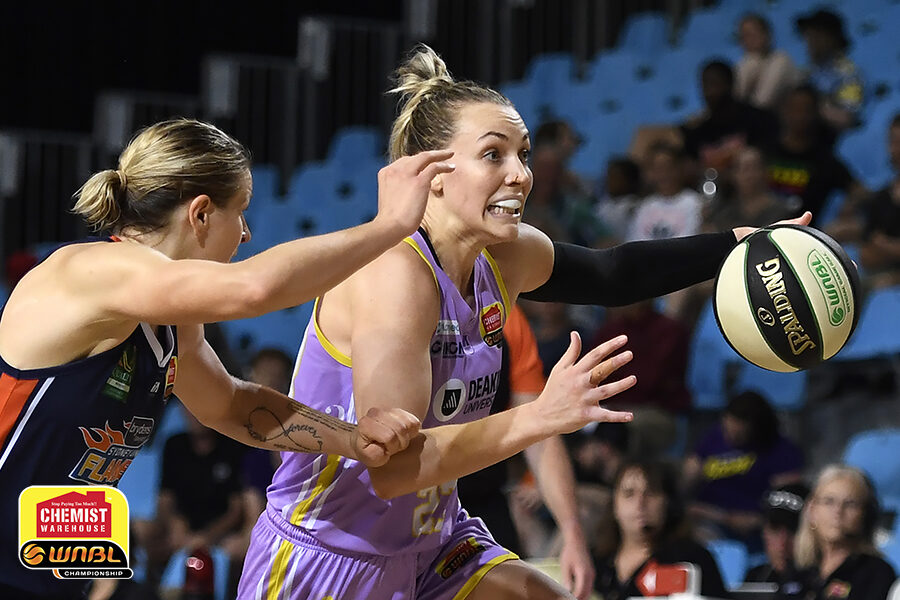 December 3, 2020 | WNBL news
The Deakin Melbourne Boomers blew the Brydens Sydney Uni Flames away with a scorching first half in the Chemist Warehouse WNBL in Cairns on Thursday but then withstood a fourth quarter charge to score the 86-64 win.
With such a tight race right now for a top two spot between themselves, the Southside Flyers and UC Capitals, the Boomers simply couldn't afford a slip up against a Sydney Uni team on Thursday who were playing to keep their finals hopes alive.
And the Boomers quickly asserted their authority to score the game's opening nine points on the way to opening up a match-winning 34-point advantage midway through the third quarter.
To the credit of the Flames with their backcourt of Lauren Mansfield and Ali Schwagmeyer-Belger refusing to give in, they did strike some form closing the third period with a 14-6 run, and then hitting 12 of the first 14 points of the fourth.
That had them back within 15 and a sniff but Ezi Magbegor shut the door with her own run of six straight points in response before Penina Davidson closed out the game with the last seven points for the Boomers including a big triple on the buzzer.
It was an especially dominant defensive performance from the Boomers in the game's first 25 minutes with the Flames only managing 28 points with three minutes left in the third quarter.
Melbourne set up the win in the first half holding Sydney Uni to 28 per cent shooting and to miss all seven three-point attempts while shooting 60 per cent themselves from the field and hitting 6/10 from deep with nine players already scoring.
By the end of the night, they still shot 53 per cent from the floor and 40 per cent from long-range with WNBA championship winner Magbegor leading the way with 23 points, 11 rebounds, four blocks and two assists.
Maddie Garrick got rolling with two threes and eight quick points to open the second quarter on her way to 15 points for the game with Tess Madgen contributing 13 points and nine assists, Davidson 10 points, and Cayla George eight points, 10 rebounds and four assists.
Afterwards, George was delighted with the performance and to get to play a WNBL game in her hometown of Cairns.
"I never thought these two worlds collide – my Cairns world and my WNBL Boomers world – but here we are with game one of five in eight days," George said.
"I'm really excited to get the win tonight first of all and keep this ball of momentum going."
The standouts for the Flames were their starting backcourt with Schwagmeyer-Belger ending up with 21 points and eight rebounds with Mansfield producing 22 points and three assists on 6/10 shooting from downtown.
Ultimately they didn't receive enough help as they slip to 2-7 on the season and Mansfield took plenty from the second half including her own 20 points.
"It's nice to see the ball go in and my teammates did a good job of finding me when I was feeling good but it's always hard to be happy when you lose," Mansfield said.
"We obviously didn't have a good start to the game but in the second half we tried to start again with the scores zero and I think we did win the third and fourth quarters.
"I think we showed our heart and character because we still fought hard and competed even when we weren't playing well, and we showed we can compete with the better teams."
Both teams both face the winless Bendigo Spirit next up with the Boomers first up on Saturday and then the Flames on Sunday with both games in Cairns.
Chris Pike is a freelance contributor for WNBL.basketball
Deakin Melbourne Boomers – 86 (Magbegor 23, Garrick 15, Madgen 13)
Brydens Sydney Uni Flames – 64 (Mansfield 22, Schwagmeyer-Belger 21, Nakkasoglu 6, Burton 6)