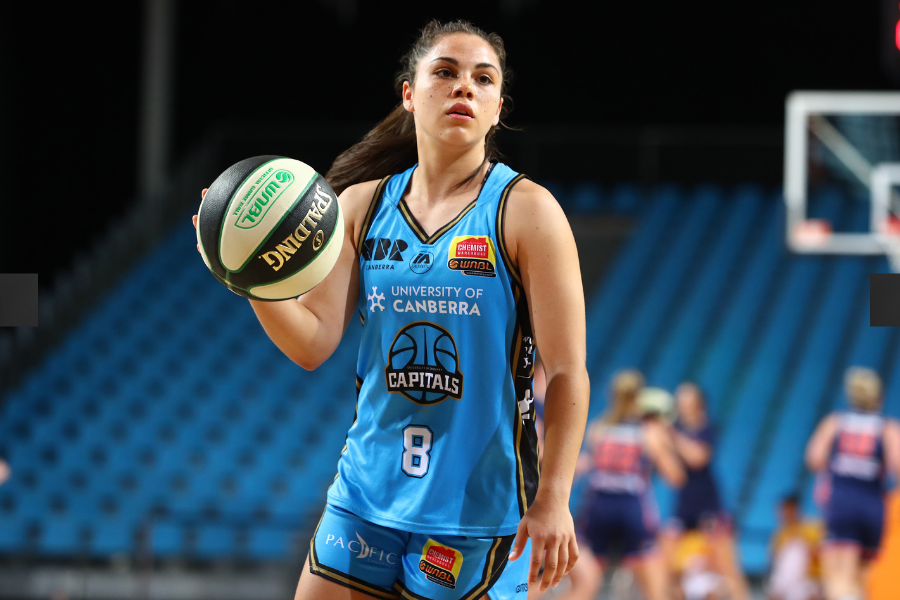 January 7, 2021 | WNBL news
WHEREVER Abby Cubillo ends up playing in the 2021 WNBL season, she believes she's ready for a breakout campaign.
The little superstar Territory guard – a two-time national champion with Canberra Capitals and a world champion with Australia's under-17 team in 2016 – was a highly popular guest coach at Timmy Duggan's Hoops 4 Health clinic at Holy Family School in her home suburb of Karama on Monday.
The three-time NT Junior Sportsperson of the Year spoke to about 40 youngsters between 10 and 17 on the importance of staying mentally strong and making sacrifices if they want to play professionally like her.
Cubillo joins Steph Talbot as Northern Territory athletes to play in the WNBL.
She has since won two championships and showed real potential last season.
Her highlight was finishing with nine points (two three-pointers) in her team's big 87-51 win against Bendigo on November 28, subsequently judged the Caps' best player in that game.
She does not yet know who she will play for in 2021, but don't be surprised if a number of clubs come knocking on the door.
For a proud Territorian to have already achieved so much in national and international competition is remarkable.
In order for other kids from the region to reach her heights, her message on Monday was a simple but effective one.
"I think the important thing is I had to make sacrifices. But reflecting on that now with where I'm at they were definitely worth it," she told the NT News.
"They (young Territory basketball players) might have to give up some stuff, but if you're really serious about it and you want to make something for yourself it's worth it."
Ever grateful for the Territory coaching she received, Cubillo agreed to coach at Duggan's clinic in a heartbeat.
"Timmy messaged me (on Sunday) and asked me to come and help. I'm happy to help because it's fun and it gets the kids outside playing basketball, which is awesome," she said.
"I live less than two minutes around the corner.
"The most important thing is kids are showing up and being here, and coming here can open up doors for them and give them more opportunities to go further in basketball."
For Cubillo, the doors which opened up for her in the Top End led to her achieving goals which were originally beyond her wildest dreams, starting with Australia's stunning gold medal in Spain in 2016.
"I still don't feel like most of it is real. When I got the call-up to the under-17 team I couldn't believe it," she said.
"That was pretty cool and it was just a snowball effect when things kept happening.
"I was surrounded by good coaches and great players. I don't know (when I realised I could go far in the game) – it still feels pretty surreal.
"But I think when I cracked the under-17 team and we went on to have such success at the world championships that was pretty special."
With the Darwin and Alice Springs competitions going from strength to strength every year, as well as the Territory's elite player programs under Rod Tremlett, Cubillo believes many more youngsters from the region can follow her rise over the next few years.
"I think (basketball in the Territory) is getting better every year. The coaches here are really committed to trying to give the kids opportunities, and help them develop their grit and determination," she said.
"That's stuff I've taken with me, and I know for sure that Territory kids are known for having that.
"And that can allow other kids to get to good positions in their careers.
"It's exciting to be back home doing this with Timmy and Kylie Duggan. It's awesome.
"They're legends and (fellow Hoops 4 Health coach) Desiree Weetra is with my junior club the Jets. I grew up looking up to these people, and now I get to come here and coach alongside them."
Cubillo believes her game will only get better in the WNBL in 2021 – wherever that may be.
"I felt like I had a really good season this year and I got a lot of exposure in a concentrated season, and I was put under pressure," she said.
"So I got more opportunities and I took that to my advantage and ran with it, which was awesome.
"But I had a great team behind me and a great coaching staff.
"After the year we've had with Covid, to still be able to play and play well was awesome.
"It gave me heaps of confidence knowing I can compete in the league, and just knowing I can build from here."
Article credit: NT News