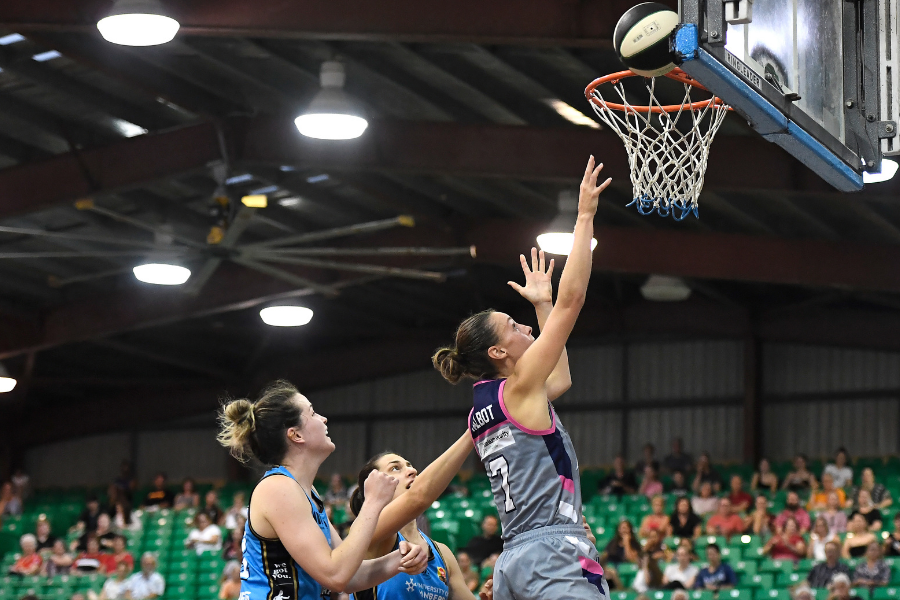 December 4, 2020 | WNBL news
The UC Capitals and Adelaide Lightning will both be determined to return to the Chemist Warehouse WNBL winners list when they hit the court in Townsville on Friday night.
Both teams experienced losses to launch Round 4, the penultimate round of the #WNBL20 home-and-away season.
The Caps' seven-game winning run came to an abrupt halt on Tuesday night when they fell to a red-hot Deakin Melbourne Boomers, 73-67, in one of the biggest contests of the season.
Meantime, the Lightning were soundly beaten by the Jayco Southside Flyers, 111-72, in Cairns on Wednesday night.
Canberra coach Paul Goriss wants the Caps to make amends for some defensive lapses made against Melbourne.
"Fixing up our defensive schemes, getting back to what was working well for us and taking care of individual and team scout is something we need to focus on,'' he said.
"I think defensively Adelaide are a tough team because they like to get out in transition, Steph Talbot's having an MVP kind of year and they've got lots of scoring fire power.
"They like to play in the open court, they like to isolate and attack you so I think as individuals and as a team we've got to be focused and on-point from that end because the Lightning can score at will."
Adelaide Lightning captain Steph Talbot says after two losses to the Flyers in four days it's time for her team to reset on return to Townsville.
"It's been a hectic few days. It was tough playing Southside two games in a row, but we've just got to bounce back and get back to playing our style of basketball,'' she explained.
"Canberra will have a few more players than we saw them with last time in Round 1 (when the Lightning won in overtime).
"I think we've just got to come out and play like we know we can play. Be more aggressive, take them off the rebounds because they've obviously got some amazing rebounders and push the ball.
"I think it should be a good game."
Later in Round 4, the Caps face the JCU Townsville Fire on Sunday with the Lightning taking on Perth Lynx later that night.
Megan Hustwaite is a freelance contributor to WNBL.basketball
Broadcast Details
UC Capitals vs Adelaide Lightning
Friday December 4 2020
5.00pm AEST / 6.00pm AEDT
LIVE on Kayo and ABC iview