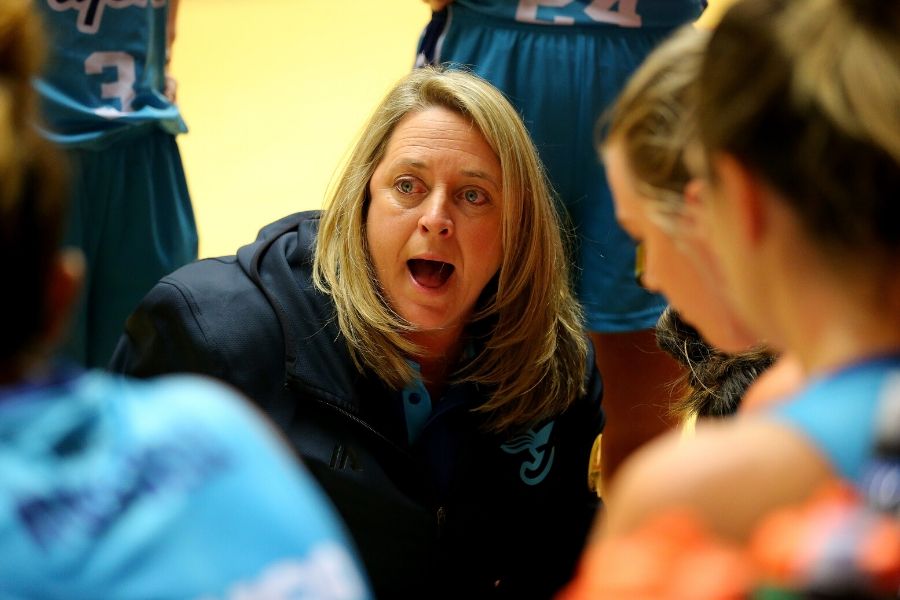 February 1, 2020 | WNBL news
A WNBL Championship run looms for the top-of-the-table Southside Flyers after they punctuated their season with a one-sided 17-point victory over the Sydney Uni Flames on Saturday night.
The result was virtually signed, sealed and delivered in the third quarter after Flyers coach Cheryl Chambers unleashed the full depth of her bench to hold 67-40 lead at the last change against a Flames side that was clearly struggling in its last game of the season, the final scoreline ultimately 78-61.
While both team's fates were pre-destined regardless of what occurred this game –  the Flyers have a playoff series against the Lightning with a home court advantage while the Flames had no chance of making playoffs – that didn't mean there was a shortage of effort at Dandenong Stadium.
Despite – or maybe because of – a heavy bench rotation from coach Cheryl Chambers as she looked to keep her players fresh ahead of playoffs (and Opals duties), the likes of Sara Blicavs (18 points, 8 rebounds, 6 assists and 8/8 shooting) and Mercedes Russell (17 points) ensured the game was played nearly entirely on the Flyers' terms.
Meanwhile, for the Flames, Jessica Kuster fought hard to finish with 21 points and 6 rebounds on a day where things were decidedly not going in her team's favour.
After a pre-game tribute to the late Kobe Bryant, a mini scoring spree broke out to start proceedings, with 20 points were scored in the first 5 minutes alone.
By the end of the first quarter, US-born Flyers centre Mercedes Russell had contributed 7 points and 2 rebounds as the Flyers enjoyed a 6-point lead (22 to 16).
However, it was Blicavs, the veteran forward who was on her way to France the next day Australian Opals duties, who did the most damage early.
By half-time, Blicavs had 14 points and 6 rebounds and with a 10-point buffer (40-30) the Flyers were cruising to their 18th win of the WNBL season, with Flyers point-guard Leilani Mitchell doing an excellent job patrolling the perimeter and dictating the action at will.
It was clear early that Flames fans who made the trek down to Dandenong Stadium hoping for an upset were fresh out of luck. However, Sydney Uni coach Katrina Hibbert was determined to take something out of this match for her team, with Kuster and Scherf (9 points) both working hard throughout the game.
It also might have helped Scherf that Russell spent a little extra time on the bench in this one, clocking in her contribution for the day after fewer than 20 minutes, but only a little, with the  Flyers' Amy O'Neil scoring the first point of her WNBL career from the free-throw line as the hosts pushed the lead out to 27 points by the last break.
Both teams cleared out their bench for the final quarter of action, where the Flames finished respectably to outscore their opponents in the quarter and close out their 2019/20 season on a positive note.
The Flames' captain Sarah Graham had 8 points in the last match of her 13-year career and was carried out of the stadium on the shoulders of her teammates.
However, it was the Flyers who were utterly dominant in front of their home crowd, who now have a lot to look forward to over the next month.
Chambers admitted, with a fortnight's break now for the Flyers – though Blicavs and Mitchell are both on international duty – that planning for the game was a little more complicated than usual.
"It is a bit of a weird one," she said.
"I've spoken to a few coaches too, trying to pick their brains on how they'd manage it."
Nevertheless, she was comfortable with the decision to use her bench heavily, especially in light of the resounding victory.
"I think it is a fitting finish to the season because these guys and the whole bench worked really hard."
For the Flames, coach Katrina Hibbert admitted that she was pleased with the effort her team showed to fight back late in a difficult finish to the season.
"We just asked the girls to keep fighting until the very end… we just wanted to get it [the margin] under 20 and we achieved it," she explained, adding that she was keen to get moving in preparations for next season.
"We'll sit down and discuss what direction we want to go with… what we want next year's time to look like."
Meanwhile, Graham, in her final game, admitted it was nice to finish where her career started, after beginning with the Dandenong Rangers in 2007.
"It's a good way to finish with others on the horizon. It is kind of cool that it all finished where it started."
LOOKING AHEAD

As a consequence of their entire seasons rather than this game alone, the winner (Southside) will move onto the playoffs while the loser (Sydney Uni) will now turn their attention to post-season reviews with an eye for improvement next season.
The Flyers' will turn their attention to the fourth-placed Adelaide Lightning, with the first match taking place on Tuesday, February 18.
Southside last met Adelaide only a week ago on January 25. At Dandenong Stadium on that Friday night, the Flyers emerged 12-point winners (81-69) on the back of 28 points from Bec Cole. Lightning coach Chris Lucas will implore his team to stifle Cole more effectively in the playoffs.
WNBL ROUND 16

SOUTHSIDE FLYERS 78 (Sara Blicavs 18, Mercedes Russell 17, Anneli Maley 11)
SYDNEY UNI FLAMES 61 (Jessica Kuster 21, Lauren Scherf 9, Madeleine O'Hehir 9)