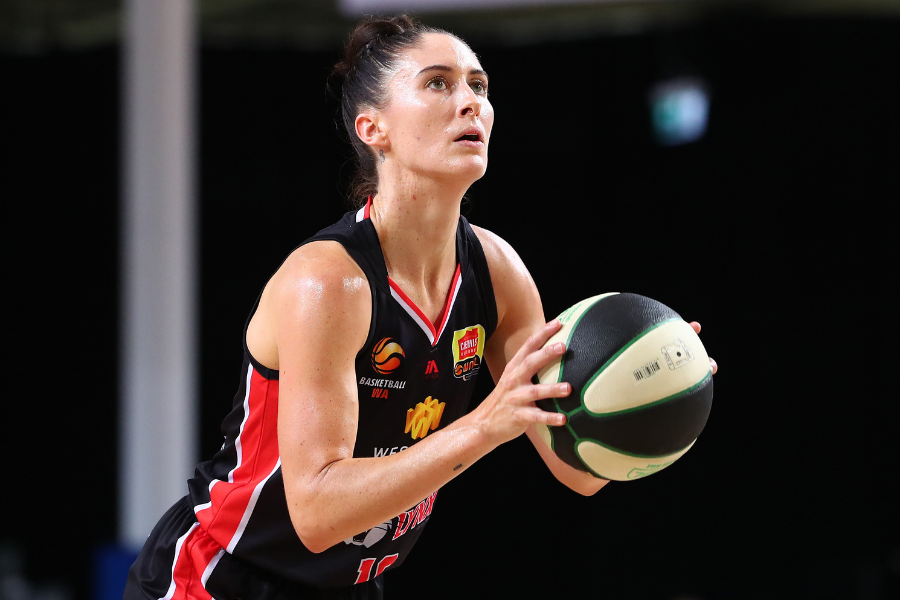 December 10, 2020 | WNBL news
During the 2020 Chemist Warehouse WNBL season, avid followers of the league's digital and social media channels will get to enjoy insights and interviews with leading women's basketball reporter and broadcaster, Megan Hustwaite.
With thanks to the league's naming-rights partner, Chemist Warehouse, Megan is based in the North Queensland hub and is bringing fans along for the journey with a series of feature interviews.
In Part 6 of "Life in the Hub", Megan catches up with Perth Lynx captain Katie Ebzery, who recently played in her 300th WNBL game.
A fierce desire to compete and constantly challenge herself has propelled Perth Lynx captain Katie-Rae Ebzery to 300 Chemist Warehouse WNBL games.
The 30-year-old Chemist Warehouse Australian Opal and 2016 Rio Olympian, achieved the milestone last week in the penultimate round of the #WNBL20 season in the North Queensland hub.
"I love the WNBL, the competition and playing in such a high-level, world class league,'' Ebzery said.
"With the calibre of athletes you're playing against, you're always facing the best-of-the-best and I really love competing at that standard of play and really getting the best out of myself, and my team mates on a weekly basis.
"We're all striving for a championship, and that can't always happen for everyone, but I just love the aspect of being able to compete and get the best out of myself week in, week out on the basketball court."
Like most of her generation, it all began for Ebzery at the Australian Institute of Sport (AIS) in Canberra.
"It was a talented group. I was there in a couple of different generations. When I first went there it was Renee Camino, Mikaela Dombkins, Rachel Herrick, Rebecca Schatz and Louella Tomlinson,'' she recalls.
"Then it was Marianna Tolo, Cayla George, Mia Murray, Nicole Hunt, Kate Gaze and Molly Lewis. A lot of those girls are still running around the league now which is pretty cool for us to have played together and then against each other for over 15 years now.
"It's really nice to still be around some of those girls who were there in the very beginning."
After graduating from the AIS, Ebzery's next stop on her WNBL path was at Stud Road in 2008, representing the Dandenong Rangers.
"It was an interesting time. I was pretty home sick but I was with some pretty amazing players, the likes of Emily McInerny and Caitlin Ryan, who had been WNBL champions with the Dandenong Rangers and absolute professionals so to be around those players at a historically successful club was really amazing,'' she said.
"Living in Melbourne was really cool as well. It was good to get out of NSW but at the same time I was juggling part time work at a law firm a couple of days a week and playing basketball which had its challenges."
Two stints at the Brydens Sydney Uni Flames, with a campaign in Russia in between, would prove crucial as Ebzery earned a spot in the Australian Opals squad and would go on to represent, and win medals with, the national team.
"It was a big part of me deciding basketball was what I definitely wanted to do and figuring out what I needed to do to take my game to another level in order to start getting picked for Opals. That was a pretty important time in my career,'' she explained.
"Being a few hours from Newcastle, Sydney has been home and where my family could come watch every game. I lived in Sydney, studied at the University of Sydney, worked there and made a lot of friends. It was very much home and still feels like that when I go back there."
Come 2018, it was time for a fresh start and a new challenge, so Ebzery went out west to play for two-time coach of the year Andy Stewart.
"I was at a point where I needed to get out of my comfort zone and my little bubble I built in Sydney and it was either going back to Europe, or another opportunity in Australia and I decided to go to Perth,'' she said.
"Sometimes a bit of a change is what you need to kick start and go again. Perth has helped develop other aspects of my game in terms of leadership and really trying to be a role model for teammates and really take that level of my game to another place."
Ebzery says reaching 300 games has provided an opportunity to look back at all the things and people her career, to date, has featured.
"It's a significant milestone and it's definitely come around a lot quicker than I thought it would,'' she said.
"All the effort, the training, the travel and games, the different teammates and coaches, I think all of that makes you reflect on everything that helped you get there."
'Life In the Hub' by Megan Hustwaite thanks to WNBL