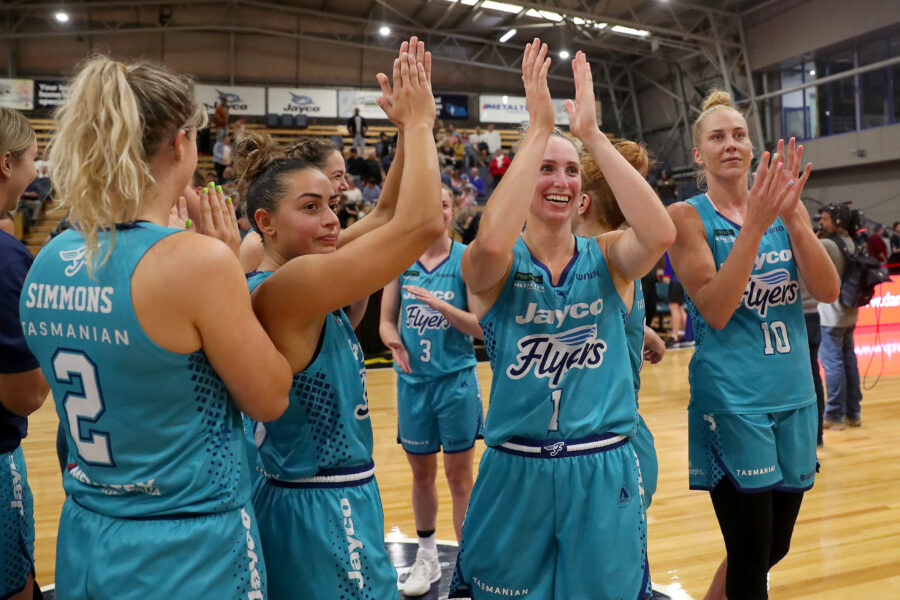 December 6, 2021 | WNBL news
Southside's experienced players proved too strong for Bendigo Spirit in the season opener, as the Flyers claimed the first W for the season. 
The 2020 champions launched three key pillars around the court in a lineup that has the potential to become a destructive force throughout the season. Returning to the WNBL, veteran Abby Bishop was amongst it all, joining Sara Blicavs who top-scored and Bec Cole who was crucial to securing the win.
Playing the most game time for the Flyers (33 minutes) and showing no sign of slowing down in her 13th season, the newly recruited Bishop added another career double-double to her name, contributing 20 points, 11 rebounds (seven defensive), four assists and four blocks to the game.
View this post on Instagram
Also opening her 13th season with a double-double, Sara Blicavs had the most impact on the scoreboard, hitting 27 points. Her aggression under the ring totaling 11 rebounds halted some of the Spirit's scoring momentum and earned her a game MVP.
Bec Cole's 24 points, three rebounds and four assist game added to the Flyers force.
Flyers' coach, Cheryl Chambers was impressed with the grit and the drive shown by her team that led to the victory and liked the dynamics shown between Bishop and Blicavs.
"Abby is such an awesome addition to our team. Her ability to score from inside and out makes her difficult to guard, adding to that the fact that she has such experience and is an elite passer really aids us getting great shots for our team and we were able to use our size advantage with Sara Blicavs, which proved a success."
It's only early in the season but with 71 points scored between the three, this lineup may be the key to Southside chasing back-to-back championships.