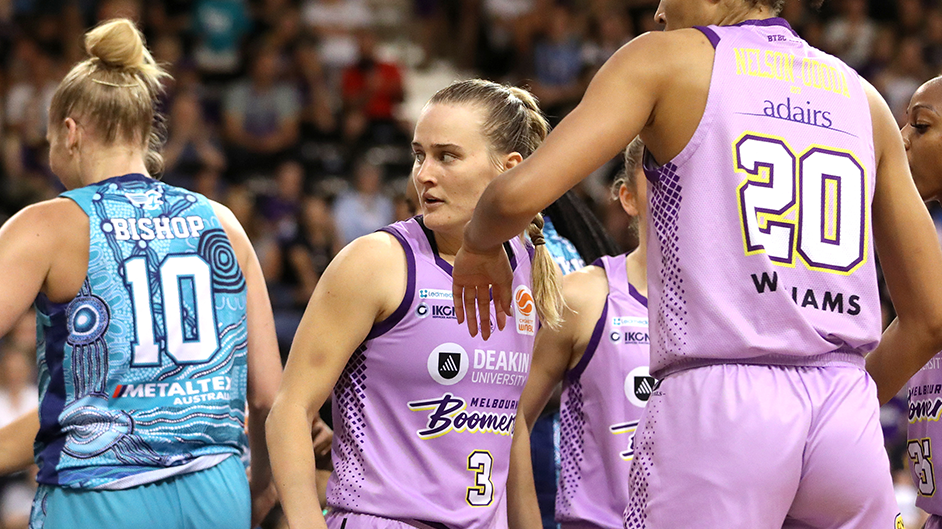 July 18, 2023 | WNBL news
Melbourne Boomers vs Southside Flyers
A new chapter of the league's biggest and only crosstown rivalry might prove to be the biggest yet when Melbourne Boomers and Southside Flyers face off in #WNBL24.
The on-court enemies played each other six times last season, the most ever in one single WNBL season, and some spicy free agency moves make for a highly-anticipated match-up.
Southside star Sara Blicavs, Flyers captain Aimie Rocci and 2020 championship player Monique Conti have crossed clubs and will represent Melbourne alongside 2021-22 Flyers team mates Kristy Wallace and Taylah Simmons.
Conti returns to the club where she began her WNBL career as a teenager while Blicavs and Rocci have always been on the Dandenong Rangers/Southside Flyers side of this traditional rivalry. Until now.
Since 2005, the two clubs have contested the Michele Timms Cup.
The former Opals, WNBL and WNBA champion was a Bulleen junior, played WNBL for the Bulleen Boomers and was later an assistant coach of the team that in 2010-11 won the club's first ever championship under Tom Maher. Despite never playing for the same-town opposition, the Rangers now Flyers have always placed importance on honouring the legend.
Players and fans won't have to wait long for the salivating 2023-24 series to tip off with the teams meeting in Round 1, on November 4, at the State Basketball Centre.
The second leg of the Michele Timms Cup heads to Parkville in Round 10 on January 3 before the third and final fixture in Round 12 on January 21 again at Parkville.
Last season, the Flyers had the wood over the Boomers, 5-1.
Southside swept Melbourne, 3-0, in the regular season but it was just an entrée of what was to come in the finals.
The Flyers and Boomers would do battle another three times in the best-of-three semi-final series with the winner punching their ticket to the Grand Final.
Southside drew first blood winning game 1, 84-76, Melbourne responded with a fighting 94-63 victory to send the series to a decider where the Flyers prevailed by one point in a thriller.
Melbourne Boomers vs Southside Flyers
Round 1: Southside v Melbourne. Saturday November 4, 7.30pm. State Basketball Centre
Round 10: Melbourne vs Southside. Wednesday January 3, 6pm. Parkville
Round 12: Melbourne v Southside. Sunday January 21, 3pm. Parkville