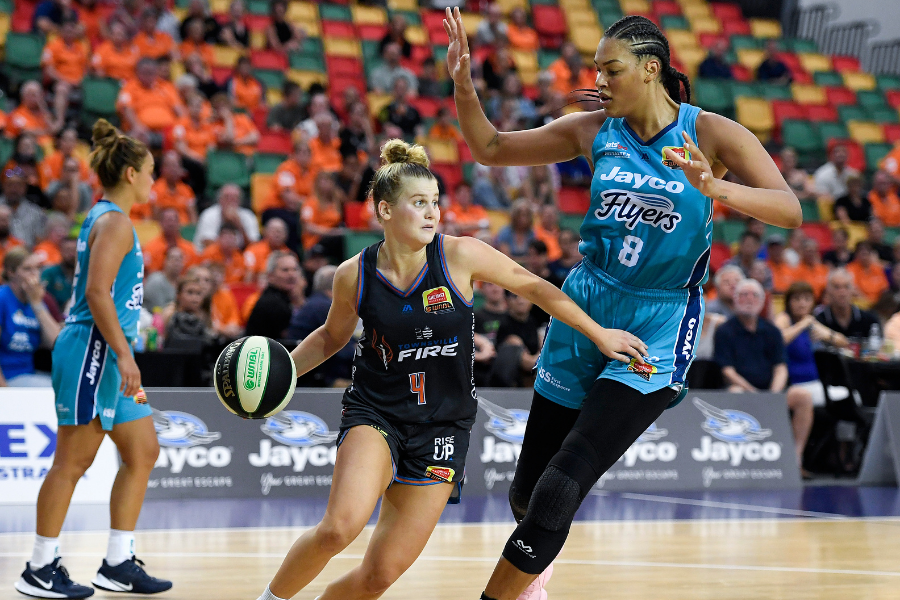 December 19, 2020 | WNBL news
If the 2020 Chemist Warehouse WNBL grand final was a best of three series, Jayco Southside Flyers would be hard to beat according to Chemist Warehouse Opals coach Sandy Brondello.
But the four-time Olympian believes the "one and done" nature of Sunday's stand-alone season decider may play into the hands of their opponents JCU Townsville Fire.
Brondello admits it would be hard not to back a Flyers outfit loaded with Opals stars and spearheaded by arguably the world's best player, Liz Cambage.
Minor premiers Flyers, also featuring Opals Rebecca Cole, Leilani Mitchell and Sara Blicavs, appear on track for a fourth title and their first in nine seasons after cruising into the grand final with eight straight wins.
Brondello said the Flyers' experience would all but erase the Fire's homecourt advantage for the decider in Townsville.
However, she believed Townsville had shown they could beat anyone on their day and did not rule out an upset.
"The Flyers have got more depth, they are loaded with experienced players," she said.
"Townsville have the homecourt advantage but because of Southside's experience it allows them to block that out a little bit.
"Southside will be the favourites going in but I would not underestimate Townsville.
"It is one game. Anything can happen. In a series I always think the best team will win out but in one game it is whoever is best on the day."
The Flyers booked a grand final berth when they overcame the Fire 106-93 in Wednesday's major semi-final.
But Townsville are again on track to win their fourth title, and first since 2018 after bouncing back with a thrilling three-point victory over Deakin Melbourne Boomers in Friday's preliminary final.
Opals great Brondello said the Flyers were not a one-woman team but believed the key to a Fire upset was containing Cambage, a task easier said than done.
Just ask Townsville. Cambage showed once again why she is the league's leading scorer with 24.1 points per game by dropping 31 on the Fire in their semi-final along with 18 rebounds.
"If they can contain Liz better than they have before – which is a big ask – it will get interesting," Brondello said.
"Townsville's fans will be a factor. They are passionate with the cow bells but …Liz Cambage loves it when the crowd is going against her.
"She rises to the occasion. The bigger the game, the better she is.
"Liz has had a fantastic season, and she wants to win. She will be very highly motivated."
Yet Brondello was reluctant to dismiss the Fire's chances after watching Opals squad members Lauren Nicholson and Shyla Heal – daughter of Boomers great Shane – lead Townsville into a season decider under reigning Coach of the Year Shannon Seebohm.
"Townsville are not going to back down. Shannon will be talking about getting off to a good start and attacking them," she said.
"They have some great playmakers in Shyla and Lauren. Shyla has been a real bright spot. She works hard and she is in the right system under Shannon.
"I knew she was a good player but she impresses me more and more each game.
"The Fire have great chemistry and are well coached. I think the grand final will be a lot closer than many think."
Brondello said the condensed season held in a North Queensland hub had been a stunning success and deserved a fitting finale.
"Hats off to everyone who enabled us to have a season. It was critical to have it because you lose momentum otherwise," she said.
"We've got a big two years coming up with the Olympics, another regular season and then the World Cup in Sydney 2022.
"There are exciting times ahead for women's basketball so hopefully we can build on this great season."
Laine Clark is a freelance contributor to WNBL.basketball
WNBL GRAND FINAL
Jayco Southside Flyers v JCU Townsville Fire
At Townsville Stadium
Sunday 20 December 2020
2.00pm AEST / 3.00pm AEDT
LIVE on Fox Sports Ch 507, Kayo and the ABC primary channel plus ABC iview