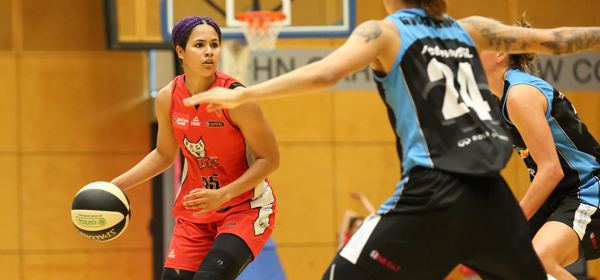 February 5, 2017 | WNBL news
The Perth Lynx have moved into a tie for second place on the WNBL ladder, using a stout defensive effort to defeat the Canberra Capitals 84-72.
The Lynx conceded just 29 points across the second and third quarters, as they turned the screws on a physical Capitals outfit to earn their fourth consecutive victory.
ÒThe fight was great,Ó said Andy Stewart after the win.
ÒThe whole group is starting to come together very nicelyÓ
ÒWeÕre starting to play good basketball, and thatÕs the main thing.Ó
After leading by a lone point at quarter time, the Lynx locked in defensively in the second and third term, outscoring Canberra 42-29 across the two quarters and setting up a strong position to close out the game.
Sami Whitcomb led all scorers with 27 points, along with seven rebounds, five assists and four steals, while Ruth Hamblin enjoyed a double-double with 12 points and 10 rebounds.
Carley Mijovic drilled three triples, and added three blocks to make her presence felt on both ends, as the Lynx fought hard for every rebound and threw themselves at every Capitals challenge.
Seven of the nine players who hit the floor scored at least six points, with the potent spread of scorers pleasing coach Stewart.
ÒTo get these six, eight, nine point contributions from everywhere, and to then go and play good solid D, it makes us hard to defend.Ó
ÒWhat weÕre trying to do is create an offense where we just score out of reads.Ó
ÒIf weÕre open for the three, shoot the three. If weÕre open inside, we can work inside, or drive the ball.Ó
The Lynx now improve to 14-7 on the season, tied with Dandenong for the second best record in the league, and will look to extend their winning streak to five in their final home game of the year; a clash with the Melbourne Boomers on Sunday February 12.
Perth Lynx 84 Ð (Sami Whitcomb 27, Carley Mijovic 14, Ruth Hamblin 12)
Canberra Capitals 72 Ð (Lauren Mansfield 19, Marianna Tolo 17, Mikaela Ruef 10)