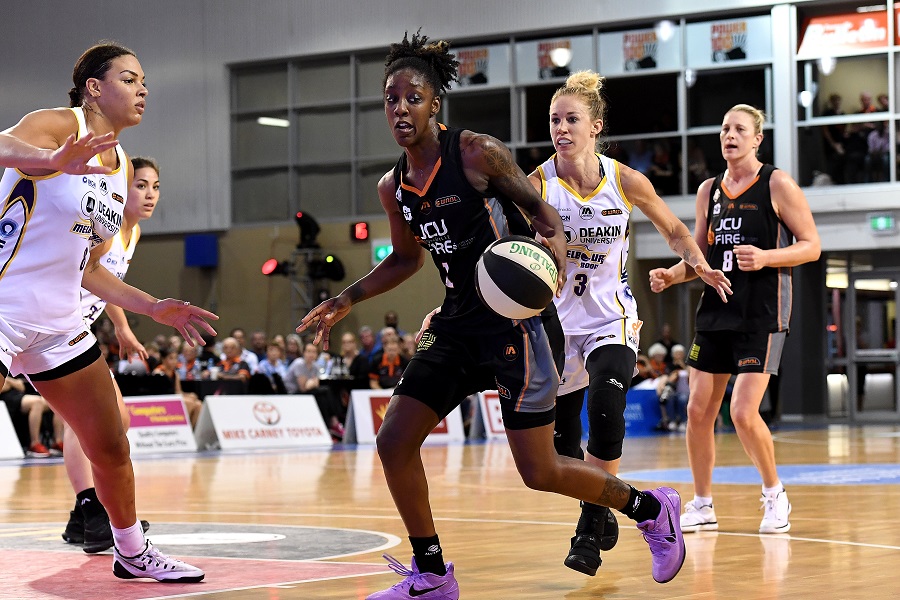 January 17, 2018 | WNBL news
Deakin Melbourne Boomers (12-9) v JCU Townsville Fire (14-7), State Basketball Centre, 7.30pm Thursday, January 18
Game 1 Story
After a reasonably open first quarter, Game 1 turned into a defensive arm-wrestle and a 17-10 third term proved enough for Townsville to prevail by six points. They led by eight at the final change but had to withstand a couple of runs from the Boomers with Kelly Wilson coming up with a few clutch steals while Sydney Wiese and Cayla George drilled three-point daggers down the stretch.
Both George and Suzy Batkovic collected double-doubles but Townsville will be even more pleased by the fact they won despite their two forwards shooting just 10-32 combined. As usual, the Fire's bench provided a punch through Laurin Mincy (nine points) and Darcee Garbin (eight points, four rebounds) while their perimeter defence was outstanding, holding Melbourne to 3-23 three-point shooting.
Heading back home, the Boomers will almost surely not shoot that badly again and will be banking on another huge game from Liz Cambage who finished with a game-high 26 points and 13 rebounds. Jenna O'Hea and Kalani Purcell were also important, combining for 21 rebounds and eight assists but Melbourne need a couple of players like Brittany Smart, Maddie Garrick or Bec Cole to join Cambage in double-figures if they are to win Game 2.
Battle from beyond the arc
Holding the Boomers to 13% shooting from downtown, Townsville out-scored them by 18 thanks mainly to Wiese who recorded 14 points on 4-8 three-point shooting and that takes their overall margin from the perimeter to a +36 across their four meetings this season.
In the Round 1 clash, George and Micaela Cocks did the damage as the Fire drilled eight triples but they were less productive as a team in Round 4 and 8, shooting just 8-34 (24%) across those two games. However, their defence was still on point as they restricted Melbourne to 7-32 (22%) shooting. The Boomers' long range game was a key part of their success in the Semi-Finals against Perth and they will be hoping home court rings are the cure for their woes from Game 1.
Melbourne's five stages of grief
Having lost four consecutive games to Townsville in 2017/18, Melbourne need to quickly turn the tide on Thursday night in order to force a decider and avoid a 0-5 record this season. Townsville's success against the Boomers can be traced back even further than this season though, having won nine consecutive games in the series with Melbourne last defeating the Fire on November 2, 2015 which was their first meeting of the 2015/16 season.
A positive for the Boomers is that the average winning margin for Townsville this season across their four victories has only been seven points and in two of the regular season meetings, Melbourne did not have a full roster. Tonight will also be the first time they return to the State Basketball Centre to take on Melbourne since Round 1. However, the Fire did prove themselves last weekend with a hard-fought victory when both sides were at full strength.
Key Stat
Since a Grand Final series was enacted, changing the format to a best-of-three series instead of a one-off decider, no team has been able to force a Game 3 which means Melbourne will have to create more history to win the Championship in 2017/18. Two years ago, Townsville won the inaugural best-of-three series at home after defeating Perth 2-0 and then Sydney Uni clinched the Championship on Dandenong's home floor last season with a 2-0 series victory. While the Fire would surely love to win the title in front of their rabid home fans, sweeping their way to another Grand Final series victory would be just as sweet.
Overall
Having only shot 35% from the field and 13% from beyond the arc in Game 1, Melbourne are likely to improve both those marks and returning to their home floor, they will be backing themselves to score closer to their season average of 75 points. On the other hand, Townsville's forward combination were not that efficient either and if they improve their own shooting percentages, they can negate any improvement that the Boomers make. In front of what is expected to be one of the largest WNBL crowds of all time, Melbourne may be given the extra boost needed but the Fire have several finals-experienced campaigners that will be doing everything in their power to finish the 2017/18 season tonight.