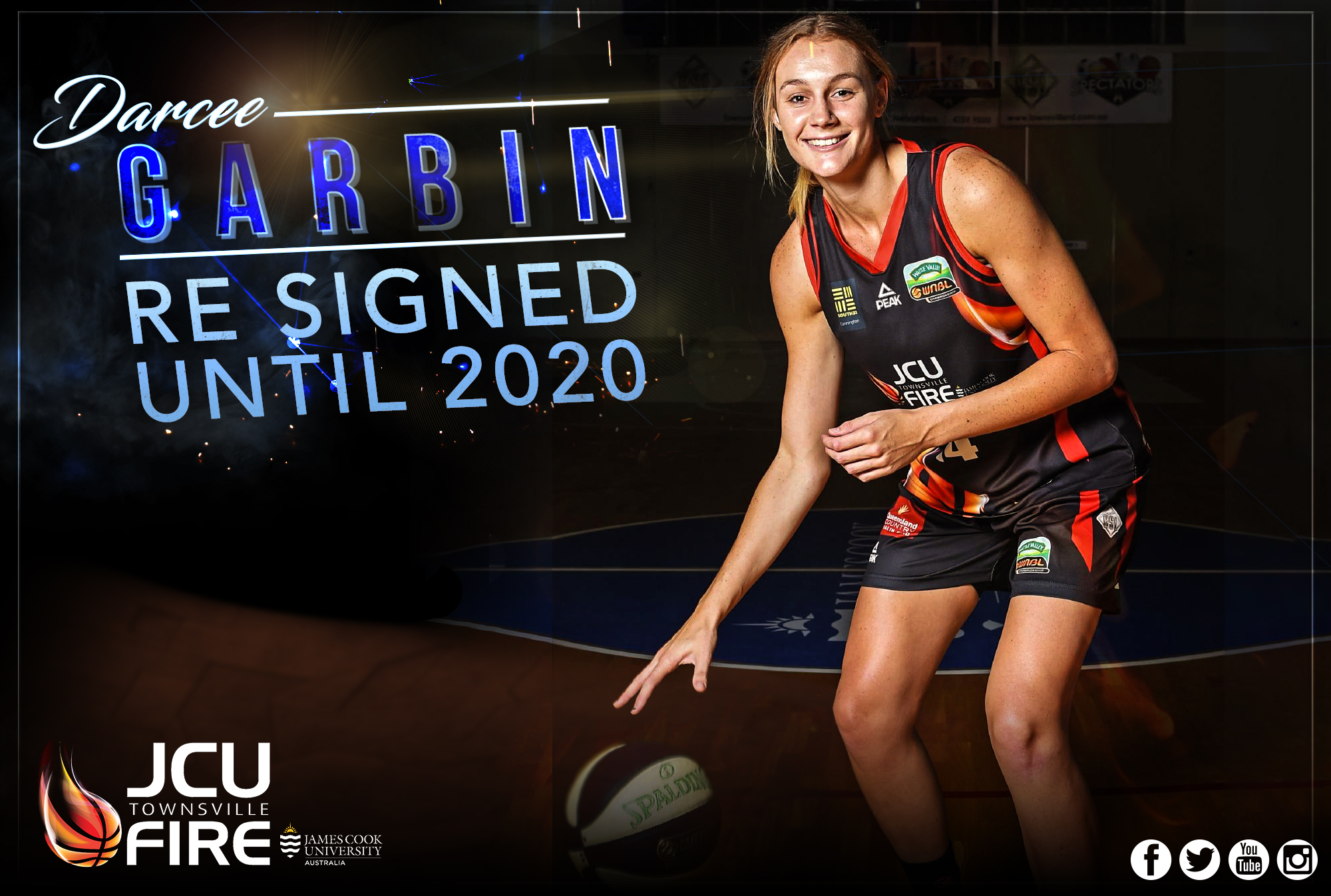 June 30, 2017 | WNBL news
JCU Townsville Fire championship winner Darcee Garbin will remain in North Queensland until 2020 after agreeing to a contract extension.
Despite having a year to run on her current agreement, Garbin has re-committed her long-term future to the Fire and will remain with the club for the next three seasons.
A graduate of the Australian Institute of Sport, the 23-year-old has rapidly become one of the WNBLÕs premier forwards, playing a key role alongside Olympians Suzy Batkovic and Cayla George to form a formidable front court.
Having put pen to paper last night, Garbin said she was thrilled to have extended her Fire career into a fifth season.
ÒIÕm super excited to be remaining in Townsville until 2020,Ó Garbin said.
ÒItÕs not only playing for the Fire, but itÕs my life in Townsville that I love and finishing my university degree at JCU was definitely one of the main reasons that I chose to stay.
ÒAs I get older Ð and with Suzy (Batkovic) at the back end of her career Ð I see myself stepping into her role and become a starting big in the league and remaining with the Fire gives me the best chance to do that.Ó
With Garbin poised to chalk up her 150thÊWNBL game early in the 2017/18 season, the power forward is ready to take the next step in her career.
Despite a foot injury which prevented her from training for much of last season, Garbin still averaged 8.3 points and 4.6 rebounds and is now pain-free and dominating the Queensland Basketball League.
Having already been named the QBL Player of the Week on two occasions, Garbin is averaging 24.4 points (third in the QBL) and 9.8 rebounds (10th) to be the competitionÕs dominant post player.
Garbin will also represent Australia in August at the World University Games.
ÒWe see Darcee as a big part of our clubÕs future,Ó head coach Claudia Brassard said.
ÒSheÕs able to contribute at both ends of the floor. She gave us really scoring punch last season and she is also able to guard the entire front court.
ÒJust as importantly, she is a real asset to our team culture Ð she exemplifies what it means to be a Fire player Ð and she is an invaluable member of our community.
ÒWeÕre delighted that she has agreed to terms.Ó
The Fire has one roster position remaining for the 2017/18 season, with two development players to be announced next week.
Click hereÊto become a member of the JCU Townsville Fire.
2017/18 JCU Townsville Fire squad:ÊZitina Aokuso, Suzy Batkovic, Micaela Cocks, Darcee Garbin, Cayla George, Mia Murray, Marena Whittle, Sydney Wiese and Kelly Wilson.