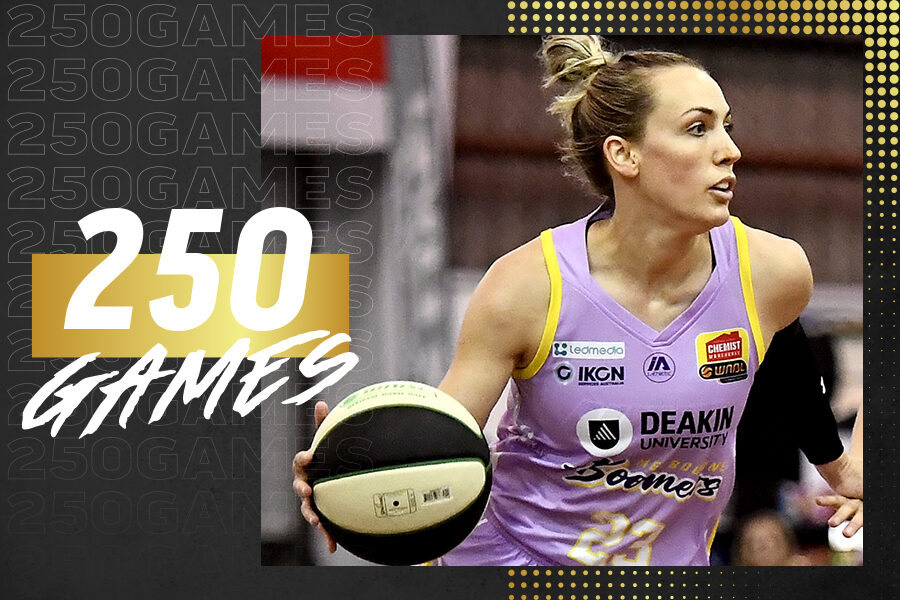 December 11, 2020 | WNBL news
During the 2020 Chemist Warehouse WNBL season, avid followers of the league's digital and social media channels will get to enjoy insights and interviews with leading women's basketball reporter and broadcaster, Megan Hustwaite.
With thanks to the league's naming-rights partner, Chemist Warehouse, Megan is based in the North Queensland hub and is bringing fans along for the journey with a series of feature interviews.
In Part 7 of "Life in the Hub", Megan catches up with Deakin Melbourne Boomers co-captain Maddie Garrick, as she plays her 250th WNBL game and is awarded WNBL Life Membership.
"You can be what you can see."
It's a mantra Cayla George is passionate about and one which fits the Chemist Warehouse WNBL career of her Deakin Melbourne Boomers co-captain, Maddie Garrick.
Garrick, 28, this week reached 250 league games, leading her to receive automatic WNBL life membership.
The guard from Shepparton, in regional Victoria, has come a long way not only in the national league but as a leading 3×3 player for Australia and a silver medallist with the Chemist Warehouse Opals at the 2017 FIBA Asia Cup.
"It's kind of surreal when I think about it. I think milestones are a good time to reflect on how far I've come in my career and 250 games is pretty awesome. A girl from Shepparton playing in the national league, showing other young women what you can achieve and it's an achievement for myself too,'' Garrick explained.
"Cayla (George) says it a lot, you can be what you can see.
"One of the first WNBL games I ever attended was in Shepparton and when I saw it with my own eyes, I knew that was what I really wanted to do. I'd heard about the WNBL, but until I saw it myself and people from country towns playing in the national league, that was what convinced me I could do it too.
"I've been pretty fortunate not to miss a whole lot of games and now I'm getting to be a bit of a vet in the league."
A scholarship holder at the Australian Institute of Sport, Garrick played 43 matches with the side before landing at the Bendigo Spirit where she'd got her first taste of the league as a development player a few years earlier.
She was part of a powerhouse Spirit roster which etched its way into the history books in 2012-13 winning the club's first championship title. Bendigo went back-to-back the next season before falling to the JCU Townsville Fire the following year in a third straight Grand Final appearance.
A new opportunity came knocking in 2015 when Melbourne coach Guy Molloy recruited Garrick to the Boomers where she made an immediate impact.
She stepped into the starting line-up and shone, winning the club MVP in her debut season.
Garrick's been an integral part of Melbourne's past four finals campaigns including a Grand Final series appearance in 2017-18 where the Boomers fell to the JCU Townsville Fire, 2-1, in an epic series.
Alongside George, she was appointed co-captain in 2019-20.
With a personal milestone achieved during the #WNBL20 hub season in far North Queensland, Garrick's next focus is team orientated.
"We go into every season wanting to win a championship and I think we have the team that can do it this year."
'Life In the Hub' by Megan Hustwaite thanks to WNBL naming-rights partner, Chemist Warehouse