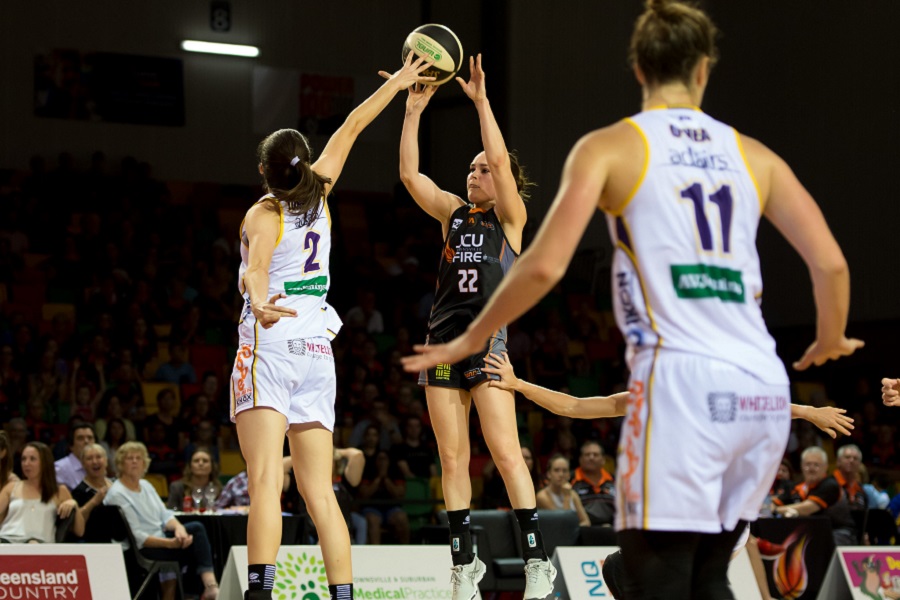 January 12, 2018 | WNBL news
JCU Townsville Fire (14-7) v Deakin Melbourne Boomers (12-9), Townsville Stadium, 6.30pm Saturday, January 13
Form
Townsville stunned Sydney Uni in Game 1 of their Semi-Finals series, holding the Flames to their lowest total of the season and while Game 2 was a closer affair, they still restricted their opposition to just 65 points. Sydney Uni shot just 29% as well which sends a foreboding warning to the Boomers but the Fire will be keen to improve their own shooting percentages in order to match Melbourne, particularly from long range where they only hit 10-38 (26%) for the series.
The best defensive team through the regular season, Melbourne maintained that form during the Semi-Finals with some stellar defence on Perth's back court duo but it was at the other end of the floor where they blew the Lynx out of the water. Three starters averaged double-figure scoring across the two games as well as Bec Cole off the bench to help the Boomers tally ten points more than their season average while they drilled 17 three-pointers in the series. It will now be up to Melbourne's front court to hit their strides defensively but if they shoot that well as a team again in the Grand Finals, they will be very difficult to stop.
The Battles
Front Court: The story within a story is the front court battle between Suzy Batkovic and Liz Cambage but surprisingly, neither player has been able to dominate in previous meetings this season. Cambage missed their third encounter to average 13.5 points and five rebounds while Batkovic's average was bumped up to 16 points and 8.7 boards thanks to a 17-point, 17-rebound performance in Round 8 when Cambage was absent. Thanks to their bench, the Fire would be confident they can still be successful without their reigning MVP firing but the Boomers showed how strong they can be with Cambage playing limited minutes when they defeated Perth in Game 1 of the Semi-Finals. Hopefully both players are on court for the entire game though and we see a physical, entertaining contest under the rim.
Batkovic's partner in crime, Cayla George, will enjoy a fascinating battle against Kalani Purcell while Louella Tomlinson is likely to chip in and help as her length will be crucial to bothering George when she leaks out to the perimeter. The Fire forward has not shot particularly well but a 21-rebound game in Round 1 against the Boomers is a reminder of how damaging she can be on the glass. Purcell showed she can knock down the three-ball when necessary in the Semi-Finals but her work does not always show up on the stat sheet with her spacing and passing helping to set up Cambage for easy buckets as well as getting her back court open jump shots.
Back Court: The floor general for Melbourne, Jenna O'Hea has been outstanding in her return to the WNBL this season. With her ability to come up with baskets at crucial times as well as control the tempo of the contest, she is a key piece for the Boomers while Brittany Smart and Maddie Garrick also stepped up their game in the Semi-Finals. Garrick took her season average of 10.4 points at 34% to 16 points at 59% while Smart bumped her numbers from nine points per game to 11.
Smart's speed in the point guard position will be a difficult task for Kelly Wilson who is closing in on 350 games and has hinted at retirement should this season end in fairy-tale fashion for the Fire. Sydney Wiese and Mia Murray will back themselves to keep up with the Boomers back court on the scoreboard though, with Murray a seasoned campaigner who has proven herself on the big stage with a 2015 Grand Final MVP while Wiese looks to have earned a permanent spot in the starting line-up after scoring 14 points on 3-6 three-point shooting in Game 2 against Sydney Uni.
Bench: The Fire's bench has been the best all season and they starred again in the Semi-Finals, out-scoring the Flames 53-18 overall. Having already represented Australia at the World University Games and in her second Grand Final series, Darcee Garbin is an experienced 23-year old who is growing into her role as Batkovic's heir apparent while Micaela Cocks (the 2016 Grand Final MVP) and Mikhaela Donnelly also have their fair share of games under their belt and import Laurin Mincy put in quality minutes through the Semi-Finals.
With Cambage suffering foul trouble in Game 1 of the Semi's, Melbourne had to turn to their second unit but they stood up and carried them to a victory with Bec Cole leading the way. She recorded 21 points in that contest before backing up with ten points in Game 2 while Tomlinson and Ashleigh Grant held their own covering for Cambage. They will find the going tougher against Townsville's stronger bench but the Boomers look more complete than they have all season and should be full of confidence heading into the Grand Finals.
Previous Meetings
While Melbourne look as strong as they have all season, Townsville may have the mental edge thanks to a sweep of the Boomers across three meetings this season with an average winning margin of eight points. However, in positive news for Melbourne, every clash occurred in the first two months of the regular season with the teams not having met since November 23 while O'Hea was absent for the second clash and Cambage missed the third encounter.
All three games were defensive battles with Melbourne being held to 59 points per contest, 16 below their average, while shooting only 37% from the field and 21% from downtown overall. Townsville were also well down on their regular production, averaging 13 less points per game but they still finished with a significant advantage via their second unit, out-scoring the Boomers 73-37 off the bench across three games.
Overall:
Full of confidence, Melbourne will head into Townsville without any fears despite their previous losses to the Fire this season. If they can carry their offence over from the Semi-Finals, the Boomers will be well in contention for a Game 1 upset but Townsville do have the blueprint as to how to contain them defensively. Batkovic and George will need to be at their best against Cambage and their back court needs to restrict Smart, Garrick and Cole from scoring in transition. If they succeed, Townsville should be one step away from claiming an historic third Championship in four years.