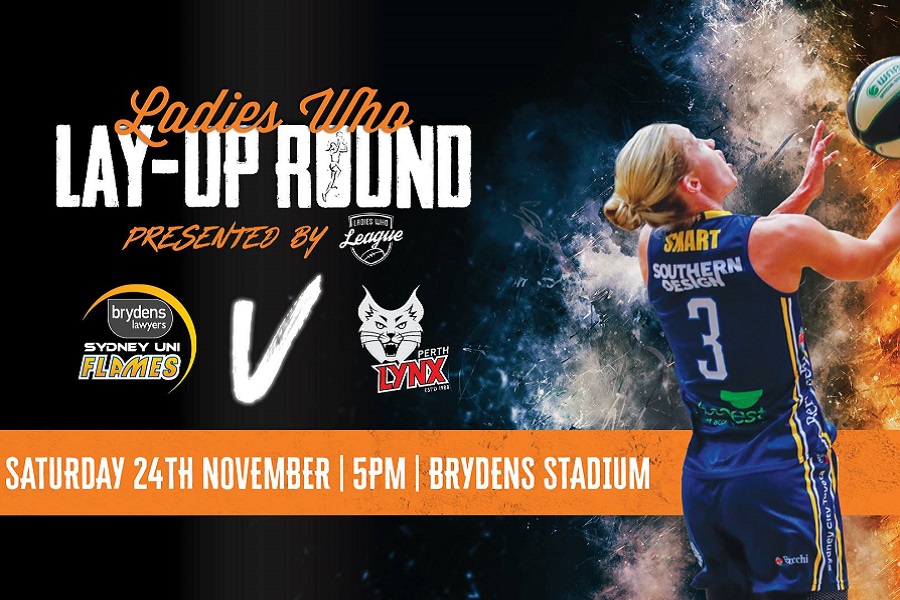 November 21, 2018 | WNBL news
The 'Ladies who League' community will converge in Round 7 when the Brydens Sydney Uni Flames host Perth Lynx on Saturday evening.
Aptly named 'Ladies who Lay-up' when it comes to their basketball coverage, 'Ladies Who' founder Mary Konstantopoulos has organised a group of fans to enjoy the Flames match-day experience this weekend.
Looking forward to our event at the @WNBL next Saturday night for the game between our @BrydensLawyers @SydUniFlames and the @PerthLynx. Get your tickets here, we have some special guests from the @SouthernStars U/19s, former @WallaroosRugby + much more: https://t.co/QuizIWjCez pic.twitter.com/tQkKOGaodL

— LadiesWhoLegspin (@LadiesWhoLeague) November 15, 2018
"Ladies who Lay-up put an invitation out via both our social media and our networks and whoever is interested in coming along will be there on the night," explained Konstantopoulos.
"Last year I went to my first ever WNBL match and it was the Sydney Uni Flames, I fell in love with the team and the match-day experience.
"This year we thought that it might be fun to organise a group of people to get out to a Flames game, so they can experience the WNBL for the first time and get behind the team."
The 'Ladies Who' website typically cover rugby and cricket at length. However, in recent years, they have begun to expand their interests to other sports including the WNBL and AFLW.
Konstantopoulos explained how her publication has evolved over the last five years since she founded the project.
"At that point my interest in sport was very much about men's sport, because that was all I'd had the opportunity to see. So, over the years as women's sports has developed, it's become far more than that.
"Now it's about encouraging women to get involved in conversations about sport in general."
In addition to the fans, 'Ladies Who' have organised a number of professional athletes to also come along to the game.
"We've reached out to some of our athlete friends," said Konstantopoulos.
"We've got a couple of AFLW players coming from the Giants, we've got former Wallaroo Mollie Gray and there are a couple of female Australian cricketers who play in the Australian Under-19 side.
"We're trying to develop it so it's not just people coming to the basketball for the first time but it's also about female athletes supporting other female athletes."
While Konstantopoulos and the 'Ladies Who' brand have held similar events in other sports, this Saturday's game marks the first time the publication has worked with the WNBL.
"What I'm hoping to achieve, is to get people out there for the first time just so they can see what a wonderful experience it is and how talented the athletes are.
"The Flames put a lot of effort into their match-day experience. It's a really fun, affordable night out.
"The best part is how the Flames always do their warm-down on the court after the game, you can walk on up to former Opals and the players and they're all so welcoming and accommodating. They're all wonderful role models for boys and girls."
Get your tickets to Ladies Who Lay-Up Round here.