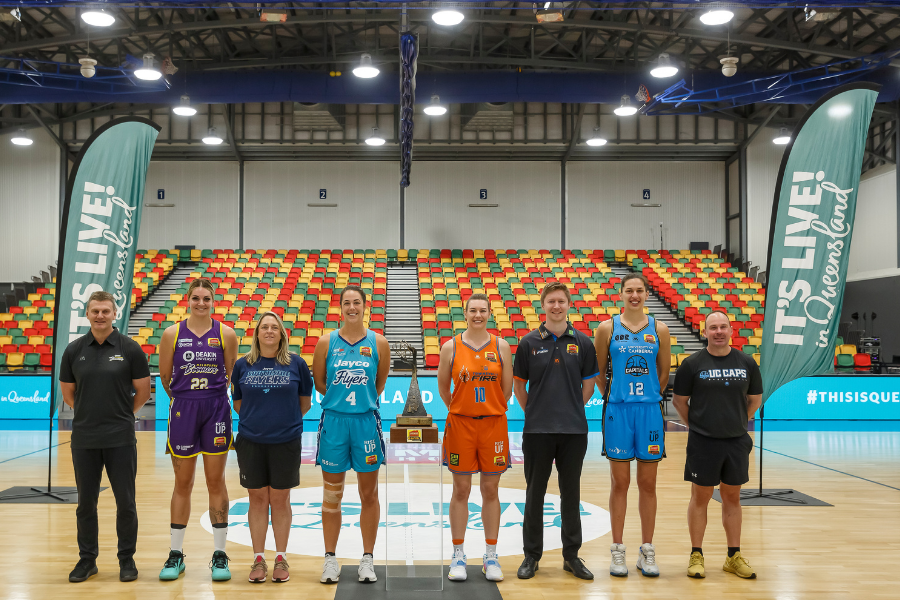 December 16, 2020 | WNBL news
And then there was four.
After 53 regular season games across three cities over five weeks, it's now down to the Jayco Southside Flyers, JCU Townsville Fire, UC Capitals and Deakin Melbourne Boomers to fight it out for the 2020 Chemist Warehouse WNBL championship.
Thanks to the league's naming-rights partner Chemist Warehouse, Megan Hustwaite spoke with the four coaches at this week's Finals Series media call from inside the North Queensland hub ahead of the four-game finals campaign tipping off on Wednesday night at Townsville Stadium.
Cheryl Chambers has experienced grand final elation and devastation.
In 2008-09 she took the Bulleen Boomers to their first-ever Grand Final and lost on the buzzer. Years on, she would complete a fairytale comeback to the league by leading the Brydens Sydney Uni Flames to the 2016-17 title. Last season, she helped fly Southside to the decider but fell to the Caps, 2-0. It's a feeling which still burns for the playing group.
"I think absolutely (it hurts) any time you fall short and you don't have the success you want you want to do better, so it's certainly what we want but we know before we even think about that there's Wednesday night against a really good Townsville team,'' Chambers said.
The Flyers enter the finals in top spot with a double chance safety net. Win, and go in to Sunday's grand final is the aim.
"In a season like this it (top seed) is absolutely so important because you really don't know what's ahead. There's a lot of things that move and shake in this season, so we're really excited to have the second chance,'' Chambers said.
"A championship would mean a heap. It's not just us who have come away from our families and friends. We were talking about it the other night, how we'll look back on this season. Will we forget all the hard bits and remember all the good bits? Or will we just remember the hard bits? It will certainly be a season to look back on."
Shannon Seebohm has heard the tales about the electric atmosphere and the deafening home crowd that had Townsville Stadium abuzz during the Fire's three championships. And now he and his exciting, young team want to experience it for themselves.
A win over Melbourne and a Southside victory over Canberra propelled Townsville into second spot on the final day of the home-and-away season and now the Fire get to play at least two finals in front of their faithful.
"I've spoken to Mia Murray and retired Townsville players who've done it before and listened to them recall just how amazing it is to play in a championship in this building and we'd be thrilled to have the opportunity to do that,'' he said.
So, what would a title mean to the newly-crowned coach of the year and the Fire?
"It would be amazing. Obviously, everyone's had a tough year which everything that's happened and our players are no different.
"The girls have worked extremely hard before this season, and obviously during the season, and we've had to earn everything we've gotten. It would be amazing to finish it off with a championship."
If the UC Caps are to complete the club's first ever threepeat of WNBL championships, an omen may just be on their side.
"I spoke to our captains, Kelsey Griffin and Marianna Tolo, the other day and they both made the comment – in our first championship we came from first to win it, last season with the second one we came from second place so maybe this year we'll come from third and win a threepeat, who knows,'' coach Paul Goriss said.
"I do know we are definitely looking forward to this finals series in this hub season and hopefully pushing for another championship."
After finishing in third spot, Canberra must now take the scenic route to ultimate journey and win three finals in order to be crowned champions once more.
"With 2020 the way it's been with this pandemic, the season going ahead and the injuries we have had to overcome, both at the start of the season and towards the end, it would definitely be something special to take out a championship here in Townsville in the hub season,'' Goriss added.
Melbourne Vixens. Richmond. Melbourne Storm. Melbourne Boomers?
Coach Guy Molloy hopes his side will join the list of Victorian sporting teams to win 2020 sporting titles in an interstate hub season.
"My second favourite sporting team in the world is the Melbourne Storm. They were an inspiration, they had over 100 days in a hub together and won a magnificent premiership,'' Molloy explains.
"For us, the hub has been a great learning experience and opportunity and we're hoping it comes together."
The Boomers have contested the past three finals series and have an experienced core group eager to land their second-ever title.
"This one would be really special because we had no pre-season as such until we got into quarantine, so most of our learning has been video or off the whiteboard which is pretty difficult,'' Molloy said.
"We have a standard of excellence with our club that we want to make the top four every year and then when the time's right hopefully we get to that championship."
"Life In the Hub" with Megan Hustwaite was brought to you this season by Chemist Warehouse.