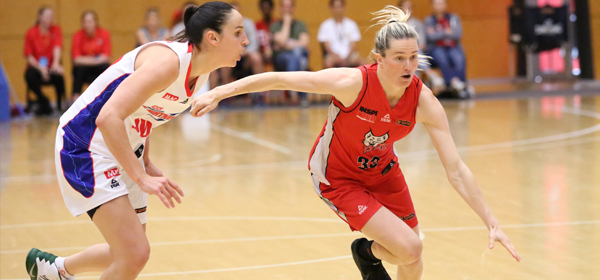 January 27, 2017 | WNBL news
The Perth Lynx have begun their week with an important road victory, defeating theÊAdelaide Lightning, 80-60.
Despite the final margin, the game was anything but lopsided, with an early Lynx lead eliminated in the second quarter by an Adelaide Lightning side determined to get the result at home.
The Lynx responded well after half-time, helped by a change of emphasis on defence and an improved offense execution after the main break.
ÒWe played a really good zone,Ó said Andy Stewart after the win.
ÒWe were moving really quickly and aggressively, and it worked out very well.Ó
Ò[Adelaide]Õs effort level is never down, so youÕve got to stay up and keep working, otherwise they will come over the top of you.Ó
Sami Whitcomb rocketed out of the gates with 18 points in the opening quarter, before finishing with 23 at full time, and continued to prove a menace on the defensive end, tallying six rebounds and five steals.
Toni Edmondson notched 14 points, while Tenaya Phillips (13 points, three rebounds, two assists) and Brianna Butler (seven points, four rebounds, three assists) gave the Lynx some vital contributions throughout the contest.
ÒSome timely shots, they both had very solid contributions.Ó
Having won consecutive games for the first time since November, the Lynx now turn their attention to the league leading Dandenong Rangers, and will hope to put together a three-game winning streak when the sides meet in Perth on Sunday.
ÒWe have a huge level of belief in ourselves.Ó
ÒWhen we stay with the team concept we believe we can beat anybody.Ó
Perth Lynx 80 Ð (Sami Whitcomb 23, Toni Edmondson 14, Tenaya Phillips 13)
Adelaide Lightning 60 Ð (Laura Hodges 23, Colleen Planeta 9, Tayla Roberts 8)