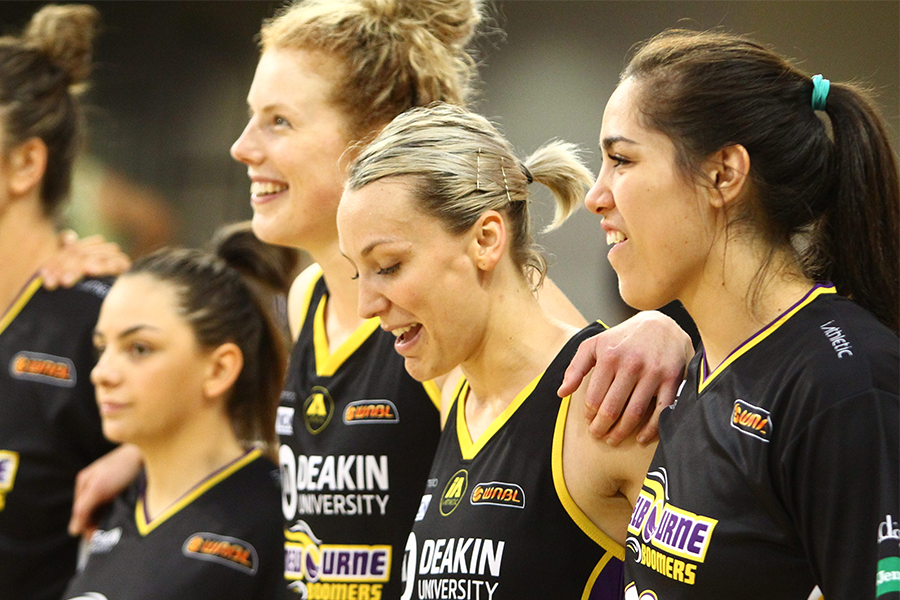 September 27, 2018 | WNBL news
Deakin Melbourne Boomer Maddie Garrick is finding herself in a new role this season, as one of just six returning players for the 2018/19 Chemist Warehouse WNBL season.
Having enjoyed some well-deserved rest during the off season, Garrick and her Boomers teammates have had an intensive pre-season- their preparations including five games across two road trips around rural Victoria.
Dubbed 'The Triple Crown' where the team played three games against the Bendigo Bank Spirit in numerous locations across Gippsland, the road trip provided more than just court time for the team but also the chance to build the relationship between the new faces on the roster.
"Our pre-season have been packed full of games, so it's been a bit of a change for us." Garrick said.
"We had a few last season, but it's been really good to get into game play and then be able to fine tune things.
"Any time you go away on the road you're around your teammates, you're together on the bus, meals together, that's a great time to build that chemistry off the floor."
"We have spent a lot of time together already and you can see on the court that people are already starting to feel comfortable."
While the time together through August and September has been invaluable, Garrick admitted that this pre-season also had its challenges.
With the Chemist Warehouse Australian Opals currently taking on the rest of the world at the FIBA Women's World Cup, four of the Boomers are missing pre-season.
But according to Garrick, while providing a challenge, it's an opportunity for the team to grow their depth.
"We are obviously missing four Opals at the moment, so we are really focusing on who we have now and building on that so when they arrive we can introduce them."
While Garrick took the opportunity to recharge, it's been her off-season participation in 3X3 basketball and a bronze medal at the FIBA 3X3 Asia Cup that could provide her with a new competitive edge in her game.
"The style of 3X3 basketball really helps during the off season because it's so much more physical."
"There's no time for the transition between offence and defence. That mental concentration and staying locked in for the period of time is crucial. I know it will translate back well into the traditional 5-on-5."
In comparison to this time last year, the Deakin Melbourne Boomers have taken the opportunity to adjust their game plan.
With many different faces taking to the floor in 2018/19, head coach Guy Malloy has put together a team that has plenty of talent as Steph Talbot and Cayla George joining the ranks, changes that Garrick is certain will make them a strong contender for finals.
"We have already changed our structure compared to what we ran last season," she explained. "
Liz (Cambage) is always going to be a big hole to fill but I think Guy has done a really great job recruiting the right players, the right talent and personalities to suit the style that we are going for."
Changes in game plan and tactics on the floor are not the only new elements for Garrick this year, the changes around the team providing her with an opportunity for growth off the court and the absences in pre-season allowing her to step into more of a leadership role.
"It's kind of funny because I'm now one of the older girls this year too," Garrick laughed.
"So, there is that leadership role. During the pre-season with Jenna (O'Hea) and the Opals away, it's been an opportunity for me to take on that leadership role and carry on that mantra and the values that we are about as a club.
"For me, it's a conscious learning step to encourage the younger players and be a role model on and off the court."
Garrick and the Deakin Melbourne Boomers will host the Bendigo Bank Spirit in round one on Saturday October 13 at the State Basketball Centre in Melbourne.