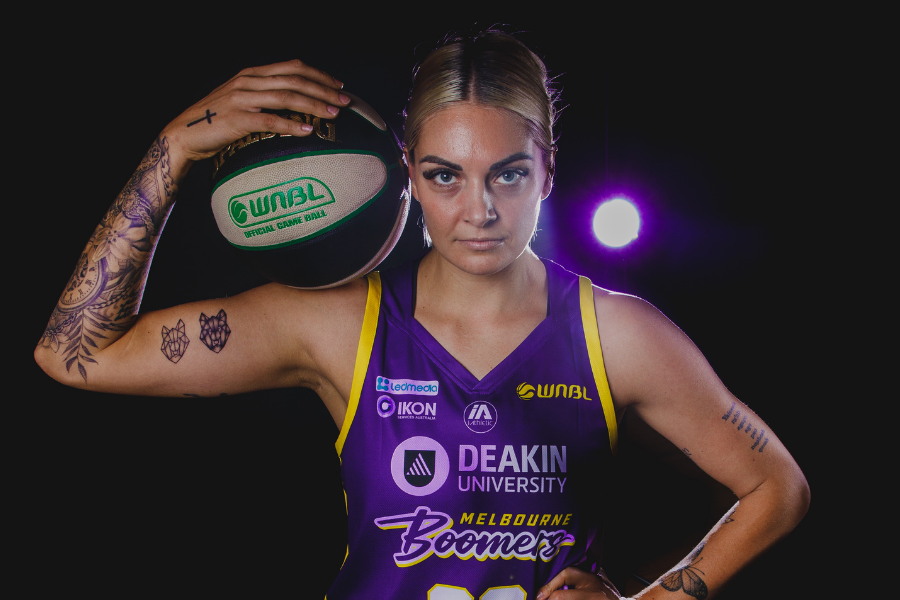 March 23, 2022 | WNBL news
It's been a decade since the Melbourne Boomers' first and only WNBL Championship, and as 3x WNBL Champion and Boomers captain, Cayla George prepares her team for their fifth consecutive finals series, there's one thought that is fluttering in the back of her mind.
Guy.
A captain/coach relationship that exceeds the court, George's journey began with coach Guy Molloy four seasons ago. Featuring in every final series since, they've come close but have only experienced heartache. After nine years in the top job, Molloy will embark on a new adventure with Basketball New Zealand and the Boomers are daring to dream of that fairy-tale ending.
"Guy has a really special place in my heart. We have a great friendship and relationship off the floor. He keeps me on my toes, keeps me accountable."
He makes me a better person and a better player. I'm really grateful for my time with Guy, he's a real legend and I'll miss him." George told WNBL Media, holding back tears.
Individually, 300 games and beyond, George is still a leading performer of the competition and doesn't see herself hanging up the boots just yet.
"I knew it was coming up, but that morning I rocked up to the airport (of game 300) I was tagged in a post from the WNBL and people from all walks of life just blew up my phone and it was really lovely, I just did not anticipate that.
I certainly don't feel like I've played 300 games, I'm not ready to slow down just yet."
View this post on Instagram
With the fourth championship within reach, her determination for success is as strong as it was early in her career and making their fifth consecutive finals appearance, George is more than ready for a reward for effort for this top-of-the-table Boomers side.
"Obviously, I want to be going to purchase some scissors to cut the net after game three or maybe game two who knows. What will be will be, I just want to enjoy it. Finals are hard to achieve and to win a final is even harder.
"If you've won a championship, you've got a taste for it. To get to the top of that mountain is a challenge and it's exciting when you reach it and overcome it. We've fallen short in the last three years but certainly, the hunger doesn't die, it's very well alive and ready to win one. But so is everyone else, so that's what makes finals so exciting.
"One goal at a time will be my mentality going into this finals series."
After finishing the regular season with the minor premiership, Melbourne will host the first semi-finals series against the fourth-placed Adelaide Lightning. With game one launching a Thursday night semi-finals doubleheader, from 7:00pm local at the Melbourne Sports Centre-Parkville.
DON'T MISS THE ACTION. TICKETS ARE AVAILABLE NOW.
View this post on Instagram