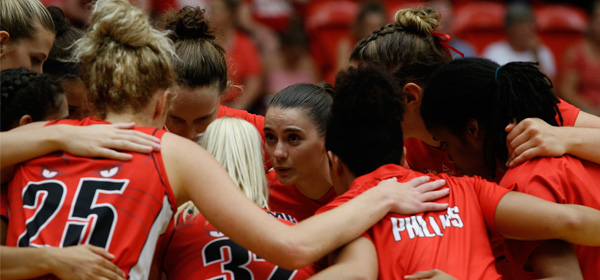 March 3, 2017 | WNBL news
The Perth Lynx have forced the Semi-Finals series to a deciding Game Three, after defending their home court and defeating the Dandenong Rangers 91-71.
After a late charge fell just short in Dandenong, the Lynx needed a strong response in Game Two, and delivered in style to earn the opportunity for a series deciding Game Three.
On a night when she broke the WNBL single season scoring record, Sami Whitcomb starred for the Lynx, tallying 41 points to go with nine rebounds, helping her team with several crucial and timely buckets.
For as impressive as WhitcombÕs individual performance was, it was the tenacity and intensity of the Lynx as a unit that set the tone early, with the home side forcing 19 turnovers and scoring 40 points in the paint throughout the contest.
ÒWe came out hard, we made a few adjustments, we got a high percentage of scores out those adjustments,Ó said Andy Stewart after the series extending victory.
ÒTheyÕre not the sort of adjustments youÕd normally make late in the season, but we thought weÕd have to go there Ð it worked."
Carley Mijovic finished with seven points, eight rebounds and three blocks, but it was her effort off the ball and willingness to free others up that drew praise from her coach.
ÒShe was outstanding. Carley Mijovic has played a sacrificial game; sheÕs trying to get us free time and time again by setting screen.Ó
The Perth Lynx now face the tough test of travelling to Dandenong for the third time in two weeks, with both sides desperate for a place in the WNBL Grand Final.
ÒItÕs a great series already.Ó
ÒWe just want to get on the court and slog it out.Ó
The series decider takes place on Sunday 5 March at 12pm WST, and can be watched live here.
Perth Lynx 91 Ð (Sami Whitcomb 41, Ruth Hamblin 14, Tessa Lavey 10)Ê
Dandenong Rangers 71 Ð (Steph Cumming 30, Sara Blicavs 14, Jacinta Kennedy 10)