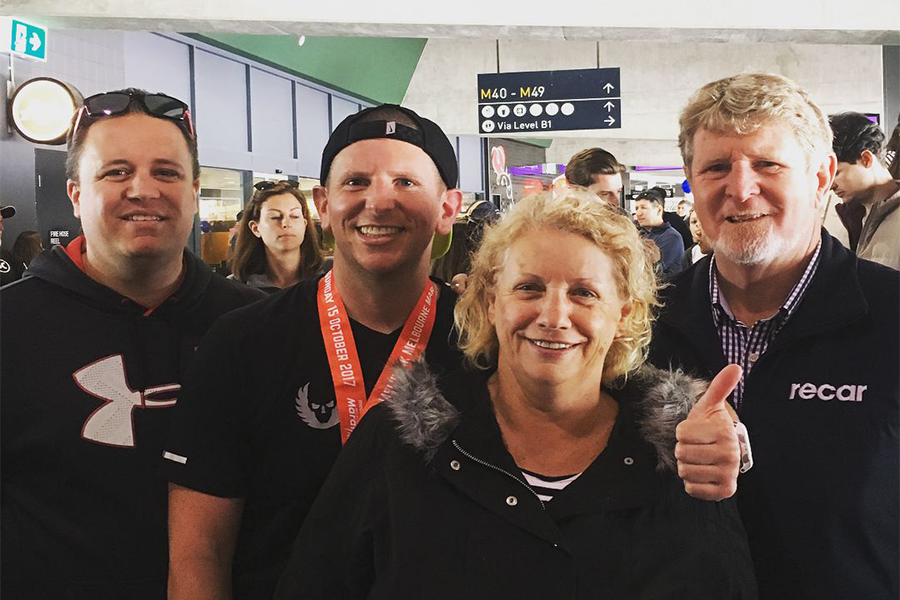 October 5, 2018 | WNBL news
This Sunday will see the Jayco Dandenong Rangers partner with the Jones family from RECAR to raise much needed funds and awareness for Dementia Research Australia, through the first ever Jayco Rangers RECAR Memory run.
As a team that holds their community close to their hearts, Rangers head coach Larissa Anderson was thrilled that both her and the rest of the Rangers organisation had the opportunity to support such an important cause.
"Many people have been affected by this debilitating disease, it impacts everyone around them," Anderson explained.
"The Jayco Rangers are honoured to be in a position to help and support Bob, Kerry, Cam and Robbie Jones as they are very special members of the Rangers family.
"We are looking forward to participating in the fun run/walk on Sunday and cheering on everyone that comes along. If you can't come along on the day, I encourage everyone to donate and support however you can."
This cause is very dear to the Jones' as Kerry Jones was diagnosed with Frontal Temporal Dementia in 2013 and Bob, Cam and Robbie, have been actively raising funds and attending events to support Dementia Research and Alzheimer's Australia.
"As you talk about Dementia, you realise so many people are affected by it," said Cameron Jones, RECAR General Manager and long-time Jayco Rangers supporter.
"At the moment, there are more than 430,000 people living in Australia with Dementia. It's the second leading cause of death in Australia and the leading cause of death for women. Those are alarming numbers.
"All the things they talk about in terms of prevention are around a healthy lifestyle. Staying mentally and physically active.
"Staying fit and healthy, watching what you eat and those kind of health messages align so well with the Jayco Dandenong Rangers and the incredible athletes that are prime examples of that lifestyle."
Join the Jayco Dandenong Rangers for a 2.5km or 5km walk or run around the Dandenong Creek Trail on Sunday October 7th!
To Register please click HERE   
If you are unable to attend but would like to donate to the cause, please do so at Cam's Go Fund Raise page at The Running Cam link HERE
| | |
| --- | --- |
| LOCATION: | Dandenong Stadium |
| DATE: | Sunday, October 7th 2018 |
| Registrations Open:    | 9:00am |
| Registrations Close: | 9:40am |
| 5KM Adult Run: | 9:30am |
| 5KM Kids Run:  | 9:35am |
| 2.5KM Fun Run: | 10:10am |