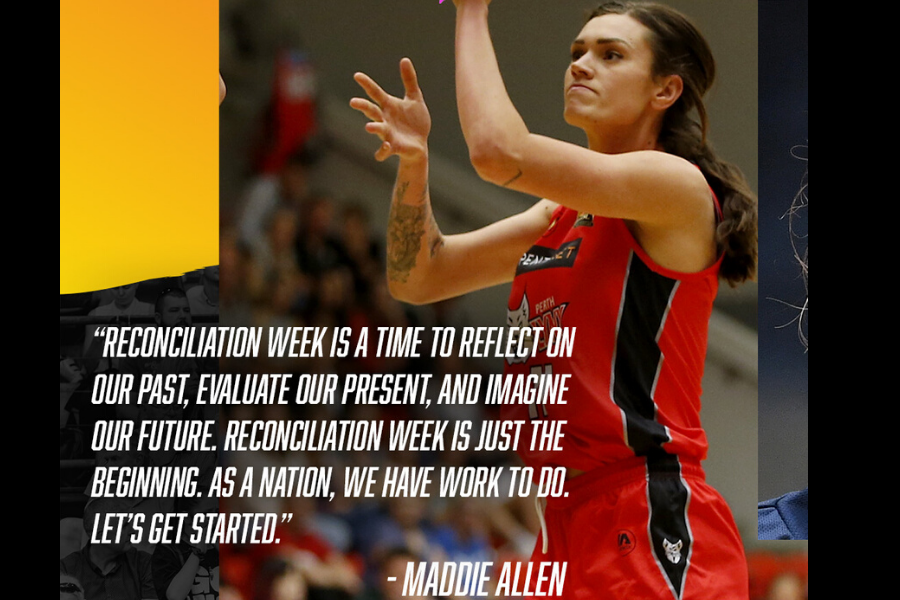 June 1, 2020 | WNBL news
The Chemist Warehouse WNBL recognises the importance of celebrating and remembering Reconciliation Week. This year, the theme is centred around being #InThisTogether. With all that is happening around the world, this theme has never been so important.
Our league is filled with athletes who are part of the Aboriginal and Torres Strait Community. We at the WNBL caught up with the 2019/20 Perth Lynx Best Defensive Player, Maddie Allen.
Allen is an Awabakal woman who has a deep connection to the Indigenous community. She grew up recognising the need to bring awareness to the community, and never to forget the sacrifices they made.
For Allen, Reconciliation Week is much more than just a typical week. She describes it as an essential week to start the conversation around why we need to make a change.
"It is a time to reflect on our past, evaluate our present, and imagine our future. It is a time where we, as a nation, must take the time to understand what it means to have our history rooted in genocide and oppression.
We must acknowledge the trauma caused by the arrival of the British still reverberates through Indigenous Australians today.  And we must be committed to educating future generations about the treatment of Indigenous people past and present, lest our past repeats itself," she said.
Maddie is a strong advocate for educating the wider community on different ways that we can appreciate and pay respect to the traditional custodians.
"One simple way for us [to make a change] is by saying a simple acknowledgement or welcome to country at the beginning of games," Allen explained.
"It is something that some codes do, but it needs to be consistent across the board."
Her advice to everyone is to take this week as a moment to look deep within ourselves.
"I think everyone needs to have a look at what Reconciliation Week means for them in their personal life. It's a time for people to understand our legacy as a country and how this affects us personally."
Sydney Uni Flames player Ally Wilson also shed some light on what this week means for her.
"Reconciliation week to me means an opportunity to reconcile the past of First Nations people's experiences in this country but to also look forward optimistically about our shared vision as Aboriginal and Non – Aboriginal people collectively," she said.
This week is also an important week for Abby Cubillo from the University of Canberra Capitals. She explains what the significance of Reconciliation Week is for her.
"Reconciliation week is so important because it is a day that solely acknowledges indigenous people and the struggles they have been through. My nana was actually a part of the stolen generation, so I feel it as a day that appreciates and acknowledges her personal struggles", she explained.
"It is also a sign that the nation is trying to come together as one with no differences and all people being equal, understanding what has happened in the past but looking at a more inclusive future."
The importance has also been echoed by former WNBL player and current referee Michelle Cosier.
"I'm proud to be an indigenous woman who has played in the WNBL and represented Australia. Reconciliation to me means that all indigenous and non-indigenous Australian coming together as one to celebrate the indigenous culture," Cosier said.
In the words of Allen, "Reconciliation week is just the beginning. As a nation, we have work to do. Let's get started!"
---
The Chemist Warehouse WNBL wishes to acknowledge the traditional custodians of this land, and pay our respects to the elders both past and present for they hold the memories, the traditions, the culture and the hopes of Aboriginal Australia.
For more information, please visit the Reconciliation Australia Website here