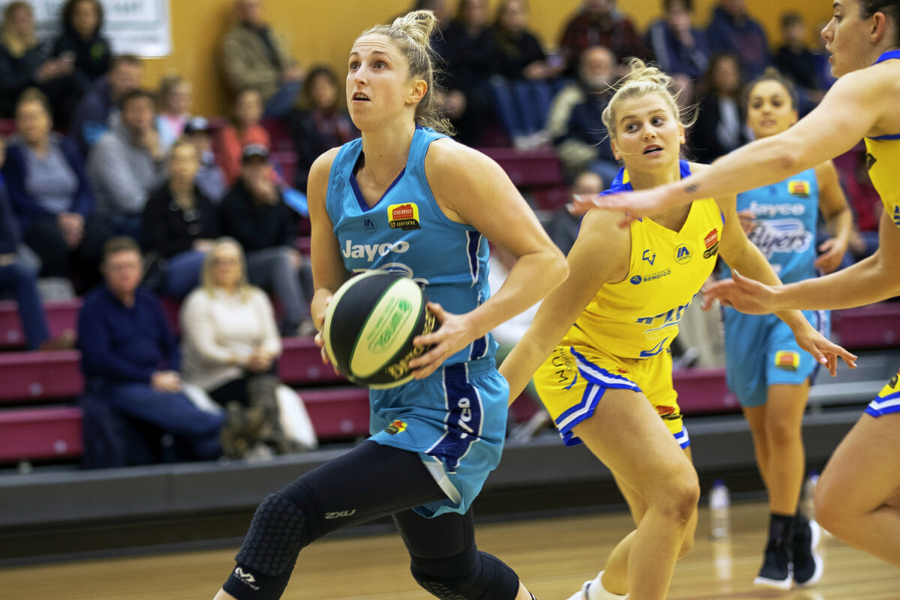 October 31, 2019 | WNBL news
Hi again – I have never, ever written this much in my life but it is giving me a chance to really reflect on my career and the careers of the legends before me. It also allows me to evaluate where this new generation of ballers are taking us, and it's taking us somewhere special.
A part of my career that there was a fair bit of commentary and controversy around my rivalry with US legend Lisa Leslie. As annoying as it was for me people really bought into it – they loved the fierceness of the competition between us and it also played out between our two teams every time we met on the court.
Here in the WNBL we have had many incredible on-court rivalries, particularly between teams that have been strong during specific periods of time. Rivalries though have never been as intense as the ones between cross city rivals – here in the heart of Australian sport (that is definitely debatable, coming from a New South Welsh woman😉) Melbourne! Southside Flyers (formally, Dandenong Rangers) will be participating in their first Michele Timms Cup this coming Monday November 4th at the State Basketball Centre against the Melbourne Boomers. Aside from the importance of the trophy and the legacy it represents – the athletes competing for the cup this season are in phenomenal form.
Last year the Boomers took the trophy in a 3-0 series against Dandenong Rangers. This season, I'm sure it is going to be a little more competitive. Southside have a new GM in Tracey Browning, and a fresh vision of who they are and what they stand for as a club. They are starting to bring in larger crowds and are starting to capture the imaginations of a new, young breed of Melbournite fans, whilst also re-invigorating long time supporters. Both teams are based in the south-east suburbs of Melbourne, which also brings another level of complexity around the way they are engaging supporters and vying for the hearts of some very passionate fans. Also, these two teams have started the WNBL's 40th season undefeated – so they are playing for a lot on Monday night – not only the trophy. Who is going to reign queens of the court in Melbourne?
From the Boomers side, we have a mix of experience and extremely talented up and comers – namely Ezi Magbegor (aka "Smooth"). Wouldn't it be nice to be able to build a team around someone with that level of ability? Smooth is something to behold; watching her compete is effortless – just like her moves, you almost forget how good she is as she glides up and down the court! Lindsay Allen is the brains of the squad – the on-court general and leads by example – she gets it done right when her troops need her to step up.
Cayla will kill teams at the 3 and Maddie's jumper is becoming more and more accurate as the seasons go on. Another great addition to the Boomers this season is forward Sophie Cunningham from the Phoenix Mercury who is aggressive and can knock down 3s, she is definitely a handy pick up! The squad rounds out with a few of our Opals counterparts from across the pond – our New Zealand contingent who bring experience and offence (Toni), defence, toughness and a bit of fun! Shout out to Kalani!
Southside have a tough schedule heading into Monday. They play Sunday night against Bendigo Spirit in the FOX Sports Australia game of the week, so they may be a little fatigued, however these girls have played in back-to-back games their whole careers in juniors to the WNBL, to the WNBA and in FIBA events, so it's not really a legitimate excuse (IMO).
Jenna O'Hea; last season was captain of the Boomers and has since moved to Southside and is playing consistent, smart basketball in a team full of stars. She is literally doing it all with a level head, knocking down shots, playing defence and leading from the front. Leilani Mitchell, our Aussie point guard whose temperament and leadership is so unassuming but she is an assassin – you can't give her an inch or she will make you pay, especially down the stretch. The more I watch her play the more I respect what she brings to the sport and I absolutely love it.
Sara Blicavs is coming back from a terrible knee injury and is in form. Her athleticism and height is really exciting to watch – you can tell she is bred from great basketball stock! She is complemented by Mercedes Russell, a WNBA champ from the Seattle Storm who brings a big/intimidating presence in the middle. Rebecca Cole whose game has gone from strength to strength in the last few years, particularly since being involved in the 3×3 – the intensity at which she plays, she is hard to guard.
You can already thank Aimie Clydesdale for knocking down a game winner this season and Anneli Maley who is the team energiser – a million miles an hour and does not stop, she gets on the court and manages to rack up rebounds and rebounds and more rebounds… Anneli is a young star in the making and who better to learn from than the girls she is out on court with (also, Belinda Snell – but we will save that for another Thursday). All in all, this team is deep, they've got chemistry and they are going places. But so is their cross-town rival! Are we watching the finals series? Only time will tell.
So – the rivalry runs deep. Key match-ups I would say are little Lei and Lindsay Allen – two completely different point guards yet equally important to their respective teams. Jen and Sophie, also two very different players in similar positions. Blicavs and Smooth – well look, as a basketball lover watching these two on Monday night is what basketball is all about – athletic, strong women who dominate on the basketball court – this game is going to have it all – I just hope the livestream works! 😊
Click here to view the full Round 4 fixture.