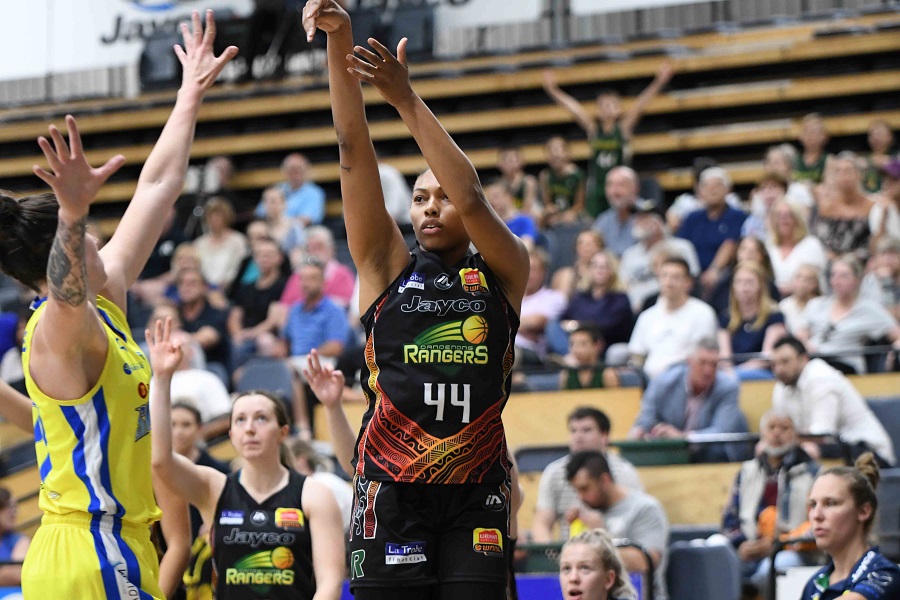 December 17, 2018 | WNBL news
A brilliant late comeback has seen Melbourne move into top spot on the ladder while three straight wins has raced Dandenong into a top-four position amidst a few blowouts in Round 10.
Adelaide Lightning 93 def. University of Canberra Capitals 73
Extending their winning streak to five, Adelaide won every quarter against the Caps in a commanding performance to inch closer towards third spot on the ladder. Kayla Alexander won the battle inside, recording 22 points, ten rebounds and two blocks while Nia Coffey (21 points, seven rebounds, seven assists) and Steph Blicavs (17 points) also starred. The Caps received strong performances off the bench from Marianna Tolo (16 points, eight boards, five blocks) and Leilani Mitchell (ten points, four assists) but the team struggled with the Lightning's pressure, turning the ball over 21 times.
Boxscore: http://www.fibalivestats.com/u/wnbl/913524/
Chris Lucas, Lightning head coach: "I'm really pleased. Five people in double figures and 26 assists. The strength of our team has to be one person can be up one day and down the next but that needs to be a strength, not a negative."
JCU Townsville Fire 97 def. Perth Lynx 72
Playing without Suzy Batkovic, on a two-game losing streak and in danger of falling out of the playoff race, Townsville were at their best on Friday night. The reigning Champions dismantled the Lynx with a 52-29 opening half as Ally Malott (19 points, seven rebounds) shone in Batkovic's absence and Tess Madgen top-scored with 20 points. Their bench was also critical with Casey Samuels, Laurin Mincy and Zitina Aokuso all hitting double-figures and Samuels and Mincy combining for six three-pointers to help the Fire nail 16 three's for the game. Capping off a stunning night, Alex Fowler scored her first points in the league as both sides cleared their benches down the stretch.
Boxscore: http://www.fibalivestats.com/u/wnbl/913525/
Larissa Anderson, Rangers head coach: "We knew we had to bounce back and to do it against the number one team in the competition is impressive so we're very happy with the win.
Simon Pritchard, Spirit head coach: "We gave them hope in the first three or four disappointing defensive stances and they felt so good about themselves and they went out and annihilated us."
Brydens Sydney Uni Flames 73 def. by Jayco Rangers 106
Both teams were coming off confidence-boosting upsets last weekend but the Flames crashed back to Earth quickly as the Rangers made quick work of them. Dandenong led by nine at half-time before putting together a 56-32 second half as they shot 57% from the field overall, out-scored Sydney Uni by 27 from beyond the arc and finished with a 15-5 edge in fast break points. Bec Cole was unstoppable with 31 points on 12-14 shooting and five steals while every Rangers starter scored 12+.
Boxscore: https://www.fibalivestats.com/u/wnbl/913526/
Deakin Melbourne Boomers 83 def. Adelaide Lightning 78
Trailing for almost the entire first three quarters, the Boomers put together a 30-19 final term to come from behind and end Adelaide's winning streak. Maddie Garrick (11 points) was the spark with three three-pointers in the fourth quarter and the home side then put together several impressive defensive sequences to shut down the Lightning before Cayla George (18 points, ten rebounds, two blocks) sealed the win from the free-throw line. Kayla Alexander (18 points, ten boards) and Nia Coffey (18 points) almost got Adelaide over the line but the likes of Lindsay Allen (15 points) and Ezi Magbegor (ten points) contributed to counter those efforts and move the Boomers into top spot on the ladder.
Boxscore: http://www.fibalivestats.com/u/wnbl/913527/
Jayco Rangers 87 def. Bendigo Bank Spirit 63
Keeping their momentum going, the Rangers claimed another huge win on Sunday to race into a top-four position on the back of a third consecutive victory. They blew Bendigo out of the water with a 30-14 opening term and led by as much as 28 thanks to Bec Cole (20 points, 11 assists), Betnjiah Laney (19 points, nine rebounds) and Tessa Lavey (15 points, six assists). Dandenong tallied 30 assists as a team and also welcomed back Sara Blicavs (five points, five rebounds) for her first game in over a year following ACL surgery. Nat Hurst paced the Spirit with 15 points but they now find themselves on a six-game losing streak.
Boxscore: http://www.fibalivestats.com/u/wnbl/913528/
Sara Blicavs, Rangers: "We train pretty hard but nothing compares to games, and to know I can hold my own in a WNBL game, I'm rapt. I was a bit nervous that I was going to be a dud but I'm ok and it's all coming back."
Becca Tobin, Spirit: "We didn't stick to our game plan and our defence – if we play pressure defence like we normally do then we are pretty good but we didn't stick to the game plan."
University of Canberra Capitals 92 def. Perth Lynx 60
Despite this being a battle between first and third on the ladder, both sides were coming off defeats from Friday night. The Caps were able to put those memories behind them though, blitzing their opponents with a 30-10 first quarter. Leilani Mitchell (22 points, five rebounds, seven assists, five steals) set the tone and while Asia Taylor and Alison Schwagmeyer were able to fight back with a combined 28 points, the damage had been done. Kelsey Griffin (27 points, 15 rebounds) and Marianna Tolo (14 points, six boards, five assists) then put the icing on the cake to hand the Lynx their third-straight defeat and drop them to second spot on the ladder.
Boxscore: http://www.fibalivestats.com/u/wnbl/913529/
Paul Goriss, Caps head coach: "We knew we had to bounce back and that we had it in us. Tonight was about defence and playing smart and doing those one percenters.
Andy Stewart, Lynx head coach: "Another frustrating one, that's three in a row where we've been way below our potential. There's some positives we're taking out of the game, we fought pretty hard but our shot percentage- we are just horrendous."
Media Links
In between games during the weekend, Jesper Fjeldstad looked at the fortunes of the Lightning for the Adelaide Advertiser: https://www.adelaidenow.com.au/sport/basketball/adelaide-lightning-defies-offcourt-drama-to-keep-winning/news-story/4c27f914ec8bc9bfc793617322225246
Trent Slatter of the Townsville Bulletin reported on the Fire's resurgent victory on Friday night: https://www.townsvillebulletin.com.au/sport/redhot-townville-fire-put-on-threepoint-clinic-to-scorch-perth/news-story/cc832005603d678d3a0c53d6d5f07458
Megan Hustwaite featured Sara Blicavs' return from an ACL injury for the Sunday Herald Sun: https://www.heraldsun.com.au/sport/basketball/sara-blicavs-set-to-make-wnbl-comeback-from-acl-injury-for-dandenong-rangers/news-story/423569bc8fe977cdafde04b7f5444bf3
Roy Ward recapped Dandenong and Melbourne's wins on Sunday for The Age: https://www.theage.com.au/sport/basketball/blicavs-helps-rangers-rout-bendigo-boomers-dig-deep-against-lightning-20181216-p50mkh.html
Reece Homfray of the Adelaide Advertiser wrote on the Lightning's winning streak coming to an end at the hands of the Boomers: https://www.adelaidenow.com.au/sport/basketball/adelaide-lightnings-winning-streak-over-after-falling-to-fastfinishing-melbourne-boomers/news-story/abcb4e24d921f4333f2275652d3aa405
Eamonn Tiernan covered the Caps' thrashing of Perth for The Canberra Times: https://www.canberratimes.com.au/sport/basketball/griffin-stars-as-capitals-bounce-back-and-thrash-table-toppers-perth-20181216-p50mkp.html