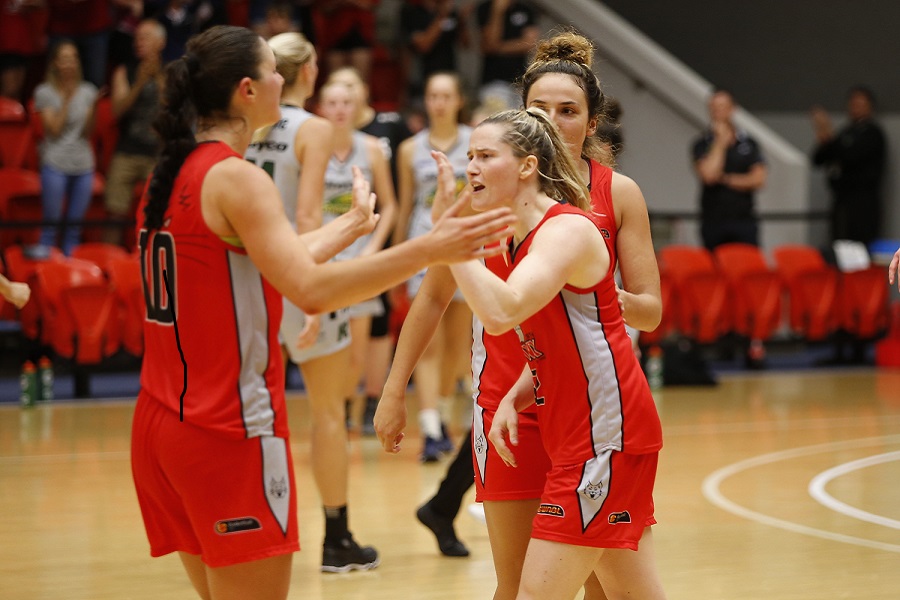 December 10, 2017 | WNBL news
A club record 11 consecutive wins has the Perth Lynx a game clear on top of the ladder while the Flames and Lightning continue to battle for fourth spot.
University of Canberra Capitals 67 def. by Brydens Sydney Uni Flames 73
It was the same old story for the Caps as they surrendered a three-quarter time lead to suffer another defeat on the back of a 14-23 final term. Trailing by double-figures in the third quarter, Sydney Uni rallied in the absence of Asia Taylor behind Belinda Snell (16 points, six rebounds, nine assists, two steals, two blocks) and Alex Wilson (17 points, eight rebounds, five assists) who combined for 14 points in the last quarter. Katie-Ebzery (17 points) and Jennifer Hamson (15 points, 17 boards, five blocks) were also very influential to answer the performances of Mistie Bass (16 points) and Nat Hurst (four points, seven rebounds, eight assists).
Boxscore: http://www.fibalivestats.com/u/wnbl/681960/
Deakin Melbourne Boomers 86 def. Bendigo Bank Spirit 42
The Spirit were handed their worst loss in club history as Melbourne kept their foot on the pedal for the entire match after a 24-9 opening quarter. Five Boomers hit double-figures and nine scored overall, paced by Jenna O'Hea's 18 points, Bec Cole's 15 and Monique Conti's 12 off the bench while Liz Cambage had 11 points and 12 rebounds. Betnijah Laney worked hard at both ends of the floor for Bendigo, tallying 16 points, four boards, five assists and seven steals.
Boxscore: http://www.fibalivestats.com/u/wnbl/681965/
Maddie Garrick, Boomers: "Our focus was to not take the foot off the pedal and keep working on our stuff as come the end of the season and facing those tough teams we will need to be at our best."
Simon Pritchard, Spirit coach: "The starting group wasn't switched on to start with and just let Melbourne get lay-up upon lay-up with their poor defence and lack of preparedness to play the game. We were out of shape within five minutes."
JCU Townsville Fire 64 def. by MAC Adelaide Lightning 79
Adelaide kept up with the top four on Thursday night with an important road win against Townsville, exhibiting a complete performance to answer anything the Fire threw at them. Natalie Novosel (21 points) led five players in double-figures as their bench out-scored the home side 27-12 while they also gained 24 points off turnovers.  Suzy Batkovic (25 points, 13 rebounds, three steals, three blocks) provided resistance all night for Townsville.
Boxscore: http://www.fibalivestats.com/u/wnbl/681959/
Claudia Brassard, Fire coach: "It was a disappointing loss. Chris (Lucas) probably threw some different things at us, which we failed to handle, but we can't dwell on the result."
Perth Lynx 78 def. Jayco Dandenong Rangers 73
The Lynx equalled a club record with their tenth consecutive victory but they were made to do it the hard way after trailing by ten points at half-time. Sami Whitcomb led the charge though, hitting seven three-pointers for 21 points without attempting a shot inside the arc while Courtney Williams finished with 27 points, eight rebounds, five assists and two steals. Kayla Pedersen (19 points, 10 rebounds, five assists) was a standout in a gallant effort from the Rangers although the night was soured for the home team due to a Nat Burton injury.
Boxscore: http://www.fibalivestats.com/u/wnbl/681958/
Andy Stewart, Lynx coach: "We've been building for three years. To get this sort of result is great for the club. The swell in numbers sitting in the grand stand is the indication that the public is starting to support this."
MAC Adelaide Lightning 62 def. by Deakin Melbourne Boomers 64
Liz Cambage (32 points, 12 rebounds, one steal, two blocks) proved the difference down the stretch as she came up with a huge rejection before hitting the game-winning pirouette lay-up inside the last 20 seconds to win the game for the Boomers. Melbourne led by ten points inside the final five minutes but Adelaide were gallant behind Nicole Seekamp (16 points, six assists, three steals) and Abby Bishop (seven points, 14 rebounds) before the heroics of Cambage got the visitors over the line.
Boxscore: http://www.fibalivestats.com/u/wnbl/681961/
Chris Lucas, Lightning coach: "There's a lot of positives to take out of the game, but obviously we are pretty disappointed after our performance the other night. Defensively we did a great job to hold that team to 64, I think that is one of their lowest scores of the year, but unfortunately, we didn't execute when we needed too."
Liz Cambage, Boomers: "At the end of the day that is what I can do. I love to make clutch plays and that is where I get all my energy from and I think I'm a clutch-time player."
Brydens Sydney Uni Flames 79 def. by Perth Lynx 84
Perth survived a thriller on Saturday afternoon to tally a club record 11th straight win. They led by nine points at quarter-time but the Flames came at them several times, cutting the deficit to one point on three occasions with Alex Wilson (22 points) lighting it up from distance. Sami Whitcomb had the answers though, nailing five three-pointers herself for 23 points and two late triple's sealed the victory for Perth while Alice Kunek set them up with 23 points as well.
Boxscore: http://www.fibalivestats.com/u/wnbl/681962/
Bendigo Bank Spirit 62 def. by JCU Townsville Fire 99
A forgettable weekend for the Spirit saw them handed another thrashing on Saturday night while for the Fire, they kept in touch with the top two after splitting Round 10. On the back of a 25-7 opening term, Townsville cruised to victory with Sydney Wiese exploding for 26 points on 10-13 shooting while Suzy Batkovic (20 points, ten rebounds) and Cayla George (13 points, 12 boards) controlled the glass. Ahlise Hurst scored 15 points and Ashleigh Spencer had 12 to prove the future is bright for the Spirit.
Boxscore: http://www.fibalivestats.com/u/wnbl/681963/
Jayco Dandenong Rangers 78 def. by University of Canberra Capitals 81
After 13 games, the Caps finally got back on the winners list as they held off a determined Rangers outfit with four starters scoring 12+. Missing Tessa Lavey and Laia Palau, Dandenong suited up assistant coach Sam Richards for her first game in five years but despite being short-handed, Steph Blicavs' 29 points kept them in the contest right until the final siren but they could not grab the lead throughout the final term. The Caps were led by Jordan Hooper (21 points) and Nat Hurst (15 points, five rebounds, nine assists) but the win was soured by another concussion concern for Rachel Jarry as she was stretchered off after a fall, having played just three minutes.
Boxscore: http://www.fibalivestats.com/u/wnbl/681964/
Paul Goriss, Caps coach: "A huge sense of relief. It's just great for the girls because as I've said all along they've still worked their arses off every day after every game. Losses mount up and have a toll physically and mentally and they've stayed strong throughout this period. They've deserved better than what they've got in the wins and losses column."
Media Links
Trent Slatter of the Townsville Bulletin reported on Adelaide's ambush of the Fire on Thursday night: http://www.townsvillebulletin.com.au/sport/adelaide-lightning-ambush-fire-in-townsville/news-story/e8a9843c4516b42fe56f508d2b0a2c8f
Roy Ward covered the Boomers' comprehensive victory over the Caps for the Sydney Morning Herald: http://www.smh.com.au/sport/basketball/melbourne-boomers-could-do-favour-for-wnbl-rivals-as-they-visit-adelaide-lightning-20171207-h00yq1.html
Ward also analysed Cambage's game-winning shot for Melbourne against Adelaide for The Age: http://www.theage.com.au/sport/basketball/melbourne-boomers-star-liz-cambage-turns-ballerina-for-gamewinning-basket-20171209-h01ts2.html
Luke West also covered the game from the visitors angle for the Bendigo Advertiser: http://www.bendigoadvertiser.com.au/story/5108935/pritchard-lashes-spirit-after-86-42-hiding-from-melbourne-in-wnbl/
Sami Whitcomb shot Perth into the record books wrote Craig O'Donoghue for the West Australian: https://thewest.com.au/sport/basketball/sami-whitcomb-shoots-perth-lynx-into-the-record-books-ng-b88684743z
Jesper Fjeldstad of the Adelaide Advertiser discussed Chris Lucas' new calling with Cancer Council SA: http://www.adelaidenow.com.au/sport/basketball/adelaide-lightning-coach-chris-lucas-has-found-a-new-calling-in-helping-people-with-cancer/news-story/b9d6e907a09a93436faf66d386725b6a
Caden Helmers of the Canberra Times penned this piece on marriage equality and how it has changed Nat Hurst's life for the better: http://www.canberratimes.com.au/sport/act-sport/wnbl-marriage-equality-changes-canberra-capitals-star-nat-hursts-life-forever-20171207-h012pp.html
Helmers also brought the latest from Rachel Jarry's concussion injury: http://www.canberratimes.com.au/sport/act-sport/wnbl-rachel-jarry-concussed-in-canberra-capitals-win-over-dandenong-rangers-20171209-h01snc.html
Catch up on all the news around the league via the Basket Case podcast here: https://www.spreaker.com/show/basket-case
You can also listen to Megan Hustwaite's WNBL podcast here: https://itunes.apple.com/au/podcast/the-wnbl-show/id1292447514?mt=2#episodeGuid=85fa7997-cdbf-463a-ba63-6880c78e48f9