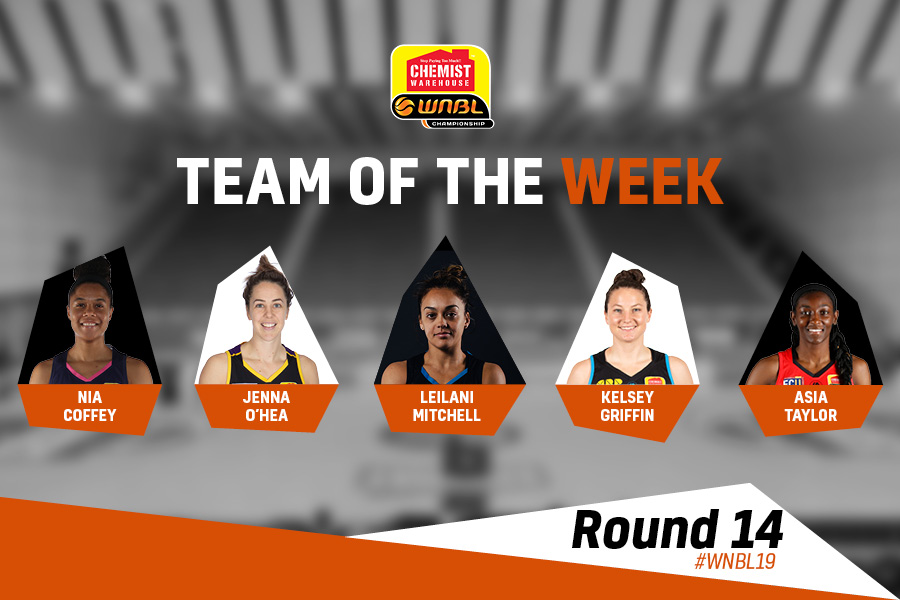 January 15, 2019 | WNBL news
A few familiar faces make this week's team, led by Player of the Week Leilani Mitchell and University of Canberra Capitals team mate Kelsey Griffin who has moved into second on the all-time record with a tenth Team of the Week award.
Leilani Mitchell (UC Capitals)
After leading the UC Caps to two wins in Round 14 and recording 22 points and 7.5 assists, Mitchell earned Player of the Week honours.
Dropping eleven three-pointers over the weekend, Mitchell was a constant threat from beyond the arc for the Capitals as they secured top spot on the WNBL ladder.
The Caps have now won eight games in a row and Mitchell has scored 20 points or more in three of her last four games.
Leilani Mitchell Round 14 stats: 22 points on 47% shooting including 11-19 from three, 2.5 rebounds, 7.5 assists and one steal per game.
Nia Coffey (Adelaide Lightning)
Coffey had a huge weekend in Round 14, beginning with a dominant performance against Bendigo on Thursday night when the Lightning prevailed in overtime.
Trailing by four points at the start of the fourth period, Coffey scored nine points in the final quarter, including the game-tying lay-up with just three seconds on the clock to force overtime.
Led by their star import, Adelaide went on to dominate in overtime, outscoring the Spirit 16-5 to overcome the home side and Coffey had another eight points in the extra period.
That brought her total to 37 for the game, a season-high for any player.
The Lightning then backed up again at home on Saturday evening against the visiting Boomers and Coffey had another 17 points in the first half.
However, the Boomers railed after the main break to beat Adelaide by 15 points despite Coffey's 26 points, five rebounds and three blocks including one of the rejections of the season on Steph Talbot.
The Team of the Week nod is the fourth of the season for Coffey.
Nia Coffey Round 14 stats: 31.5 points on 44% shooting including 4-7 from three, 8.5 rebounds, 2.5 assists and 2.5 blocks per game.
Kelsey Griffin (UC Capitals)
Earning a record Team of the Week award for the season, Griffin has continued her stunning 2018/19 campaign.
She was only required to play limited minutes on Friday against the Fire but with Townsville rallying in the second half, Griffin returned to the floor to steady the ship and lead them to a 12-point win behind ten points, nine rebounds, three assists, three steals and a block.
Two days later against Sydney Uni, Griffin came close to a triple-double with 16 points, 11 rebounds, seven assists and two steals with just one turnover while only playing 27 minutes.
Kelsey Griffin Round 14 stats: 13 points on 50% shooting, ten rebounds, five assists and 2.5 steals per game.
Asia Taylor (Perth Lynx)
In a potential Semi-Final preview, Taylor and the Lynx got off to a fast start against Melbourne on Thursday.
The forward had ten points in the opening term and Perth looked comfortable for most of the game but with the margin at seven points at three-quarter time, Taylor added another seven points in the final stanza to secure the victory.
She finished with a game-high 29 points to go with eight rebounds, two assists and a steal and now with an average of 20 points per game, Taylor is poised to finish as the league's leading scorer.
Asia Taylor Round 14 stats: 29 points on 47% shooting, including 4-6 from three, eight rebounds, two assists, and one steal.
Jenna O'Hea (Deakin Melbourne Boomers)
With the Boomers facing possibly the league's toughest double-header in Round 14 against the Lynx and Lightning, Melbourne needed their leaders to step up.
O'Hea delivered, finishing with a double-double average of 11.5 points and 10.5 rebounds for the weekend. She had 12 points in a loss to Perth before nailing 3-6 from beyond the arc, including a couple of timely triples, to help defeat Adelaide with 11 points, 13 boards and five assists.
The Boomers captain ensured her side would finish in a top-two position heading into the playoffs as they seek redemption for last season.
Jenna O'Hea Round 14 stats: 11.5 points on 9-21 shooting, including 5-11 from three, 10.5 rebounds, 3.5 assists and 1.5 blocks per game.