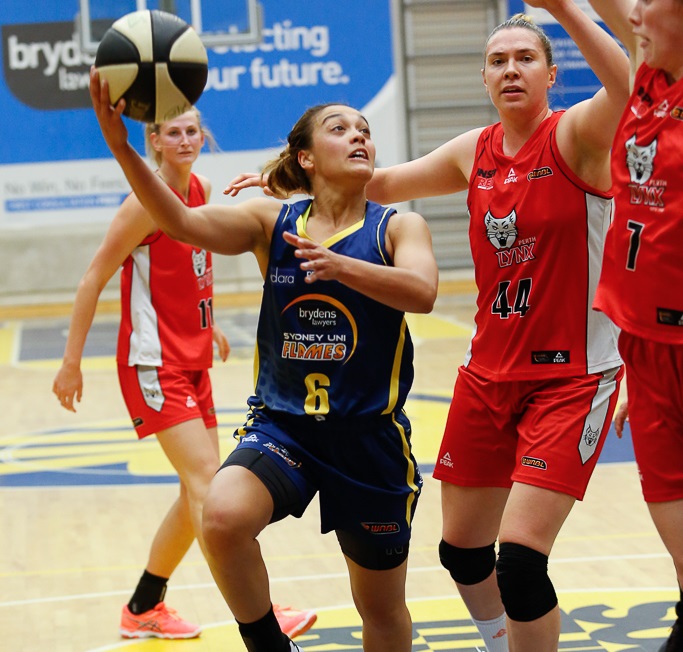 January 23, 2017 | WNBL news
Photo courtesy of Geoff Tripp Photography.
Equaling the season-high for assists this season, Leilani Mitchell once again led her team to an important victory in the context of 2016/17 as Brydens Sydney Uni Flames defeated the Perth Lynx 90-78 to move two games clear in second spot.
Mitchell recorded 17 points on 7-12 shooting with five rebounds, 11 assists and four steals in a battle against fellow Opal Tessa Lavey who tallied just four points with five boards and eight assists.
Five of those assists led to basketsÊfor Asia Taylor, who tallied a game-high 32 points, and it is that combination that is firming the Flames as one of the title favourites.
In what was shaping as a tight contest on Saturday night against the Lynx, the teams were tied at 66 going into the final term.
Mitchell helped swing the momentum early in that term though, draining one of her two three-pointers before finding Taylor, all in the space of 20 seconds to push the lead out from three to eight.
The point guard added another two points for the period before coming up with a timely steal inside the final four minutes and on the following play, she found Alex Wilson for her 11th assist.
Mitchell is now averaging an assist more than any other player on the season with 6.4 per game which is also a career-high.
Her 16.3 points per game places her seventh in the competition while she is shooting 41% from the field and 37% from three-point range.
Leilani Mitchell Round 15 Stats:Ê17 points on 7-12 shooting (58%), five rebounds (two offensive), 11 assists, four steals.